Encouraging and Inspiring Female Student Engineers
While "Introduce a Girl to Engineering Day" is officially celebrated in February, helping girls understand the creative world of engineering is important all year long. If you love to innovate, imagine, build, tinker, solve problems, or make things, engineering might be just the right area for you—or your student!
Too Young to Be an Engineer?
Have you heard of Becky Schroeder, a teenage inventor who wanted to find a better way to do her homework while waiting in a dark car. Becky's story is one of many inspiring stories about women innovators and engineers you can read in Girls Think of Everything.
Science and Engineering Kits
Looking for a hands-on science activity for a young female engineer? The following science project ideas (some of which have kits in the Science Buddies Store) encourage girls to explore and experiment with an area of science even while allowing room for innovation and creativity.
Do you like chocolate chip cookies? Maybe you make yours using a treasured family recipe, or, like many other people, maybe you use the recipe on the back of the bag of chocolate chips to make "Toll House Cookies." Chocolate chip cookies are a familiar dessert in many households and, arguably, an ingrained part of our culture, but this favorite kind of cookie is really less than a hundred years old!
Chocolate chip cookies are the result of innovation by Ruth Wakefield, one of the proprietors of the Toll House Inn in Massachusetts. In a hurry one day, legend has it that Ruth cut a few corners to save time while making a batch of chocolate butter drop cookies. Ruth mixed chunks of chocolate into the dough rather than using melted chocolate. The chunks did not completely melt during baking. With that first batch, Ruth spawned a cookie that would delight cookie and chocolate fans of all ages and would lead to NESTLÉ's development and production of chocolate chips. It's a story worth thinking about the next time you look at your favorite recipe and wonder what would happen if you changed things, tried something different, or otherwise altered your tried and true formula!
Ruth's story highlights ingenuity. She wasn't really looking to invent a completely new kind of cookie. Instead, she was looking for a better (and faster) approach. Once she tasted the results and saw the reaction of her customers to the cookie, she knew she had created something special. NESTLÉ knew it, too. In the end, Ruth wound up with a lifetime's supply of chocolate, and her recipe lives on with each package of Nestle chocolate chips.
The historical genesis of the chocolate chip cookie is interesting. You might have picked up bits and pieces of Ruth's story from your chocolate chips bag. But what about the origin of windshield wipers? Kevlar®? Liquid Paper®? ScotchguardTM? Paper bags? The computer compiler?
Behind each of these discoveries and inventions is the story of a female engineer, scientist, or inventor.
A History of Innovation and Invention by Women
Girls Think of Everything: Stories of Ingenious Inventions by Women, by Catherine Thimmesh, offers these stories, and many others, for readers of all ages. Chances are good that some of these stories of innovation and invention are ones you have not heard. You may know the product, but you may not know of the woman behind it or "how" the invention came about. Girls Think of Everything does an excellent job spinning tales that are fun to read, offer plenty of wow factor, and combine to paint a powerful and inspiring portrait of women in engineering. What do you think of when you think of an engineer? Girls Think of Everything may challenge your definition of engineers and engineering in a good way!
Some of the discoveries chronicled in Girls Think of Everything started with an accident; others were the result of determined research and development. Some of these inventions were by women working in labs; others were created by women out of necessity or from home. The book, illustrated by Melissa Sweet with engaging illustrations and collages that reinforce the subject matter of each story, invites readers to learn more about women who have made important contributions as inventors, engineers, and scientists. In pages at the front and back of the book, a timeline chronicles inventions and discoveries by women between 3000 B.C. and 1995. It's an impressive look at the role of female innovators, and the book, as a whole, is a wonderful collection for young women. Reading these stories is sure to amaze, inspire, and maybe even propel a future engineer to grab a laboratory notebook and put the steps of the engineering design process in action!
Educating and Supporting Tomorrow's Engineers
Engineers Week, a project of the National Engineers Foundation, and sponsored by companies like Motorola Solutions Foundation, Lockheed Martin, and Northrup Grumman, will take place February 17-23, 2013. A collaborative effort, the week encourages the education of students about engineering as a step toward increasing the number of students pursuing engineering degrees. Through community and school activities during this special week, students learn more about engineering and the many kinds of career opportunities that exist. The more models of female scientists and engineers we can provide for students during elementary and middle school, the more young women we can help encourage to explore paths in science, technology, engineering, and math (STEM) fields. (Note: On the Engineers Week website, teachers can request free kits containing posters, suggested activities, and more, to help promote the week at school.)
Encouraging Female Engineers
February 21, 2013 is "Introduce a Girl to Engineering Day." The day is an important part of Engineers Week, but the core concept behind introducing young women to engineering transcends the single day and has become an important cause, year-round, for organizations like Motorola Solutions Foundation. Raising awareness among young women about engineering as a creative, innovative, and collaborative field of study and encouraging and nurturing girls' interest in engineering is important every day, all year long.
The next time you use your windshield wipers on a rainy day, give a thought to Mary Anderson. If you don't know her story, check out Girls Think of Everything. Mary's story is one of many to share with students and family members.
For even more inspiration, watch the "Introduce a Girl to Engineering Day" video, created by the National Engineers Foundation.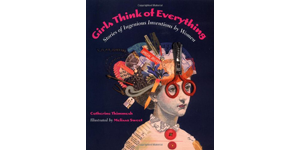 Categories:
You Might Also Enjoy These Related Posts:
Explore Our Science Videos
Follow the Flow: 2017 Engineering Challenge
Bending Plant Roots with Gravity Lesson Plan Introduction