Finding the Science in Spring Break
If spring break is on the calendar, take advantage of the week to tackle some hands-on family science or set the kids up with STEM projects that offer a fun challenge and some focused exploration.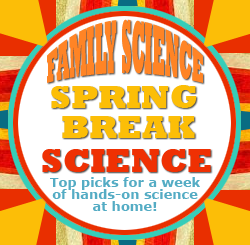 This week is spring break in my house. Maybe it is in your house as well, or will be in a few weeks. The kids may be psyched to be home, but spring break often requires a bit of juggling for parents. As you plan how to balance the days, don't overlook science activities as a way to connect as a family in ways the kids will enjoy and you can feel good about.
Doing family science at home doesn't have to feel like reproducing a classroom lesson. There is no final exam and no research paper required, so relax and have fun with the process. It's okay to get messy and make mistakes! There are lots of options for family science that may tie in with angles of inquiry you and your kids already enjoy, that relate to a current area of interest, or that bridge the gap between art project and science experiment. The key is to find a project that sounds fun—for everyone.

Planning Family Science
After thinking through science, math, engineering, and technology projects that we might tackle this spring break in my house, I placed an order for some inexpensive supplies with an ambitious and creative hands-on math project in mind. In the week or so leading up to spring break, I tried to seed some anticipation and get the kids excited about what we will be doing. We talked about the general concept of the project, about the options we have for size and construction, about some real-world applications of the idea I've seen, and about the cool math at hand.
I have a few science activities planned for the kids this week, but this one is the biggest, and I selected it because it nicely spans their ages, fits with their interests, is entirely hands-on, will require focused involvement and time preparing our materials, and will be fun! Plus, in the end, we're going to end up with a giant "thing" as the result of our cooperative and collaborative math exploration. That I have tied in duct tape as part of the DIY activity will only add to the appeal of the process and of the product! I will be photographing our experience to share it here on the blog, so stay tuned!

Top Picks for Spring Break Science
We will be highlighting some great spring break science ideas all week at Science Buddies and, especially, at Facebook, Pinterest, and Twitter. Join us in one of those places to follow along! Many of these activities use everyday or easy-to-find materials, so once you and your kids decide on an experiment or science project to do, it can be easy to gather supplies for a great hands-on family science exploration.
To kick off our spring break science celebration, here are a few of our top picks to get you started thinking about ways to infuse spring break with hands-on science. Both of these science explorations blend craft and science and burn off some energy at the same time!
Skipping Science: An Experiment in Jump Rope Lengths: When it comes to jump ropes, one size may not fit all! If you want to score high jump numbers, what is the perfect jump rope length for you? Get hands-on and find out!




Motion Mania: Applying Physics to Hula-Hooping: Hula-hooping is fun but not necessarily as easy as it might look! The size and weight of your hula hoop may have a lot to do with your success as a hula hooper. In this hands-on, backyard science project, kids can build their own hula hoops from tubing and investigate to find out how the size and weight matter. Don't forget the duct tape for personalizing your hoop!


We will be adding to our
list of spring break science
picks all week! We would love to hear what
you
try with your family. Snap and share your photos to put your family's science in the spotlight!
(Email us at blog@sciencebuddies.org.)
Categories:
You Might Also Enjoy These Related Posts:
Explore Our Science Videos
Sweet Earthquake Shake- STEM activity
Program Your Own COVID-19 Simulator with Scratch