10 Reasons to Do the Fluor Challenge in Addition to $10,000 in Prizes!
There is still time left to enter the 2021 Tallest Paper Tower Fluor Challenge for a chance to win part of $10,000 just for having students try engineering. If you are still thinking about having students do this year's STEM challenge, we have 10 reasons to help motivate you to assign the hands-on paper-and-tape challenge.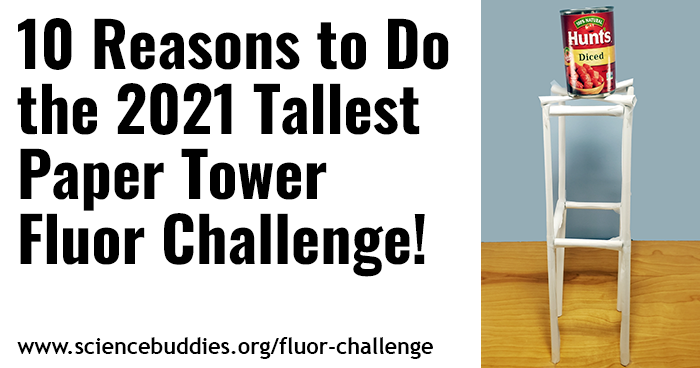 The annual Fluor Engineering Challenge makes it fun for students to try engineering. Each year, the Fluor Challenge presents an innovative and engaging engineering task and challenges kids in grades K-12 to use the engineering design process to build a solution.
The 2021 Fluor Challenge is the Tallest Paper Tower Challenge.
Paper Towers
This year's Fluor Challenge involves building a tower from only paper and tape and building it as tall as possible (using only the allowed quantity of materials). That may sound easy, but there's a twist: the tower needs to be able to support the weight of an unopened can of food for at least 60 seconds. Kids will need to use their engineering design, problem-solving, and troubleshooting skills to maximize the tower's height while still ensuring the tower is stable enough to hold the can.
A Chance to Win Part of $10,000 for Your School or Organization
There are ten $1,000 (USD) prizes up for grabs in the Fluor Challenge. All complete entries in listed geographic locations (see the rules) will be entered in random drawings for a chance to win money for the student or team's school or qualified organization. Prizes are not awarded based on high score. Your students have a chance to win $1,000 for your program just by entering.
10 Reasons to Do the Fluor Challenge with Students
It's classic fun. The Tallest Paper Tower challenge is fun and a challenge! Building a tower isn't difficult. But building a really tall tower... that's a challenge! Building a really tall tower that can still support the weight of the can? That's an even bigger challenge! Teachers who enter the challenge each year tell us how much their students enjoyed both the design and testing portions of the challenge.

It's accessible.

The Fluor Challenge is open to students in grades K-12, and the emphasis of the challenge is on

trying

the challenge rather than on getting the best score. (

Tip!

Sample devices shown in the directions and

overview video

are helpful starting points for brainstorming solutions with younger students. We also have suggestions in the

Do the Tallest Paper Tower Fluor Challenge — 10 Steps to Success

post for talking about world towers and making sketches of towers.)

It's great for remote learning or the classroom. This year's Fluor Challenge was specifically developed to be easy for students who are remote learning to do at home without it being a burden for parents. (Families can choose to have kids do this challenge even if it wasn't assigned at school, too!)

It uses simple materials. The Tallest Tower Challenge uses basic materials (paper and tape) that are easy to find and may already be available at home.

It encourages creative thinking. Students will surprise you with their tower design ideas. There are an infinite number of approaches they can take to build a crazy tall tower, and when given materials and the challenge rules, students show just how creative and innovative they can be when engineering a solution!

It demonstrates the engineering design process.

Engineering is a critical component of STEM learning. Doing the Fluor Challenge emphasizes brainstorming, prototyping, testing, and iteration, all important steps of the

engineering design process

.

It uses problem-solving skills. Students may find their designs don't work the first time. They will need to practice problem-solving to identify problems and find ways to improve their designs. Seeing their perseverance and determination in action can be incredible, and encouraging them to find ways to solve problems is empowering!

It enables teamwork. While students can build their towers alone, the Fluor Challenge allows teams of up to four students. When working on a team, students practice important collaboration and communication skills as they work together to build, test, and improve their final designs.

It puts science concepts in action. Engineering projects often combine engineering design and other areas of science. Students doing this year's challenge will be learning about civil engineering and putting core concepts related to stability and distribution of forces into practice.

Educator scaffolding is available.

Free NGSS-aligned Lesson Plans are available for grades

3-5

,

6-8

and

9-12

. Lesson Plans provide educators with background information, talking points, worksheets, and more to help them feel confident leading a hands-on engineering activity. (A

student project version

is also available for individual student use.)
Need more? The Fluor Challenge is also free to enter! There are no fees associated with the Fluor Challenge.
Entries are accepted until March 12, 2021. Once you are ready to submit, visit the online submission page.
2021 Fluor Challenge Resources
Categories:
You Might Also Enjoy These Related Posts:
Explore Our Science Videos
See Germs! Hand Washing Science Experiment
Strawberry DNA Extraction
Racing Drones: Does Practice Make you Faster?