Football Science: Score Big this Super Bowl Sunday with Sports Science
In the days leading up to the big game, in the days after, or even during off-season, you can kick around sports science concepts with your student sports fans. Behind every great sporting event is a lot of science that kids can explore!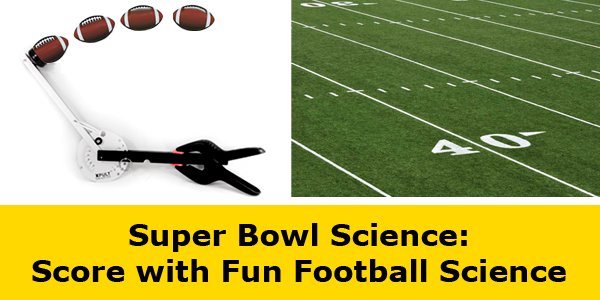 This weekend, the New England Patriots will pair off against the Seattle Seahawks in Glendale, AZ, for Super Bowl XLIX.
Whether you are planning to tailgate or planning to watch the big game from home, you may already have your snack menu lined up for this weekend's Super Bowl, and you may have already started watching teasers and pre-releases of the television commercials that will air during the game.
As you wait for the seconds to tick down to kickoff, you and your kids can toss around some sports science in casual conversation that adds some science, technology, engineering, and math (STEM) meat to the football frenzy. Or you can spark an impromptu hands-on sports science project just in time for Super Bowl Sunday.
The Sports Science area at Science Buddies contains a number of football-centered projects for K-12 students. Here are a few experiments to get your Super Bowl week science talks started:
Making a Game of Sports Science
The Ping Pong catapult won't help you perfect your on-field spiral, but you can set it up to do a fun football kicking project. Or, grab an assortment of soft sports-themed mini balls or ping pong balls, mix up your themes, and explore the science of a medieval catapult. See either Bombs Away! A Ping Pong Catapult or Under Siege! Use a Catapult to Storm Castle Walls for basic guidelines on experimenting with the Ping Pong Catapult. (Check this post for a family's experience with plastic Easter eggs and the catapult to get inspired about what fun you and your kids might have with some mini sports balls and the tool from the Science Buddies Store.)
You can make a pretty fun game out of launching small balls through the house and at a target. Got a small indoor basketball goal? Move it from a doorway to somewhere lower and see if you can successfully aim small balls through the hoop to score. As you increase your distance, what changes do you have to make to your catapult setup?
With some creative thinking, you can turn this science tool into a fun and challenging game or science-minded activity. Better brush up on your trajectory know-how if you want to score big!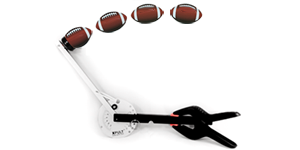 Categories:
You Might Also Enjoy These Related Posts:
Explore Our Science Videos
Aluminum Foil Boat Design - STEM Lesson Plan