From Parking Space to Parklet: Civil Engineering and City Planning
Civil engineers work on all kinds of construction projects that help shape communities and cities and help solve problems and challenges in those areas. Sometimes, those challenges involve reconfiguring existing space in unexpected new ways, like turning parking places into parklets. These little green pockets of social space provide interesting challenges and opportunities for engineers, designers, and planners. With software from Autodesk and a fun Digital STEAM Workshop challenge, students can design their own parklets and see what is involved in reimagining a few parking spots as a gathering or resting spot—with a small budget and tight space requirements!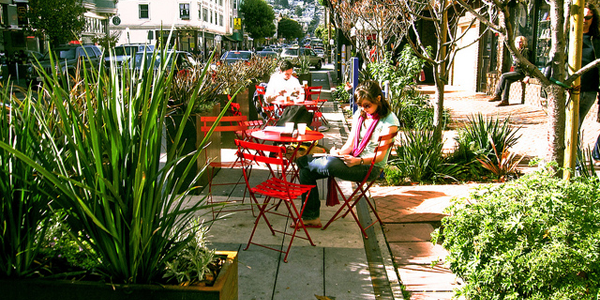 Parking in San Francisco is rarely easy. A driver may circle a destination multiple times hoping to score a treasured meter space. A challenge to begin with, city parking is becoming even more difficult as parking spaces here and there are repurposed as social spaces.
Across the city, coveted parking spots have gradually been transformed into no-parking park zones—parking spaces for people, not cars. On a corner of Haight Street, for example, there is a small area of benches that looks like an extension of the sidewalk and juts right out almost into the street. At first glance, you might look over and see it as a little niche seating area, a little resting place, an extra spot to hang out and enjoy a scoop in a cone from the nearby Ben and Jerry's. Look just a bit closer as you pass, and you will realize that the seating area, the bit of green, sits where a few parking spaces formerly waited to eat up meter money.
It's the age of the parklet.

Exit Parking, Enter Parklet
In San Francisco, turning parking spots into social spots is a movement that has gained momentum and both community and city support. The Pavement-to-Parks site contains a section devoted to parklets, and an eighty-six-page PDF booklet describes the role of a parklet and the process of moving from idea to permit to implementation. The fun "Parklet-OMatic" game board-style infographic flowcharts the process from start to finish. Those finishing the process with a successful permit are instructed to "Keep it clean. Water the plants. Renew in one year."
According to the Parklet Manual, a parklet that stands in the place of extra parking spaces may support and foster social consciousness, lifestyle and behavior, and city change. A parklet, says the manual, can help: reimagine the potential of city streets, encourage pedestrian activity, encourage non-motorized transportation, foster neighborhood interaction, and support local businesses.
Despite the tighter parking scene, the city loves parklets, and there is currently a waiting list for parklet applications.

The Parklet Phenomenon
While the origin of the parklet may lead back to San Francisco and a one-day temporary parklet experiment, the city is not alone in its interest in reclaiming pavement for people. Chicago calls these little spaces carved into the city "people spots." Seattle, too, has its own government parklet page, with a dotted map of existing or proposed parklets that looks like a transit map.
Whether you view them as small injections of green into a cityscape, a subtle reminder to slow down, or just an ingenious way to make the quest for parking even tighter, parklets are a fascinating societal phenomena and example of civil engineering.
While parklets vary in terms of their overall "flavor" or vibe, they typically follow certain requirements. Size, especially, is key. A true parklet replaces a few parking spaces, so sizing parameters are tight. There is not a lot of wiggle room. Location, too, matters. As San Francisco's Parklet Manual makes clear, there are a number of criteria for selecting a location for a proposed parklet. (You can't just plop a parklet into any parking space.)
Cost is also a factor.

A Perfect Parklet
What kind of parklet do you envision? Do you imagine wooden benches and planters? Do you see natural seating spaces or bright umbrellas and canopies? How do you think people will use the space? Will they sit and talk? Will they meet up for a game of street chess? Will people eat their lunch?
The design of a parklet will play into how the space is used and what kinds of activities and interactions it invites. Multi-use structures, for instance, might facilitate eating as well as provide a surface for other activities. How will you fill the space?
Imagining how you will "decorate" a parklet is part of the fun of the process. But there are many stages of planning and consideration that happen before you can move benches into place.
After choosing a location, one of the first steps is doing a site plan for the parklet. The plan needs to account for the footprint of the parklet (its size and shape rather than its contents) as well as the surrounding parking spaces, street traffic flow, and buildings. Later, designers work on drawings or computer renderings that show what the parklet looks like, including approaches to the foundation, the enclosure (remember, the parklet may be right next to moving traffic), and the cool things that will give the parklet its unique flavor and feel.
So what would you do if you could convert a few parking places in your own city into a parklet?

Experiment with Parklet Planning
Using Autodesk's AutoCAD software (free for student use with an educational license), students can design a parklet and experiment with a world-class computer-aided design (CAD) tool. The parklet challenge on the Autodesk Digital STEAM Workshop site puts students in the middle of city planning—on a very small scale...the size of a few parking spaces.
In the challenge, students are given parameters they must meet as they create their parklet solutions. Starter files are provided, and students can further explore the challenge through a set of real-world videos that follow a designer through the process of brainstorming, planning, and testing a solution. These videos help students see steps of the engineering design process in action. (See the Engineering Design Process guide at Science Buddies for more information on the engineering method and design process.)
After creating a parklet design for the challenge, students can upload it to share and show it off to the Digital STEAM Workshop community. Who knows, your parklet design might be one you want to share with your city, too!

Premier Design Tools for Educational Use

Autodesk gives students, educators, and educational institutions free access to professional design software, creativity apps, and real-world projects. For more information, details about education use, and to download software, visit the Autodesk Education Community.

What Will You Make?
If you are already a user of Autodesk software, we would love to hear from you! If you take the Autodesk Parklet challenge, please let us know. We would love to see what you build, design, and explore using Autodesk design tools. Show us your parklet!
Categories:
You Might Also Enjoy These Related Posts:
Explore Our Science Videos
Draw with a Pantograph - STEM Activity
What Do Enzymes in Pineapple Juice Do to Milk?