From Wooden Train to the Magic of Maglev
For a third grade student with an interest in science and pinewood derby cars, the Maglev Train project combined a fun DIY activity with engaging science. A levitating train is science kids can see!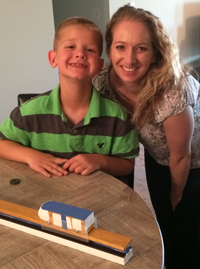 Family Science is Fun!
Alex and Lisa, pictured above, built and explored the Magic Bullet Train kit from the Science Buddies Store. Alex's train turned out great, and we love the gold paint! For more family science inspiration featuring the maglev train kit and project, see Magic Train Puts Kids on Track with Physics of Magnetism.
The science of magnetism often has strong
pull
with elementary school students. Couple a seemingly innate interest in magnets with an interest in trains, and you have the makings of a winning science project for school or a creative science exploration for a rainy day at home.
In preparation for spending summer time with her eight year old stepson, Lisa scoped out a number of projects and activities that would be both fun and educational. After spotting mention of the Magic Bullet Train project at Facebook, Lisa checked out the project at Science Buddies and quickly added it to her list of growing list of possibilities.
"I thought that Alex would enjoy it because he is very interested in science. He has also done pinewood derby cars with the Boy Scouts, so I knew he would be familiar with the shaping and painting skills we would need to make the train."
Along with supplies for other summer projects, Lisa ordered the Magic Bullet Train kit from the Science Buddies Store. When Alex arrived for a summer visit, she had plenty of great "to do" options to show him, from a pyramid excavation kit and a hydraulic crane set to snap circuits and a laser maze. The bullet train science kit was an immediate hit.
"Alex was excited about this kit right away. He knew that he wanted his train to have the shape of the one shown on the side of the Maglev train box," says Lisa. With a plan in mind for customizing his train, Lisa and Alex headed to the store to buy sandpaper, primer, and paint.
Because the project involves both designing and shaping a small train from a block of wood, assembling the magnetic railway, and then doing hands-on testing to see the train in action, the Magic Bullet Train project is one that kids can work on over several days. For many kids, the creative energy spent fashioning and personalizing the train makes them even more invested in the project.
"Alex worked on shaping the train with the sandpaper for a little while every day for about a week," says Lisa. "He was excited when it was finally time to paint it." Using blue, gold, and white paint he had picked out, Alex transformed his shaped wooden train into a model of a real train with gold sides, a blue roof, and a painted windshield and windows.
Throughout the project, Lisa says she and Alex talked about the science behind the project and behind real-world Maglev trains. "We discussed what 'maglev' means," says Lisa, "and talked about magnets and the meaning of the word levitation."
When the train and track were complete, Alex got the chance to see the train glide across the rails—without touching them—because of magnetic levitation.
As both a teacher and a parent, Lisa believes doing hands-on science with kids is important. "It's a great way to bond with kids, to explore a new idea together, and to get kids talking about what they think. I love to hear kids explain how they think the world works."
As a third grader, Alex is interested in science, the Civil War, rocks, and Dr. Who. Right now, he looks ahead to the future and says he wants to study geology or physics in college.
His hand-painted Maglev train will always be a reminder of a summer with his family—and of how much fun science can be!

Science Buddies in Action
Read more stories about student, teacher, and family success with hands-on science projects and activities. Have a story of your own? We would love to hear about your experience!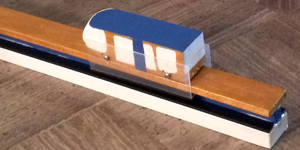 Categories:
You Might Also Enjoy These Related Posts:
Explore Our Science Videos
Paper Marbling – STEM Activity
Test Different Pinwheel Designs