Get to Know Science Buddies Choice Boards
Help students get to know Science Buddies with choice boards for elementary, middle, and high school.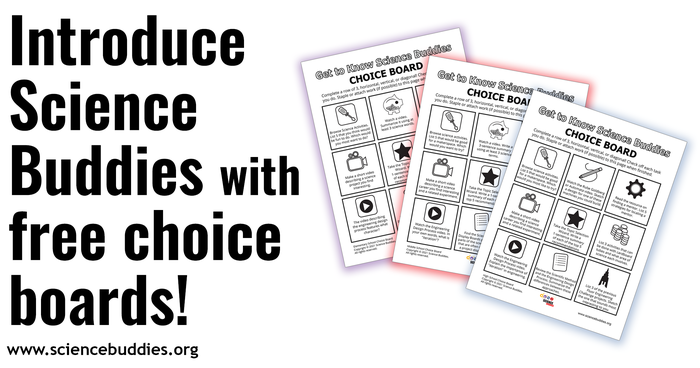 Get to Know Science Buddies!
If your students will be working on independent science and engineering projects (for the classroom or for a science fair), doing STEM career exploration, or doing science research projects, we encourage you to spend a few minutes walking them through the Science Buddies website. This will help students feel more comfortable as they browse for projects (or use the Topic Selection Wizard), consult the Scientific Method and Engineering Design Process Project Guides, explore STEM careers, and use the Ask an Expert forums if they run into questions.
Free Choice Boards!
Choice boards are a fun and popular way to give students a set of tasks and let them choose which ones they will do. You can require a certain number of completed tasks, a row of completed tasks, or some other configuration. Choice boards can be used for extra credit, for classroom work when students finish assignments early, or as a take-home assignment.
Our Get to Know Science Buddies choice boards make a game of searching and browsing the site. As they complete tasks, students will be familiarizing themselves with major areas of the site they may need once they start working on their projects.
We've created 3 free choice boards designed for elementary, middle, and high school.
More Choice Boards
For other choice boards related to STEM concepts and hands-on science and engineering, see the options in the following Educator Corner posts:
Categories:
You Might Also Enjoy These Related Posts:
Explore Our Science Videos
DIY Rubber Band Paddle Boat
Marble Machine: 2016 Engineering Challenge