Gifts to Give the Grownups--That You can Put to Good "Scientific" Use!
Earlier this week, we posted a list of cool science-y things you might add to your own wish list... things that would be fun to explore and might win holiday brownie points with Mom and Dad for sheer educational value. Hopefully you made sincere, compelling, and scientifically sound arguments. But now it's time to take a look at grown-up gadgets and science toys. Do you need to buy something for Mom, Dad, Uncle Joe, or Grandma? Maybe you've been thinking about what to give? Maybe you're hoping for perfect holiday brownies, in addition to the brownie points? There are tools that can help with that!
We asked the Science Buddies staff—the group of people who bring you all of our great science project ideas and resources—what was on their wish lists. Not surprisingly, they had some "scientific" answers! There are some unexpected but cool gift ideas on their lists... items, tools, and gadgets that you might be able to use in your own projects!
So, in the spirit of giving, we pass along this roundup of staff wishes. You might just spot the perfect gift for someone on your list... and we'll help by offering a few ways you might be able to "borrow" it for your own exploration!
(Parents, if you are reading along, we think you'll find some great suggestions here for things you might really use—and that would give you exciting new ways to bring more science into your house and into your dinner table conversations.)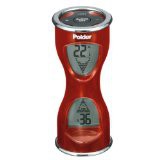 The reality... "kitchen" gadgets were high on the lists! There were also requests for digital kitchen thermometers
and digital (and loud) kitchen timers
.

We hope you find the perfect gift for anyone on your list. If you can "also" use the gift in your next science project, it's all good!

(Editorial Note: Links to Amazon.com for some of the above products are provided for additional information. Science Buddies does not sell kits or supplies directly. Any/all purchases are between you and the vendor you select.)
Categories:
You Might Also Enjoy These Related Posts:
Explore Our Science Videos
How Antibiotic Resistant Bacteria Take Over – STEM activity
Build a Mobile Sculpture – STEM activity