Globs of Gluten: Weekly Science Activity
In this week's spotlight:
a
food
-themed science activity that helps families explore the role of gluten in baking—and the different levels of gluten content in different types of flour. Many favorite holiday foods contain gluten, from stuffing and rolls to pies and pastries. But their different textures may have something to do with gluten. Extracting gluten from wheat flour can be sticky business, but in this science activity, families can get hands-on with their own gluten balls and compare the amount of gluten in different kinds of wheat flour.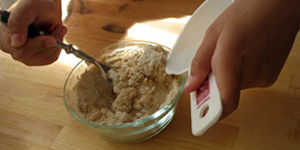 Categories:
You Might Also Enjoy These Related Posts:
Explore Our Science Videos
Make a Water Strider - STEM Activity