Going for the Gold: The Science of Winter Sports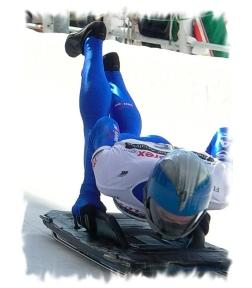 The 2010 Winter Olympics will be held in Vancouver February 12-28. With a list of sporting events that includes Alpine Skiing, Bobsleigh, Figure Skating, Freestyle Skiing, Ice Hockey, Luge, Skeleton, Ski Jumping, Snowboard, and Speed Skating, you know the snow and ice will be flying as athletes dazzle audiences and challenge the laws of physics with various rotations, jumps, loops, spins, twists, and turns.
Even from the couch, I can't pinpoint a perfect triple lutz a crisp Alley Oop or a flawless Backside 720. And the thought of hurtling down the Whistler track at speeds nearing 135 km/m on my stomach (skeleton) or on my back (luge) or hunkered down in a bobsleigh makes my head spin. This doesn't mean, of course, that I can't marvel at successfully landed moves and groan with the rest of the viewing audience when something goes wrong.
I'll be watching. And in between events, I'll be thinking a bit about sports science, about balance and dizziness and equilibrium, about speed and wind and friction, and about the many ways in which differences in equipment can be a determining factor.
A Balancing Act
While success in many winter sports boils down to gathering and maintaining and not disrupting accumulated "speed," many of these sports also require a good grip on balance. Torquing too far one way or another can send even the most seasoned athlete tumbling. For a look at what's going on, check out these Science Buddies science project ideas:
A Wheel in Motion...
Dive a bit deeper into issues that effect speed and accuracy in these project ideas:
On and Off the Ice
The following abbreviated project ideas offer concepts related to winter sports that can be expanded and crafted to create a unique and individual science fair project or study. As the Olympic games get underway, spending time as a class or group talking about the kinds of questions raised in these project ideas encourages creative and scientific collaborative thinking and problem-solving.
For other sports-related project ideas, visit our Sports Science section.
Update! For more information and related science and engineering projects and activities, see the Winter Olympics Science Experiments resource.
Categories:
You Might Also Enjoy These Related Posts:
Explore Our Science Videos
How to Make a Homopolar Motor - Science Experiment
What are the Chances? – A Probability STEM activity
Underwater Color Bursts – STEM Activity