Halloween Science Connections
As Halloween approaches, there are a number of ways you can tie science in with activities and projects that let kids get hands-on with things slimy, ghoulish, gross, light-up, or glow-in-the-dark. For the trick-or-treat crowd, there are plenty of candy-themed experiments to help kids whittle down—or statistically analyze—some of their All Hallows' Eve loot, too!
Browse the following list of inspired Halloween science activities and science, technology, engineering, and math (STEM) connections to bring science to life for your kids and students this October: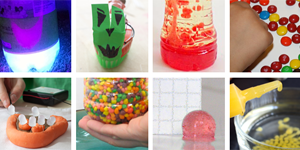 Categories:
You Might Also Enjoy These Related Posts:
Explore Our Science Videos
Candy Chromatography: What Colors Are in Your Candy?
DIY Glitter Surprise Package with a Simple Circuit
Paper Marbling – STEM Activity