Team Roles and STEM Inclusion
Science Buddies is committed to encouraging dialogue about inclusion and accessibility in science classrooms and programs. As we work to develop resources to support K-12 educators in engaging all learners with hands-on STEM, we want to share ideas and best-practices that can be implemented now or in the future with your students. Learn more about how using "roles" in group settings can make a difference!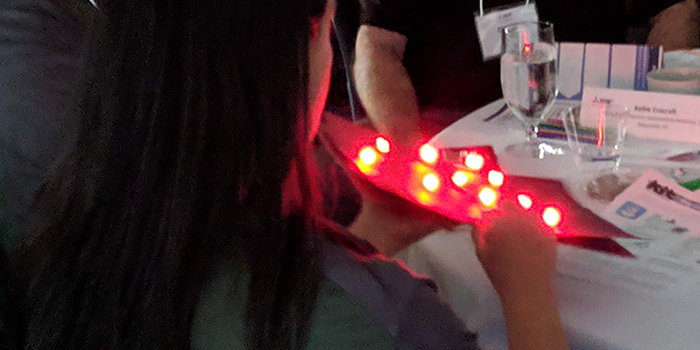 Above: participants at a recent conference sponsored by Mitsubishi Electric America Foundation (MEAF) put hands-on science and engineering activities to the test to brainstorm ways to improve engagement and inclusion for students with disabilities.
STEM for Everyone
Earlier this year, in our STEM is for Everyone: Scientists with Disabilities post, we outlined steps we are taking over the next two years to improve accessibility of our website and resources and to spark important conversations about improving inclusion in the STEM classroom. Ultimately, we believe that hands-on science learning should be available for every student, and every student should be empowered to envision a future in STEM. Commitment to ensuring science education for all students has always been at the heart of our mission, and that includes ensuring that students with disabilities are able to engage in hands-on science, too.
STEM for every student is the goal, but we know that ensuring inclusion can be a challenge in the science classroom or in other group learning environments. To help support educators and program leaders, we are actively working to develop new resources to help teachers find ways to accommodate and include all students.
STEM Hands-on with Inclusion
Science Buddies recently attended a conference, hosted by the Mitsubishi Electric America Foundation (MEAF), that centered on improving inclusion throughout the classroom-to-workforce pipeline. As part of this event, Science Buddies joined Mitsubishi Electric America employees, Kids Included Together, Boston Children's Museum, Dreams for Schools, and California Academy of Sciences to brainstorm and explore ways to make hands-on STEM more accessible to students with disabilities. Attendees worked in small groups on hands-on STEM projects and activities like building Paper Circuits, a Robot Hand, Paper Roller Coasters, and Junkbots.
We are currently developing a detailed resource to share what we learned with the Science Buddies community. The guide will contain tips and strategies for making science class activities more inclusive in ways that engage all learners and are manageable for educators. To give you an idea of the kinds of strategies we will be outlining, we want to share an approach you can start using right now in the classroom or in a camp or afterschool program.
Assigning Team Roles
Working collaboratively in groups can be a very effective way to approach hands-on STEM learning. Using teams or groups, kids have the opportunity to work together to troubleshoot, make observations, and practice important 21st-century soft skills. Adding "roles" to the collaborative learning model can bring additional value to group learning in terms of accessibility and inclusion.
When setting up a group science or engineering activity, we suggest identifying roles that emphasize specific skills and strengths. For example, students working together on a project might be assigned one of the following roles:
Project Manager: students in this role provide the group with the instructions and help with time management, ensuring students work efficiently, stay on task, and meet all required steps of the project or experiment. This role builds skills in communication, organization, leadership, and time management. This role is not constrained by motor skills or tactile sensory sensitivities and can be adapted to accommodate students who are deaf, hard-of-hearing, or have visual impairments. Each group should have only one project manager.
Technician: students in this role are the main "hands" for the activity and do most of the building, mixing, or other tactile work (based on directions from the project manager). This role builds motor skills, direction-following skills, and attention to detail. This role is not constrained by speaking skills and can be adapted to accommodate deaf or hard-of-hearing students. Groups of more than four students might have more than one technician.
Data analyst: students in this role record and analyze the data generated by the group. This role builds reasoning skills, organization skills, and numerical literacy. This role is not constrained by motor coordination, sensory sensitivities, or speaking skills and can be adapted to accommodate visual impairments. Groups of more than four students might have more than one data analyst.
Reporter: students in this role communicate the group's findings or present the group's design to the rest of the class. In this role, students summarize results, determine how to best share a project, and create presentation materials (e.g., slides, poster, etc.). This role builds communication and presentation skills. This role is not constrained by motor skills or sensory sensitivities and can be adapted to accommodate deaf, hard-of-hearing, or visually impaired students. Groups of more than four students might have more than one reporter.
Building Important Skills
It is important to note that this type of role-based team approach helps students use, practice, and develop skills by giving them the opportunity to experience diverse roles which emphasize different skill areas and strengths. Most students can cycle through the roles over the course of the school year, building skills in new areas and having the opportunity to try all areas. This may even lead to new awareness of specific strengths and interests or greater confidence in certain skills.
Importantly, one of the benefits of a role-based approach is its flexibility. Using roles, an educator can more seamlessly integrate and accommodate students with different needs. For example, an educator may choose to have some students work in a narrower subset of roles. Using roles within student groups, educators can ensure that all students have a vehicle for actively contributing to the group building or testing, and all roles are valuable and critical to the success of the project.
Try It!
We encourage you to consider the ways in which roles may be helpful for setting up group and collaborative STEM projects and explorations in your classroom. If you try (or are already using) roles into your STEM education setting, let us know about your experience! We are interested in your feedback and your best practices and strategies for making STEM accessible to all students.
For another look at the importance of teamwork and collaborative thinking and problem solving in STEM learning, see 5 Reasons Global Problem Solvers: The Series Will Inspire STEM Interest in Your Students. The Global Problem Solvers: The Series animated video series features a team of teams who each contribute certain skills and strengths to the team. By working together, the GPS team can tackle and solve challenging real-world problems!
The STEM is for Everyone Series
For more information about this series of profiles of scientists with disabilities and to learn about other scientists and engineers, see the following posts:
---
This post is part of our
STEM is for Everyone: Scientists with Disabilities
series. This series is made possible by generous support from Mitsubishi Electric America Foundation, a non-profit foundation jointly funded by Mitsubishi Electric Corporation of Japan and its US affiliates, working to make changes for the better by empowering youth with disabilities to lead productive lives.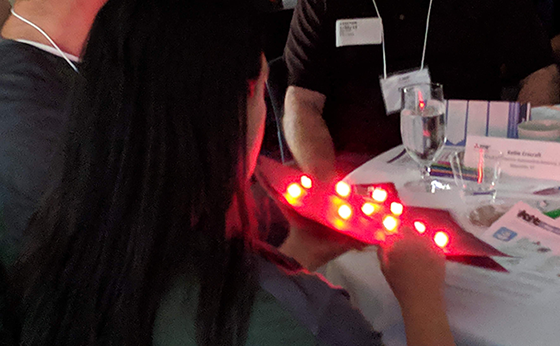 Categories:
You Might Also Enjoy These Related Posts:
Explore Our Science Videos
Iteration in the Engineering Design Process
Make 3D Printed Optical Illusions