STEM is for Everyone: Farida Bedwei, a Computer Scientist with Cerebral Palsy
Farida Bedwei's interest in computers started with a manual typewriter. Today, she is CEO of a software company she co-founded. Her cerebral palsy has not stopped her from excelling in STEM, and with a comic book about a superhero with a disability, she is a powerful advocate for girls in STEM and students with disabilities.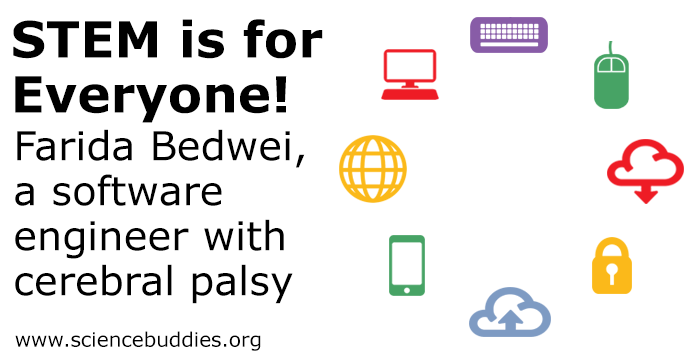 Farida Bedwei, co-founder and Chief Technology Officer of Logiciel, a microfinance software company in Ghana, is an inspiring reminder that disability shouldn't stand in the way of one's dreams or a career in STEM. Bedwei was diagnosed with cerebral palsy at the age of one. Her use of a typewriter as an alternative to writing led, ultimately, to an interest in computers. Her success in software engineering and her commitment to advocacy for people in Ghana, people with disabilities, and girls in STEM is a tribute to her belief in the importance of inclusion.
According to the Mayo Clinic, cerebral palsy is defined as "a group of disorders that affect movement and muscle tone or posture." Cerebral palsy is an incurable neurological disorder, and because there are a number of types of cerebral palsy, people with cerebral palsy may exhibit a range of different symptoms. Most experience difficulty with walking, coordination, or muscle control. Other symptoms may include difficulty with speech, hearing, eye muscle control, and balance.
Although Bedwei's cerebral palsy affects her movement and her speech, she has not let it stand in the way of her STEM career. As a child, she has said that her mother instilled the belief that she should always focus on what she could "try" to do rather than on what she thought was impossible.
"All my life, I've been told to remove the word 'I can't' from my vocabulary and to at least replace it with 'I'll try.'" — Farida Bedwei
Learning Opportunities Spark Interest
Bedwei was homeschooled until age twelve. She then began attending regular school in Ghana, especially so that she had the opportunity to socialize with other students. Due to challenges attending mainstream school with a disability, and with a growing interest in computers, Bedwei transitioned out of high school to a one-year computer systems program with a focus on data processing management. In that program, she says she discovered her interest in programming. "I loved the idea of solving problems, of creating things."
The information technology program helped put her on a career path, but Bedwei has said that cerebral palsy helped lead her to computer science. "I chose Tech because I was exposed to it at an early age as a channel for written communication." Because her cerebral palsy makes handwriting difficult, Bedwei used a manual typewriter from an early age. She progressed to an electric typewriter and then, as they became available, to a home computer. Once she had a computer, she realized the potential to do much more than just type was there at her fingertips. "When computers became affordable to the average household in the mid-80s, I started using one," says Bedwei, "and the rest is history."
Bedwei went on to co-develop cloud software that enables micro financial transactions and co-found the software company Logiciel.
Inspiring Others
In addition to being named, in 2013, as one of the most successful women in finance technology in Africa, Bedwei is a powerful advocate and role model for girls in STEM and for people with disabilities. She is part of The Girls in ICT Committee, a group working to encourage women to pursue careers in computer science and information technology.
Bedwei has also written a comic book, Karmzah, with an archaeologist superhero. The archaeologist has cerebral palsy, and her superpowers are present only when she is using her crutches. In an interview, Bedwei says that she wasn't able to find a superhero she could identify with when growing up. "I thought it was unfair that children like me did not have a superhero representing them. After all, CP is the most common cause of childhood disability." Bedwei also authored Definition of a Miracle, a fictional account of a young girl growing up with cerebral palsy in Ghana.
Explore with Student Science
Students interested in Bedwei's story and computer science, software design, or video game creation, may enjoy exploring projects like these:
Related STEM Careers
The following career profiles help students learn more about careers in computer science and software engineering:
Learn More
Books by Farida Bedwei
Additional resources
Enabling Computer Science Exploration
This week is Computer Science Education Week, during which thousands of students participate in Hour of Code activities.
To learn more about doing computer science with students and encouraging girls to explore coding, see the following posts:
The STEM is for Everyone Series
For more information about this series of profiles of scientists with disabilities and to learn about other scientists and engineers, see the following posts:
---
This post is part of our
STEM is for Everyone: Scientists with Disabilities
series. This series is made possible by generous support from Mitsubishi Electric America Foundation, a non-profit foundation jointly funded by Mitsubishi Electric Corporation of Japan and its US affiliates, working to make changes for the better by empowering youth with disabilities to lead productive lives.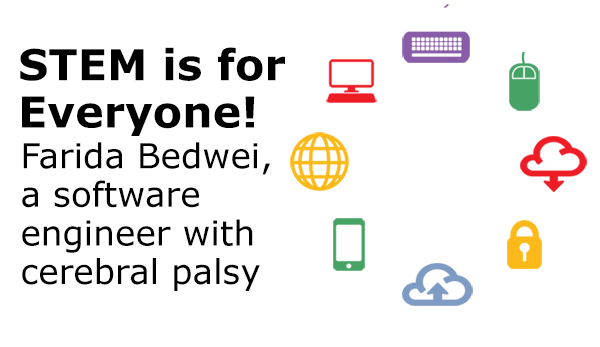 Categories:
You Might Also Enjoy These Related Posts:
Explore Our Science Videos
Write Secret Messages With Invisible Ink!
Make a Model to Explore the Distance from the Planets to the Sun
DIY Mini Drone Part 7: Automatic Balancing