STEM is for Everyone: Ralph Braun, Engineer
Improving mobility for himself and then people around the world became a life-long mission for this inventor and engineer.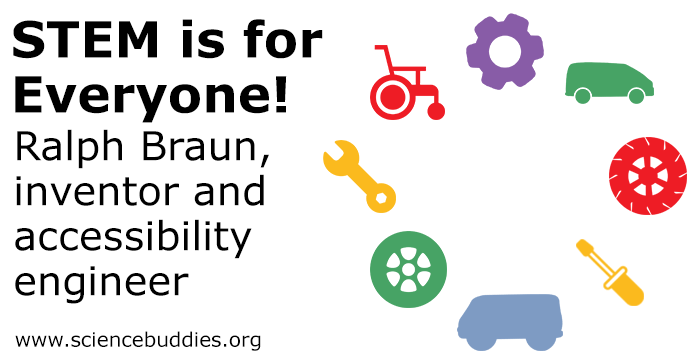 For Ralph Braun, diagnosed with muscular dystrophy1 as a child, mobility was a personal challenge that became the cornerstone of his career as an engineer. Braun's story reinforces the way engineers identify a need and then innovate and iterate to design, develop, test, and improve solutions. Sometimes the problem an engineer sets out to solve is rooted in personal history, which was the case for Braun.
Braun's story as an inventor began with his desire for greater mobility and more autonomy. By 15, he couldn't walk. Even with a wheelchair, it wasn't always easy to get around, and difficulties navigating a college campus left him determined to find a better way. "So I set out to design a battery-powered scooter," Braun said in an interview.
In 1962, at age 22, Braun built his first motorized wheelchair, a scooter made from spare parts. According to Braun, that first scooter had plenty of room for improvement. "Created …. out of a mish-mash of nuts, bolts, wires, tires and other unrelated machine parts, the vehicle was a four-wheeled monster. It was big and loud and dirty and smelly," he wrote in his autobiography, Rise Above: How One Man's Search for Mobility Helped the World Get Moving. But it was also a step in the right direction. "It was a crude device, but creating it gave me hope that I could build something out of nothing and make it work."
Braun continued to improve upon his design. A year later, he set up his first company in the family garage and started building and selling three-wheeled motorized scooters he called Tri-Wheelers.
His DIY motorized wheelchair improved his ability to get around, but Braun wanted to go further. He bought an old Jeep, took out the seat, and devised and installed a wheelchair lift mechanism and hand controls to make it possible for him to get in and out of the vehicle and to drive. In Rise Above, he talks about the process of making the old postal delivery Jeep wheelchair accessible and of its shortcomings.
The back door couldn't be closed, for example. But it worked. "My Jeep served its purpose by keeping me out of the elements and making me self-sufficient," wrote Braun. "It also gave me a sense of satisfaction that I'd used my wits and creativity to solve a very big problem for myself." Later, he moved on to outfit a full-size van with a lift. The larger van gave him much more space and enough room to also drive his family. (These early lifts Braun built evolved into the Lift-A-Way product manufactured by The Braun Corporation.)
By word of mouth, people heard about Braun's van and brought their own vans to him to be made accessible. In solving his own desire for greater mobility, he had created a solution that met the need for many others. Today, there is a market for accessible vans, a market that was fueled, no doubt, by the spirit, vision, and determination of Braun, referred to by BraunAbility as the Father of the Mobility Movement. In the preface to an Inc.com interview with Braun, he is described as a gearhead who "turned [his] innovations into a business with $200 million in annual sales."
Braun might have been an innovator and engineer regardless of his disease. He might have been an entrepreneur no matter what. But engineering gave him the tools to solve some of the challenges caused by spinal muscular atrophy, and his solutions went on to change the lives for people with disabilities around the world.
Braun was recognized by the U.S. White House as a Champion of Change in 2012 "for leading education and employment efforts in science, technology, engineering and math for Americans with disabilities." Braun died in 2013. His company, now called BraunAbility, continues to be a leading manufacturer of mobility solutions.
Explore Engineering with Student Projects and Lessons
Students inspired by Braun's story and interested in innovation and invention may enjoy exploring projects like these:
Educators can lead hands-on engineering activities with lesson plans like these:
Tip: The annual Science Buddies Engineering Challenge provides a way for educators to create fun, hands-on engineering opportunities for students. Plus, qualified entries have a chance to win cash awards for their school or organization! See the Science Buddies Engineering Challenge page for complete rules and limitations.
Related STEM Careers
The following career profiles help students learn more about some of the many
careers in engineering
:
Learn More
"When I was growing this business, I had two strikes against me. I was young, and I was what the population calls disabled. I never let that stand in my way. I just had to walk the extra mile, or roll the extra mile in my case." (Ralph Braun, Inc.com interview)
The STEM is for Everyone Series
For more information about this series of profiles of scientists with disabilities and to learn about other scientists and engineers, see the following posts:
---
This post is part of our
STEM is for Everyone: Scientists with Disabilities
series. This series is made possible by generous support from Mitsubishi Electric America Foundation, a non-profit foundation jointly funded by Mitsubishi Electric Corporation of Japan and its US affiliates, working to make changes for the better by empowering youth with disabilities to lead productive lives.
1 Note: Ralph Braun was diagnosed in 1947 with muscular dystrophy. His diagnosis was later changed to spinal muscular atrophy, a neuromuscular disease for which gene sequencing was completed in 1995. For more information about muscular dystrophy and neuromuscular diseases, see this list on the John Hopkins Medicine site.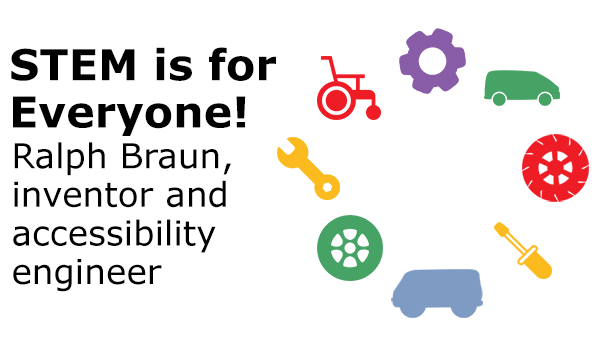 Categories:
You Might Also Enjoy These Related Posts:
Explore Our Science Videos
Explore Enzyme Activity with Toothpicks
Robotics Engineering Project: Use the Force! Push and Pull LEGO® Mindstorms® Robots