STEM is for Everyone: Scientists with Disabilities
With a new series of profiles of scientists with disabilities, we hope to help students, teachers, and parents broaden their understanding of who can be a scientist.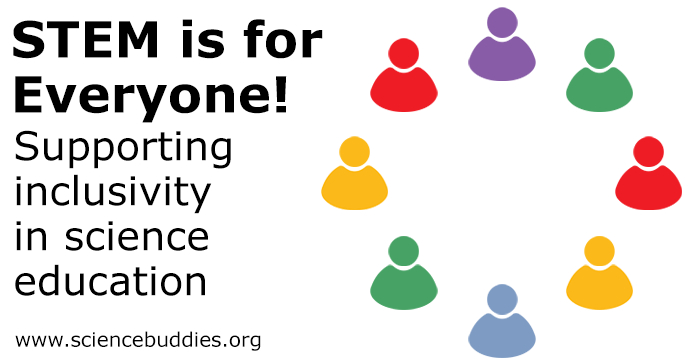 STEM is for Everyone! Supporting inclusivity in science education. www.sciencebuddies.org
What do you want to be when you grow up? Children are asked this from the earliest of ages, and responses often yield a humorous and sometimes whimsical mix of real-world and storybook career goals. Today, right along with answers like "super hero" or "princess," you might find jobs like veterinarian, astronaut, pilot, doctor, engineer, or, the catch-all, scientist on lists of dream jobs for both boys and girls. The push to help girls see themselves in science, technology, engineering, and math (STEM) fields—and to highlight examples and role models of women in STEM—continues to make a positive difference in how girls view science and in how many girls go on to work in STEM fields. Similar efforts related to race and ethnic diversity are helping broaden student understanding of what it means to be a scientist—and "who" can be a scientist. As part of widespread efforts to combat stereotypes surrounding science professions, we need to also ensure that STEM careers are accessible to children with disabilities and that these students are encouraged to see science careers as something within reach.
Shining a Spotlight on Inclusion
Thanks to support from Mitsubishi Electric America Foundation, Science Buddies is working to help ensure that students with disabilities have access to science learning materials and career information. Over the next two years, we will be updating our website to ensure better accessibility for all students, especially those using assistive technology. In addition to making changes to the website, Science Buddies will be developing a series of profiles of influential scientists who work/worked in science fields despite a disability. Students, parents, and teachers can all benefit from stories that feature scientists whose STEM careers challenge expectations and assumptions. Like children from other groups underrepresented in STEM, children with disabilities need to be told and shown that science is for them and encouraged to explore areas of interest.
Meet these Scientists with Disabilities
In coming months, we will be posting scientist profiles in this STEM is for Everyone: Scientists with Disabilities series. We know that disabilities come in all forms. Some disabilities are physical and some are sensory or cognitive. Some disabilities are visible, and others are not. By sharing stories about scientists with disabilities who work/worked in a range of science fields, we hope to encourage all students, teachers, and parents to continue to question their own assumptions about disabilities and what it means to be a scientist.
In sharing profiles of scientists with disabilities, we will be focusing on stories for which the scientist's disability was well known or documented. There are certainly many other stories of scientists with disabilities whose disabilities were not talked about in biographical accounts. Students will not see every type of disability reflected in these profiles, but we hope that these stories will help inspire them to think about STEM careers in new ways.
Scientists with disabilities stories:
The "Interest" Factor
At Science Buddies, we know that choosing a science project of personal interest can make a difference in how a student feels about the project and, by extension, science. Belief in the importance of personal interest in influencing how students think about science is a cornerstone of our popular Topic Selection Wizard, a tool that recommends hands-on science projects to students based on their interests. When it comes to thinking about science, technology, engineering, and math careers, we believe that interest in a field or area of science can be a first step towards further education and a career in science—regardless of where a student lives or goes to school or factors like economic status, gender, ethnicity, or disability.
Further Reading
At Science Buddies, we know we do not have all the answers about how to best be inclusive in teaching STEM. But we know that addressing issues of inclusivity in K-12 education is important and that STEM must be open and accessible to all students. As we work on making our own resources more accessible and creating materials to support, engage, and inspire students with disabilities, we hope to open new conversations with educators, parents, and organizations about inclusivity in STEM education. In the Team Roles and STEM Inclusion post, we share one strategy educators can use in STEM settings. We will be sharing additional approaches to support inclusion in time for the start of the 2019-2020 school year.
Below are a few resources which have been helpful to us as we think about the work we are doing. We hope these resources are useful to other educators, parents, and mentors to students with disabilities, too.
Share Your Story
If you are a science educator who works with children with disabilities, we would love to hear more about science in your classroom and with your students. You can reach us by emailing scibuddy@sciencebuddies.org.
---
This series is made possible by generous support from Mitsubishi Electric America Foundation, a non-profit foundation jointly funded by Mitsubishi Electric Corporation of Japan and its US affiliates, working to make changes for the better by empowering youth with disabilities to lead productive lives.
Categories:
You Might Also Enjoy These Related Posts:
Explore Our Science Videos
How Much Weight Can Boats Float?
Test Your Foods for Starch
How to Build a Unicorn Art Bot