James Webb Space Telescope: Galactic Scope
SXSW Interactive Festival attendees got a chance to see a full-scale model of the giant James Webb Space telescope last month in Texas.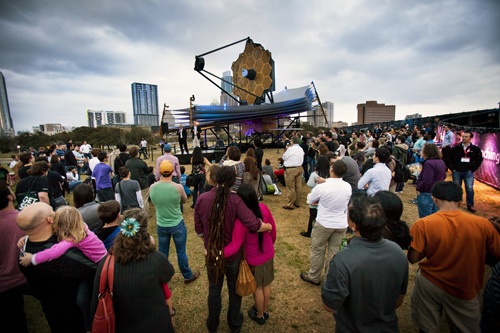 The image above, with the crowd gathered around, looks like something straight from a science fiction movie or novel. With its futuristic design, sophisticated sunshield system, and honeycomb of multiple mirrors, the Webb Telescope may, in fact, seem like the "stuff" of science fiction. Once launched, the space telescope will let astronomers study the formation of galaxies, planets beyond our Solar System, and newborn stars by examining their thermal radiation.
According to Northrop Grumman, more than 10,000 SXSW visitors got to see the four-story model Webb Telescope, explore the kinds of questions the telescope might help answer, and engage in related hands-on science, technology, engineering, and math (STEM) activities as part of the exhibit.
The model James Webb Space Telescope will be housed in Texas at NASA's Johnson Space Center in Houston, a facility Northrop Grumman characterizes as "home to the only vacuum chamber in the world that is large and cold enough (-440°F) to provide a space-like environment for the Webb Telescope." With plans to launch the Webb Telescope in 2018, vacuum chamber testing is scheduled to begin in 2014 in historical Chamber A, a facility once used to test Apollo spacecraft.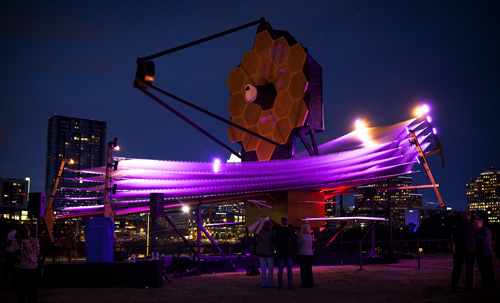 Supporting K-12 STEM Education
As an extension of the SXSW exhibition, Northrop Grumman and partners, including NASA, the Space Telescope Science Institute (STScI), and the University of Texas, went into classrooms throughout Austin, TX and engaged K-12 students in STEM science and art projects related to the Webb Telescope. Projects and artwork created during these school activities were displayed at the SXSW event in support of hands-on learning.
"In this spirit of STEM outreach, the Webb Telescope's presence at SXSW culminated with a Guinness World Record attempt for the largest astronomy lesson," notes Northrop Grumman. "The previous record was 458, but the crowds in Austin helped set a new world record of 526."

Simulating Cutting-edge Science and Engineering
Visitors to the exhibit got to see demonstrations of next-generation hardware and mirror displays and the infrared camera being used in the Webb Telescope. The photo above spotlights the unique sunshield, a series of multiple membranes that have been designed to enable the Webb Telescope to function in extreme space temperatures.
Students can explore the challenges and engineering questions that have gone into the construction and design of the Webb Telescope in the "The James Webb Space Telescope's Amazing Multiple Mirrors and Sunshield" physics Project Idea.
Science Buddies Project Ideas in
astronomy
are supported by Northrop Grumman.
Categories:
You Might Also Enjoy These Related Posts:
Explore Our Science Videos
Gear Ratio for the Junior Solar Sprint
Make A Tissue Paper Parachute - STEM Activity
See Germs! Hand Washing Science Experiment