Students Explore Solar with Junior Solar Sprint Cars
Junior Solar Sprint engages students in grades 5-8 with solar power science and electronics. Plan now to do this challenge with your students!
Exploring Solar Power & Electronics with Junior Solar Sprint
Junior Solar Sprint (JSS), a program of the Army Education Outreach Program (AEOP), is an annual STEM challenge for grades 5-8. Students participating in Junior Solar Sprint explore solar energy and engineering by building and racing solar-powered cars in classrooms or out-of-school programs. Winning teams have the opportunity to move on to compete in regional and national Junior Solar Sprint competitions.
Registration for the next Junior Solar Sprint will begin in September. Now is the perfect time to start planning your participation!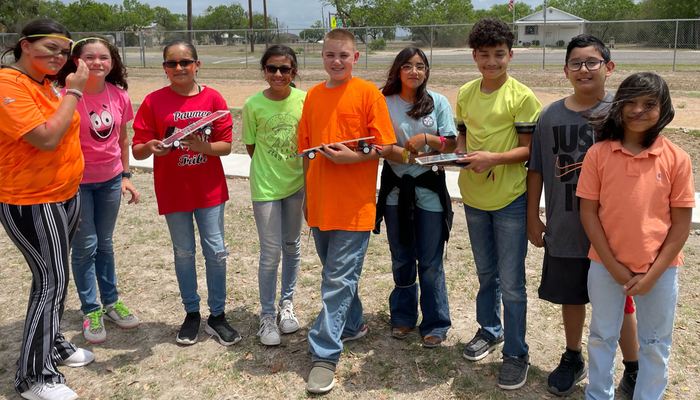 Above: Students who participated in the 2022 Junior Solar Sprint from Pawnee Elementary/Jr High in Texas.
Bringing Junior Solar Sprint to More Students
Science Buddies partnered with AEOP during the 2021-22 school year to help more students participate in Junior Solar Sprint, especially in classrooms where access to programs like Junior Solar Sprint may be limited and where funding for hands-on STEM materials is often not available.
With support from AEOP, Science Buddies awarded mini grants to teachers at twelve Title 1 schools. These grants supplied approved Junior Solar Sprint car kits to educators, making it possible for more than 300 students in grades 5-8 to participate in Junior Solar Sprint at their schools. Mini grant recipients were from schools in AL, MS, CO, OK, MN, NC, NM, TX, AZ, and GA.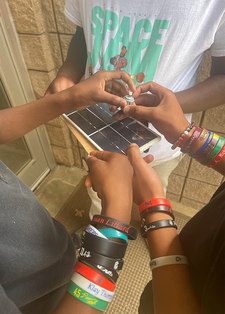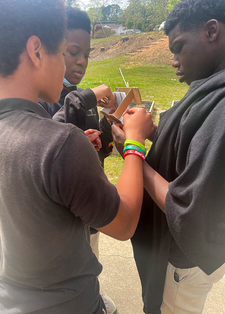 Above: Students from Kindezi School West and Mescalero Apache School working on their solar cars.
Mini Grant Recipients Go Solar
Building and racing solar cars is fun and can be a great way for students to explore electronics and solar energy.
For Amber, a teacher at West Marion Elementary, in Foxworth, Mississippi, Junior Solar Sprint was a welcome shift away from typical science lessons. "This gave the students a learning experience outside of a textbook," says Amber. "The students really liked building hands-on."
Margery, a teacher at Carlos Rey Elementary School, in Albuquerque, New Mexico, also found Junior Solar Sprint to be an exciting challenge for her students, especially since working in teams was new for them. "There was some genuine intellectual excitement going on, which was awesome!!!"
Joe, a teacher at College Prep Elementary, in St. Paul, Minnesota, says his students were motivated by the competition element. Junior Solar Sprint is, after all, a race! Junior Solar Sprint was the first time his students had the opportunity to use solar panels. "They were excited about them and what else they could be used for. The best part was seeing the students' original designs come to life and most of them work."
Problem Solving and the Engineering Design Process
Building and racing Junior Solar Sprint cars emphasizes the importance of testing and iteration in the engineering design process. Engineering doesn't always work the first try, and building solar cars is the first time many students have an opportunity to work with circuits, motors, gears and solar power.
Jenny, a teacher at Ketchum Public School, in Ketchum, Oklahoma, says that Junior Solar Sprint was an amazing experience for her middle school students. "This was their first exposure to gears and motors. We have designed rubber band and balloon powered cars before, so the car design process was familiar to them. They struggled with the gears and finding the right ratio that would give them enough speed and torque." Jenny says she let her students work on the problem, encouraging troubleshooting, team communication, testing, and iteration. "They approached it from a group standpoint... each group tested a different ratio and then they compared their results. I have worked all year to get them to work as a team and solve the problem together. I couldn't have been prouder!"
Working together to solve problems and make improvements to their cars can be empowering, especially when students see the results of their teamwork in how their cars run. "The best part of doing the Junior Solar Sprint with students was watching my students collaborate to solve the problems that arose with the design and construction of their solar car," says Sierra, an educator at The Kindezi School West, Atlanta, Georgia.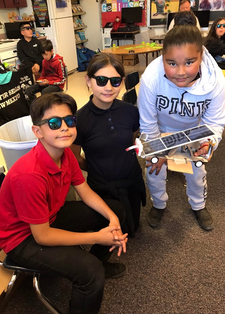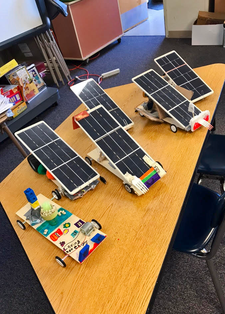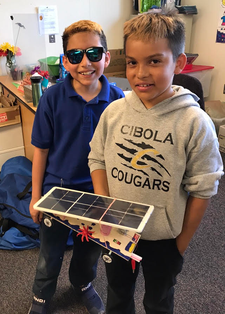 Above: Images from students at Carlos Rey Elementary who participated in the 2022 Junior Solar Sprint.
Solar Sprints at School
After all the building and testing, it's time to race! For many educators, race day provides a wonderful opportunity to celebrate STEM learning. Margery and her co-teacher celebrated race day and solar energy by passing out sunglasses to the students.
For Nate, an educator at Mescalero Apache School, in Mescalero, New Mexico, "the best part of the project was watching [their] eyes light up when they saw their cars move." Amber agrees. "The best part of doing the Junior Solar Sprint was taking the cars outside to race. The kids' smiles and excitement was so amazing to see."
Due to COVID-19, Pam's school, San Simon School BIE in AZ, was virtual from January-April, but when they returned in May, her students got hands-on with their solar cars. "These students live on the Tohono O'Odham Indian Reservation. It is in the middle of the desert, about 1 hour away from Mexico," says Pam. "This was a great experience for kids who do not get a lot of chances for these because we are remote. They loved it!"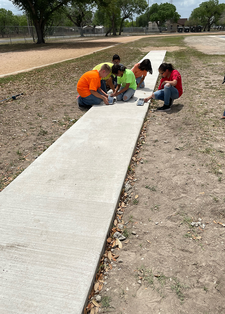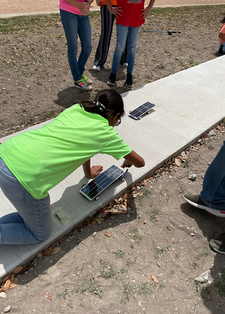 Above: Students making adjustments to their solar cars and testing them outside for the 2022 Junior Solar Sprint.
The Value of Participating
When asked if they would do Junior Solar Sprint again with students, the answer from mini grant recipients was consistently positive. "I most definitely would," says Sierra. "It was an amazing STEAM-based project that provided my students with the opportunity to learn, collaborate, and grow."
Jenny highlighted how the experience helped students see how what they learned can be applied to their everyday lives. "This was a great experience for my kids! They are now experts on gear ratio! This led them to think about other things that could be solar powered. We live in a rural area, so they were thinking about using solar power to run tractors and water pumps to help water cattle."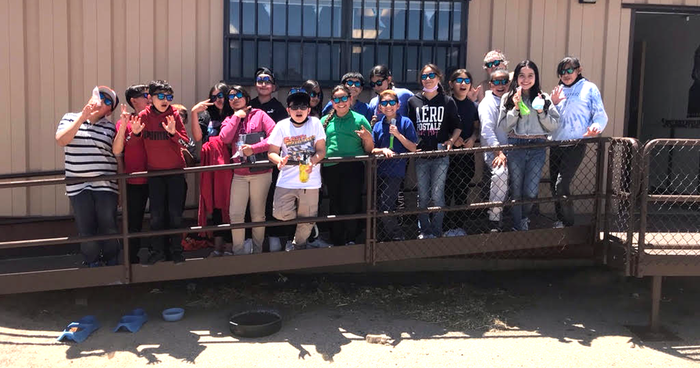 Above: Students from Carlos Rey Elementary School who participated in the 2022 Junior Solar Sprint.
Getting Started with Junior Solar Sprint
The following resources are available to help educators do Junior Solar Sprint with students:
Categories:
You Might Also Enjoy These Related Posts:
Explore Our Science Videos
Balloon Magic with Bernoulli's Principle
How to Make Great Rock Candy – STEM activity
Model the Size of a Virus