11 Lessons to Teach Magnetism
Use these free STEM lessons and activities to explore magnetism, the strength of magnetic fields, and the real-world application of magnets.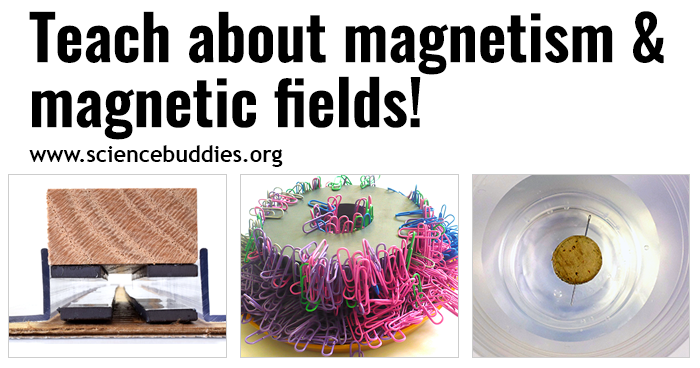 When teaching about magnetism, hands-on learning opportunities enable students to actively observe and engage with principles of magnetism and magnetic fields. Experimenting with magnets, students quickly grasp the concept of magnetic poles and how magnets attract and repel. In early grades, students can expand exploration of the ways magnets push and pull with fun visual activities like making floating magnet columns. (The magnets will only float if each magnet is oriented the correct way.) Or, they might learn about the Earth's magnetic fields using a homemade compass. (Why does the needle of a compass point in the direction of North?) Learning about the physics of magnetism continues throughout the K-12 curriculum.
The free STEM lessons and activities below cover permanent magnets, electrogmagnets, ferromagnetic materials, ways to measure magnetic fields, exploration of variables related to the strength of magnetic fields, real-world solutions that use magnetism, and more. In these activities, students will learn about the Curie temperature, Lenz's law, magnetometers, Gauss units, magnetic linear accelerators, ferrofluids, and more.
Note: Science Buddies Lesson Plans contain materials to support educators leading hands-on STEM learning with students. Lesson Plans offer NGSS alignment, contain background materials to boost teacher confidence, even in areas that may be new to them, and include supplemental resources like worksheets, videos, discussion questions, and assessment materials. Activities are simplified explorations that can be used in the classroom or in informal learning environments. Student projects that appear below contain experiments that can be effectively adapted for use by educators for teaching about the topic.
Lesson Plans and Activities to Teach About Magnetism
Magnetism Tutorial
The Electricity, Magnetism, & Electromagnetism Tutorial resource is a good place to start when introducing magnetism to students. For older students, the resource can be a helpful refresher. The video above (also located on the "Magnetism" tab) offers an overview of magnetism. (Tip! Google Classroom teachers can use the Google Classroom button to assign this resource to students.)
Thematic Collections
Collections like this help educators find themed activities in a specific subject area or discover activities and lessons that meet a curriculum need. We hope these collections make it convenient for teachers to browse related lessons and activities. For other collections, see the Teaching Science Units and Thematic Collections lists. We encourage you to browse the complete STEM Activities for Kids and Lesson Plans areas, too. Filters are available to help you narrow your search.
Categories:
You Might Also Enjoy These Related Posts:
Explore Our Science Videos
Rubber Band Paddle Boat with Cardboard and Duct Tape