Marinade Science: Weekly Science Activity
In this week's spotlight:
a
food sciences
family science experiment that investigates the way different ingredients make a difference in how well a marinade sticks to food. In this science activity, students simulate the process of soaking a food in a marinade by doing a controlled study with tofu, food dye, and four different ingredients that might be found in a marinade recipe. Setting up a set of standards for what the tofu looks like when soaked in different levels of dye concentration makes it easy to evaluate how well the test marinades made with different ingredients
stick to
the tofu. Based on this kitchen chemistry experiment, cooks of all ages can make more scientific decisions about how to best mix up a marinade or tweak a favorite recipe for even more
sticking
flavor!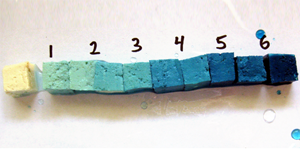 Categories:
You Might Also Enjoy These Related Posts:
Explore Our Science Videos
Popsicle Stick Paddle Boat
Valentine's Day Candy Delivery Robot
How Strong Is Your Hair? – STEM Activity