Mark DNA Day with a Field Trip, a Genome Refresher, or a Spool-Your-Own DNA Activity
Whether you explore strawberries, onions, the mighty Tyrannosaurus rex, or the ways in which certain physical traits are evident in your family, make time to talk about and experiment with DNA-related science. Students of all ages should know their A's, T's, G's, and C's. With a fun science kit from Bio-Rad Laboratories, they might even wear their own DNA around their neck!
The human genome contains more than 3 billion DNA base pairs. If you typed 360 letters a minute for eight hours a day, it would take you nearly 100 years to type all the letters. ~ Genome: Unlocking Life's Code, Educator's Guide for Teachers of Grades 7-12
That's a lot of DNA, a lot of letters, an almost incomprehensible amount of typing, and a lot of room for little mutations, changes, exceptions, similarities, and differences! This year, in celebration of National DNA Day (April 25, 2014), take time to talk with your students about DNA, genomes, and genomics.
Last year, for the 60th anniversary of the discovery of the double helix structure of DNA and the decennial marker of the completion of the Human Genome Project in 2003, we pulled together a short overview of the history of DNA, its key players, Photo 51, and great DNA-related science projects that students can do to explore DNA in Celebrating DNA and the History of the Double Helix.
A DNA history lesson or refresher is never a bad idea, but when you pair the information with a simple experiment or hands-on activity, you give your students the opportunity to see firsthand what it means to talk about DNA base pairs, how DNA differs from a genome, and how DNA is essential to all living things!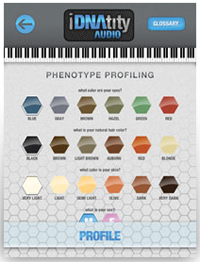 Your DNA; Your Music
Your DNA may influence the kind of music you like, but with the iDNAtity Audio app for iOS, you can create a custom piece of music that represents your DNA using sound. After you fill in some information about your basic physical characteristics, like eye color, skin tone, and hair color, the app uses information about those phenotypes to determine your DNA profile.
With a bit of computing, the letters of your DNA are then converted to the notes of a musical piece, letting you "hear" your DNA. Nifty! Be prepared, your unique DNA-based sound may or may not be completely tuneful, but it will be you! Try out your custom sound with your choice of a variety of instruments, save the clip, share it, and compare your DNA music with your family and friends.
To best complete the phenotype profiling questions, you need to be familiar with certain kinds of traits, including detached (or not) ear lobes and widow's peak. An in-app glossary is provided, but the Pedigree Analysis: A Family Tree of Traits Science Buddies Project Idea contains additional information and pictures that may prove helpful.
For more information on the science behind the app, see: idnatity.com/the-science-behind-idnatity/.
In celebration of DNA Day, the iDNAtity Audio app is free for download through Friday, April 25, 2014, courtesy of Bio-Rad Education.
Genomics Field Trip
For those in the Washington D.C. area, celebrate National DNA Day with a trip to the Smithsonian Institution! The Genome: Unlocking Life's Code exhibit (opened June 2013) is a great way to help students better understand DNA, the ways in which DNA is structured, sequenced, and analyzed by scientists, and the way DNA research helps scientists better understand the past, present, and future.
A collaboration between the National Museum of Natural History (NMNH) and the National Human Genome Research Institute (NHGRI), the 4,400-square foot Genome: Unlocking Life's Code exhibit introduces visitors to the human genome and the role of genomics, the ways in which the genomes of other species show both similarities and differences, the impact of genomics on studies related to human origins, and the use of genomics in the future, particularly in health care.
Visitors to the Smithsonian exhibit can also get hands-on in the National Museum of Natural History's interactive Genome Zone. The Genome Zone houses a rotating queue of activities where students can examine their own traits, do lab experiment, make bead bracelets that show the genetic sequence of a chimpanzee or turtle, watch videos, and more.

Sampling Your DNA
In the Genome Zone, visitors may have the chance to extract a sample of their own DNA using the Genes in a BottleTM kit from Bio-Rad Laboratories. After extracting DNA from a cheek sample, students can admire it and possibly even take it home as a keepsake! Thanks to support from Bio-Rad, approximately 300 student Genome Zone visitors a day are getting up close and personal with their own genetic material—spooling their own DNA.
Thanks to the Genes in a Bottle kit and the Discovering DNA: Do Your Cheek Cells & a Strawberry Both Have DNA? Project Idea, visualizing DNA can be a simple, fun, at-home or at-school activity. At the end of the science experiment, students using the kit can preserve their DNA sample as a cool, one-of-a-kind pendant.

Support for Educators

For those not in Washington D.C. area, or for teachers and parents planning to take students to the exhibit, Genome: Unlocking Life's Code Educator's Guide for Teachers of Grades 7-12 is an excellent PDF resource. The 36-page guide contains supplemental information for a field trip to the exhibit and also offers summary information, a number of classroom activities (including printable assignment sheets), information tying Next-Generation Science Standards (NGSS) to the exhibit, a glossary, and a range of resources for science, technology, engineering, and math (STEM) education.

DNA Projects for K-12 Students
Students can also explore the world of DNA, genomes, and genomics in science projects from Science Buddies like these:
Categories:
You Might Also Enjoy These Related Posts:
Explore Our Science Videos
DIY Mini Drone Part 4: Program Drone Steering with Arduino
Robotics Engineering Project: Use the Force! Push and Pull LEGO® Mindstorms® Robots