Math Riddles for All Ages
A new book brings math into the realm of bedtime stories. Whether you read it with your kids at night or during the day, Bedtime Math encourages families to talk about math every day—and to have fun doing so!
Talking About and Doing Math with Your Kids
We use math every day in countless ways. Don't be afraid to turn ordinary moments into math moments with your kids. It is good for them to add, subtract, and think about numbers and how they relate to real-world scenarios—and doing it as a family can be fun!
"The U.S. ranks 25th out of 34 countries when it comes to kids' math proficiency. One New Jersey parent wants to change that by overhauling the culture of math. An astrophysics graduate and mother of three kids, she started a ritual when each child was 2 years old: a little bedtime mathematical problem-solving that soon became a beloved routine. Parent friends began to bug her to send them kid-friendly math problems, too. Now Bedtime Math is gaining fans among children and math-shy parents around the country."--NPR
Do your kids love numbers, puzzles, and the challenge of a good brain tickler? Do you make it a point to incorporate math into everyday activities and scenarios with your kids so that the real-world application of basic math skills is tightly woven into things you do? When math is about more than rote memorization, many kids find it fun. Practicing math skills is always important and can help boost your student's number savvy
and
their number confidence.
A new book from Macmillan aims to help parents boost math awareness at home with fun and engaging math-based puzzlers for all ages.
Bedtime Math,
written by Laura Overdeck and illustrated by Jim Paillot, offers parents clusters of related math puzzles, which Overdeck refers to as riddles, targeted at different age groups: wee ones, little kids, and big kids. With the three-legged approach to each story and set of math problems, Bedtime Math offers ease of use for parents (and teachers) and, in some cases, room to grow. Each riddle group shares the same general story line, but each difficulty level presents a new math question. With a multi-age group of kids or siblings, you can ask the riddles by age, or, with older kids, start with the "wee ones" riddle and then move on sequentially to the harder ones. They may find the "wee one" very easy. You might even get an eye-roll or two, but the stories are still fun, and by starting with the easy riddle, your kids may build momentum as they progress to each new level of difficulty.
Chapter 1 is titled "Exploding Food." Intrigued? The Bedtime Math video trailer (below) offers a glimpse into the book's fun style, clear language, engaging layout, and colorful illustration. You can view additional pages from the book at Amazon.com to get a sense of the clever stories Overdeck has crafted to draw students in. How many bites of Habañero peppers before you can't stand the heat? How many kids are screaming on the roller coaster? How many LEGO® bricks do you have left if the roof took x bricks from your starting number?
In addition to Bedtime Math (the book), Overdeck offers a free daily newsletter from (sign up on the Bedtime Math website) that delivers a tiered daily math challenge to your inbox. With kids home over the summer, you may find the newsletter, book, and Overdeck's blog, an easy and entertaining way to add a routine dose of math to your days and family time—or bedtime reading.

More Ideas for Family Math
How do you and your kids keep the math flowing during summer break? Check our "Making Room for Math" post for tips and suggestions for infusing summer days with easy doses of math. See also, "Weekly Spotlight: M&M Math" and the math area of the Science Buddies library of Project Ideas for science, technology, engineering, and math.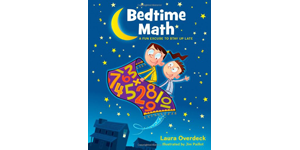 Categories:
You Might Also Enjoy These Related Posts:
Explore Our Science Videos
Flying Helicopters on Mars - Paper Models