Moon Size Science: Weekly Science Project Idea and Home Science Activity Spotlight
In this week's spotlight:
a pair of
human biology and health
science projects to help students and families better understand the way our eyes perceive the full moon rising. If you have noticed that a full moon sometimes seems
very big
and then smaller as it rises, you have seen the
full moon illusion
in action. Learn more about Emmert's Law and experiment to find out why and how our perception of the moon's size changes based on where it is in the sky:

Take It Further
By the way, this week's full moon (on Tuesday, August 20) was also, technically, a Blue Moon, a label which has nothing to do with the color and a lot to do with the old adage we often hear and use of something happening "once in a blue moon"! Find out more about the history and science of the Blue Moon in this article at Space.com. See also: "When the Moon Is Full (Or Seems to Be)" and "Visual Illusions: When What You See Is... Not What's There?" on the Science Buddies Blog.
This cool video by photographer Mark Gee gives a great look at a few minutes of a stunning moon rise in Wellington, New Zealand. Will the moon look so big once it is fully risen? Did it actually change? That's what this week's science activity highlight is all about!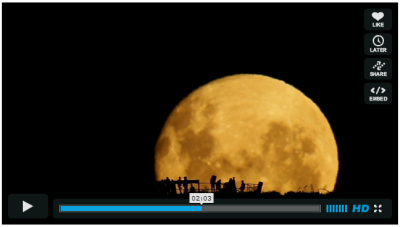 Categories:
You Might Also Enjoy These Related Posts:
Explore Our Science Videos
DIY Glitter Surprise Package with a Simple Circuit
Can You Charge Your Phone with a Potato?