2022 Paper Ball Run Fluor Challenge — 7 Steps to Success
Follow the 7 steps below to do the 2022 Fluor Challenge with your students! This year's challenge is a Paper Ball Run challenge with a "slow the roll" twist! Getting a high score in this challenge requires creative thinking and engineering to slow down the path of the ball. How will your students do it?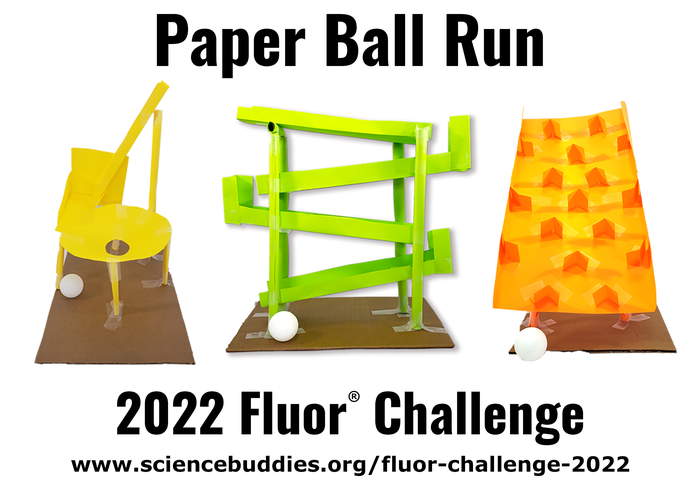 The 2022 Paper Ball Run Fluor Challenge is open to all students in grades K-12! The annual Fluor Challenge is an exciting way to have students try engineering. Building and testing ball runs for the Fluor Challenge is also a great hands-on activity to do for Engineers Week. With separate worksheets and lesson plans available for elementary, middle, and high school, as well as an individual student project version, the Fluor Challenge is designed to work for students at all grade levels, around the world, and in a wide range of learning environments, including the classroom, at home, or in out-of-school or community programs.
7 Steps to Do the 2022 Fluor Engineering Challenge with Students
1
Introduce this year's Paper Ball Run Fluor Challenge and watch the Paper Ball Run overview video.
Directions for the 2022 Fluor Challenge are available in the following formats:
2
Review the steps of the Engineering Design Process and watch the Engineering Design Process video.
Tip! Talking about the Engineering Design Process will help students understand how to approach designing, testing, and iterating to troubleshoot and improve their ball runs. For more information, see 4 Ways to Teach Engineering Design.
3
Review the rules for the 2022 Fluor Challenge and the allowed materials (in the lesson plan or project directions you are using with your students). It's a paper and tape challenge, which makes gathering materials easy! If students have questions, consult the Paper Ball Run FAQ.
Tip! Make sure all students are clear how materials will be counted when calculating the final score for their towers.
4
Have students sketch ideas for their paper ball runs, including design elements they think will help slow down the ball's path from start to finish. Have them choose the design they think will result in the slowest ball run.
5
Working in teams of 1-4, students design, build, test, and iterate their paper ball runs. Remind students that engineering involves building, testing, and making design changes to work out problems and to continue to improve how the ball run works.
Tip! Worksheets are available to help students document their Fluor Challenge solution. Download grade-level worksheets for grades 3-5, 6-8 , and 9-12.
6
Finish and test the paper ball runs for the 2022 Fluor Challenge. Set a deadline for students to complete their ball runs. Review the testing protocol and how to calculate final scores. Have students run their official timed tests and calculate their final score! To enter the contest, students will need their final score and a photo of their ball run. (A second photo of the team with the ball run is optional.) What about video? Video footage documenting the ball run is not required, but it is always fun to see!
7
Enter for a chance to win! Submissions for the 2022 Fluor Challenge will be accepted February 20-March 20, 2022. All K-12 students/teams are invited to upload their paper ball run solution for the 2022 Fluor Challenge. There is no fee to enter. Students in listed geographic regions will be automatically entered in random drawings for prize money to be awarded to the winning team's school or organization. (Note: See the Fluor Challenge page for rules, eligibility, and complete prize information.)
The Fluor Challenge is about trying engineering. Students do not have to have a high score to enter or to win!
Engineers Week
The Fluor Challenge is a great way to celebrate Engineers Week with students. This year's challenge uses readily-available materials that make it accessible to students who are building their ball runs in the classroom or completing the challenge at home.
If you are looking for additional hands-on engineering challenges, we recommend these collections:
Note: Engineers Week 2022 is February 20-26.
Categories:
You Might Also Enjoy These Related Posts:
Explore Our Science Videos
Lift Ice with Yarn STEM activity
Why Do Apples and Bananas Turn Brown? - STEM activity
Explore Concave and Convex Mirrors– STEM Activity.