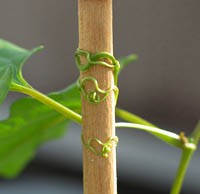 If there's snow in the forecast where you live, it may seem early to start thinking about spring and gardening. But, now, when the ground is still hard and cold, is a great time to give your green thumb a pre-season boost by soaking up some research on
tropisms
.

You probably know that plants grow "toward" the light, and by experimenting with the placement of a plant in relation to its light source, you can "see" the plant "bend" toward the light. Such plants are phototropic. Tropisms are directional movements of plants in response to different kinds of stimuli. For example, a plant might respond to gravity (gravitropism), or water (hydrotropism), or touch (thigmotropism), or light (phototropism). Some plants respond to all of these, often at the same time!

Smarter Gardening
Learning more about tropisms and how they will impact the growth of certain plants in a garden can help you make choices in terms of both garden design (where should you put each plant?) and maintenance (do you need to add supports?). The choices you make based on the science behind plant behavior can increase the success and heartiness of your plants. For example, you want to be prepared to stake plants that will grow upwards towards the sun so that their stems can support their height. Plants that wrap around other things or curl up in response to touch may also need to be staked. And understanding the spatial requirements of a sun-tracking plant like the sunflower will help you make smart choices when you decide where, and how far apart, to plant them.

Digging Deep
The following Science Buddies Project Ideas let you roll up your sleeves and explore tropisms and the ways in which plants "move" in response to changes in stimuli. Variations at the end of each project offer ways to customize and alter the projects, so there is plenty of opportunity to create your own version of a tropism-based project!
(Research and development of Science Buddies Project Ideas in the area of plant biology are supported by the Monsanto Fund.)



Categories:
You Might Also Enjoy These Related Posts:
Explore Our Science Videos
Making False-Color X-ray Images with NASA Files from the Chandra Observatory
Line-Tracking Robot: BlueBot Project #3