Drone Science with a DIY Popsicle Stick Drone
Series of STEM activities guides students in building and experimenting with a popsicle stick drone. From a beginner build to adding advanced Arduino controls, follow along to build and test your own mini drone!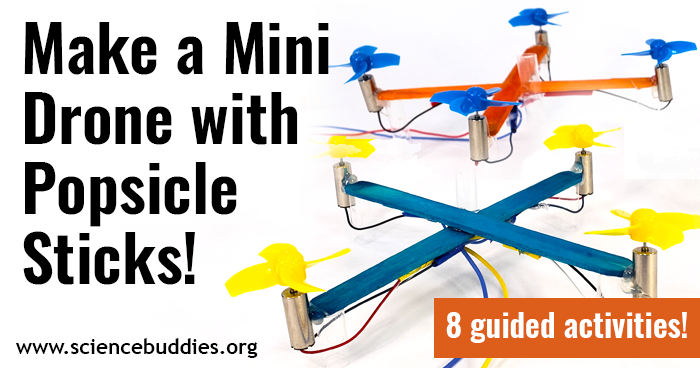 Drones can be fun (and challenging!) to fly. A drone's hovering flight may look effortless, but whether you've experimented with a drone indoors or outside, you know that a lot goes into expertly navigating a drone to keep it in the air and out of the trees or away from the ceiling and walls. With a DIY popsicle stick drone, students can get hands-on exploring the science behind a drone's flight.
Building a drone is a great maker-inspired STEM activity and gives students a chance to practice and develop circuit-building and programming skills, too. The popsicle stick drone isn't a drone you will be able to let loose at the park and fly remotely. Real drones are much more complex than a popsicle-stick drone, but there is a lot of STEM students can explore with a DIY mini drone!
Build Your Own Mini Drone Kit
Now available! The DIY Mini Drone Kit contains the specialty items you need to build the basic mini drone.
DIY Popsicle Stick Drone Activities Sequence
Science Fair Projects for Drone Science
The activities above provide a progressive series of drone-building exploration based on a popsicle stick drone. The activities can be used at home, in the classroom, or in a variety of out-of-school settings but do not provide a guided framework for independent science fair projects.
Students interested in doing school or science fair projects about drones can explore these related projects:
Educators: For related lessons and activities to explore robotics and robotics engineering and circuit building with students, see the Robotics Projects, Lessons, and Activities for Teachers and 18 Science Lessons to Teach Circuits collections.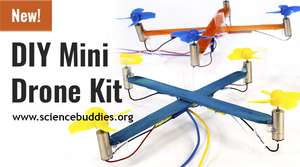 Categories:
You Might Also Enjoy These Related Posts:
Explore Our Science Videos
Why Won't it Mix? Discover the Brazil Nut Effect
Build a Bird Feeder to Study Birds – STEM activity
Cricket Wicket Knockdown: 2020 Engineering Challenge