PPG Volunteers Help Science Buddies Improve Student Chromatography Project
A team of PPG volunteers got hands-on with a Science Buddies student science project. The team applied their expertise with real-world chromatography to a student chromatography project that uses a homemade, low-tech setup at home.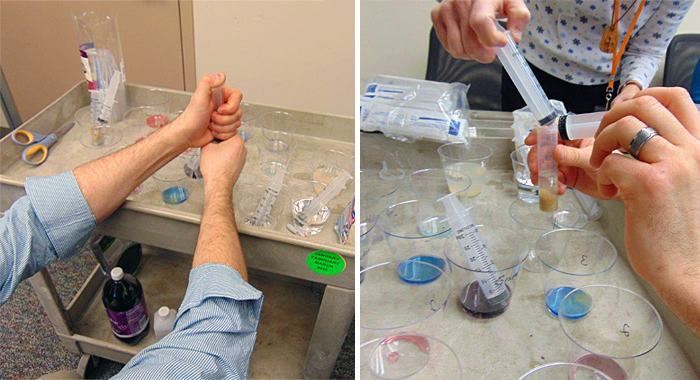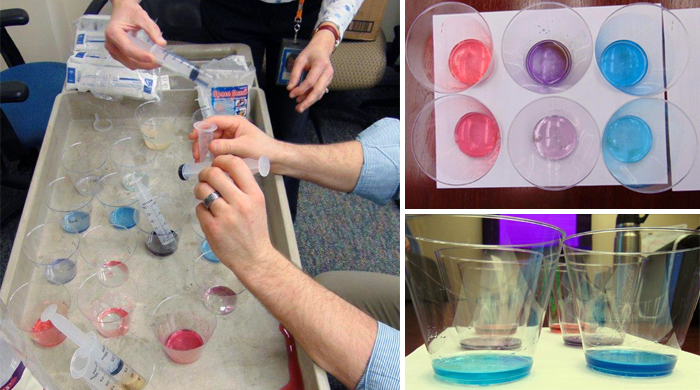 When PPG approached Science Buddies about a day of service activity for a team of volunteers from their headquarters in PA, Science Buddies had just the right project for them. With more than 1,100 free science projects ideas in its library, Science Buddies is continually evaluating content and project procedures to ensure that students doing Science Buddies Project Ideas have a positive science project experience. Regardless of a project's difficulty level, Science Buddies aims for the procedure to be scaled appropriately for a successful independent student science exploration. This can be particularly challenging when a procedure or topic requires expensive, specialized laboratory equipment.
Bringing real-world science techniques to students often involves innovative homemade setups and procedures that simulate, on a small scale, the processes done in laboratory environments. Having external teams put student science project procedures to a hands-on test is a great way to bring a sponsor company's expertise to a project. Teams of volunteers with expertise in a particular area of science or engineering may have important insight that can help strengthen a student project procedure or setup. Whether they are asked to solve a specific problem with a project, look for general areas of improvement, or help brainstorm new approaches to certain steps or "Make It Your Own" variations, Science Buddies knows that the contributions of volunteer teams can help make projects even more student-friendly. Sometimes a very small change in a procedure can have a big impact on how a student's project goes.
As the first of two "Done in a Day" volunteer initiatives, a team of scientists put together by the PPG Science Education Council tested the Column Chromatography: Can you Separate the Dyes in Grape Soda Using Space Sand™? project. In this popular biotechnology project, students experiment with column chromatography and grape soda. Using a homemade column chromatography setup involving hydrophobic sand, students experiment to see if they can separate purple grape soda into its individual dye components.
Science Buddies asked PPG volunteers to do general hands-on testing of the project as well as to test to see if other approaches or materials might work or work more effectively. Thanks to PPG testing, Science Buddies was able to make minor changes to the project procedure that will help ensure a more successful science project experience for students doing the project. Based on PPG's hands-on evaluation of the procedure, Science Buddies made changes that make the homemade column chromatography setup less likely to lose sand through the syringe opening. Another change recommended by PPG improves the purity (and vibrancy) of the dye that students see at a certain point in the procedure.
"We are incredibly grateful for the time PPG employees spent working through the column chromatography experiment," says Sandra Slutz, Director of Science for Science Buddies. "With their years of expertise in the subject, they were able to suggest a number of small changes to the procedure that made a large difference in the column's performance and the magnitude of the effect students see. The willingness of companies like PPG to lend us their expertise is what makes it possible for Science Buddies to cover so many areas of science with a small scientific staff."
PPG volunteers will be testing another student science project in coming months.

Above: Scientists from the Analytical Department at PPG. From left to right: Jessica Ryan, Jennifer Coles, Connie Schussler, Keith Moquin, Andrew Davic, Daryl Mains.
Science Buddies appreciates the support from sponsor companies like PPG. Thanks to
sponsors
and volunteers, Science Buddies' resources remain free to use for more than 15 million students, teachers, and parents each year.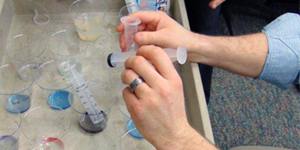 Categories:
You Might Also Enjoy These Related Posts:
Explore Our Science Videos
Robotics Engineering Project: Use the Force! Push and Pull LEGO® Mindstorms® Robots
Making False-Color X-ray Images with NASA Files from the Chandra Observatory