Rosie Revere and Iggy Peck: Engineering Inspiration
Don't miss this rhyming pair of picture books for STEM-focused summer reading. Each offers a charming illustration of engineering spirit. Kids can be engineers, too!
For boys and girls alike,
Rosie Revere, Engineer
by Andrea Beaty and illustrated by David Roberts offers an exciting story of the engineering process and the importance of working and reworking designs.
If you pick this book up, be prepared to read it out loud. Told in a singsong rhyme, this is the story of Rosie, a little girl who loves to build and tinker. Rosie is always on the lookout for castoff odds and ends that she can add to her "engineer's stash" and then, alone in her attic, she makes things. She makes things she loves... and then she hides them away.
She hides them, it turns out, because when she was younger, a family member laughed at something she made especially for him—something she engineered to solve what she perceived as a problem. She made her uncle, the zookeeper, a clever hat to keep the snakes off his head, a contraption that involved fan parts and spray cheese. Her uncle's reaction, unfortunately, discourages Rosie and causes her to hide her love of gadgets and gizmos and making.
Things change when Great Great Aunt Rose comes to visit. Rose is a boisterous character who, with her red and white polka dot scarf, brings to mind the historical figure of Rosie Riveter. The world-savvy and independent Rose has lots of exciting stories that she regales young Rosie with, but, the one thing she hasn't crossed off her bucket list is her desire to fly. Young Rosie gets inspired to help her aunt fulfill that dream, so inspired that she invents the heli-o-cheese copter. Unfortunately, making a helicopter from spray cheese is pretty challenging, and it doesn't quite work the way Rosie envisioned.
Her aunt, seeing the test of the cheese-copter, laughs, and the laughter is almost Rosie's undoing. But as her Aunt helps Rosie see, while her invention didn't completely work. It did work—for a few seconds. It was a "perfect first try," Rose tells Rosie. The two then go on to work together and keep building and testing and modifying and tinkering and making. When Rosie falls asleep, she does so to dream the "bold dreams of a great engineer."
We get the sense that she will no longer hide her passion for making things. This is engineering in action, and the lesson, of course, is one of persistence—and one of process. First tries don't always work!
Rosie Revere, Engineer is a fun read-aloud choice and a great title for parents wanting to encourage their kids to dream big, to imagine things they can make, and to experiment, design, engineer, and build the things they imagine.
I wish the Aunt hadn't laughed quite so much, but overall, I really, really enjoyed this book and its message for girls and other young engineers. The illustrations are whimsical, colorful, and incorporate a number of supporting details that tie into the story. For example, in the first pages, when Rosie salvages parts from the trashcan at school, readers may notice that she finds and takes a castoff umbrella. Look closely, and you will find that umbrella used later in one of her inventions. Similarly, the illustration of Rosie's workspace in the attic is a feast of engineering-related parts and pieces and tools, all spread behind her as she works on a cool new gizmo in front of her.
Iggy Peck, Architect
Be sure and pair Rosie Revere, Engineer with the first in this series, Iggy Peck, Architect, also by Andrea Beaty and illustrated by David Roberts.
Like Rosie Revere, Engineer, Iggy Peck, Architect is also written in rhyme, making it a great choice to read out loud. Kids are sure to be immediately captivated by proof that Iggy has been an architect since age two—a tower made from diapers and glue. Unfortunately, not all of those diapers were clean!
The litany of things Iggy builds is innovative, fun, and sometimes just a bit unexpected or out of place, like a Sphynx made from mud, which clearly has an impact on the neighbors. Iggy makes lots of creations from food, as well, including a replica of the Gateway Arch from pancakes and coconut pie and churches made from fruit.
Iggy is an architect. But when he starts second grade, he is faced with a teacher who doesn't allow discussion of buildings and architecture at all. This is unfortunate for Iggy, who has built a gigantic castle from chalk while his teacher explained her rules.
Second grade gets off to a rough start for poor Iggy, but two weeks into the year, Iggy's class takes a field trip for a picnic. They have to cross a small bridge, and when the bridge collapses, the teacher faints. Luckily, Iggy is an architect. He comes up with a plan, gets his classmates involved, and builds a clever suspension bridge to get them back to the mainland safely. When his teacher wakes back up, the class is waiting for her on the other side, a bridge built from boots, tree roots, strings, fruit roll-ups and things stretching between her and them. After that, things change in the second grade classroom!
Like Rosie Revere, Engineer, Iggy Peck, Architect is a fun read and a wonderful testament to the idea that one is never too young to start pursuing a dream. That Iggy's dream, like Rosie's, is related to science, technology, engineering, and math makes this a great choice to get kids excited about science and engineering and talking about things they can make, build, and explore.
Making Connections
If your kids love the ideas they see unfold in these stories, they may enjoy hands-on activities like these:
See also: The Most Magnificent Thing: Science Reading
To browse more family-focused science and engineering activities, please see STEM Activities for Kids and Weekly Science Activity Spotlight.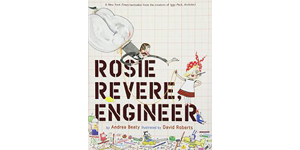 Categories:
You Might Also Enjoy These Related Posts:
Explore Our Science Videos
Bending Plant Roots with Gravity Lesson Plan Introduction
Paper Rockets - STEM Activity
Cotton Ball Launcher - Fun STEM Activity