7 Rainbow Experiments for Science Class
Making learning fun is sometimes half the battle! With the right activities, educators can ensure learning about science and engineering involves hands-on fun for students of all ages. Build in some colorful science exploration with STEM experiments on a rainbow theme!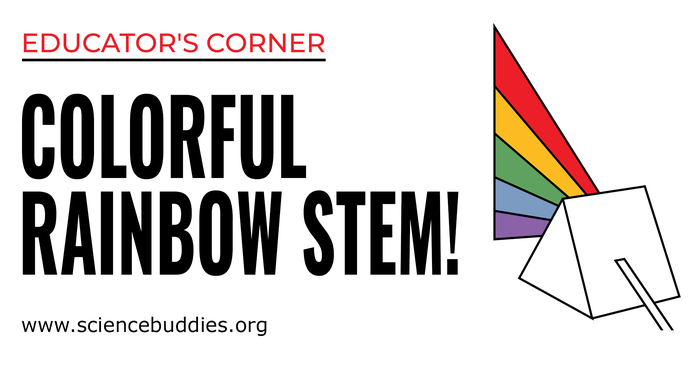 Rainbow STEM!
The science of visible light and the physics involved in what we see as a rainbow can lead to exciting hands-on science investigations and experiments. The "cool factor" of other science activities can also be upped by using a range of colors. The STEM activities highlighted in this Colorful Rainbow Science collection are sure to get lots of oohs and aahs as students use physics and chemistry to create colorful patterns, rainbows, and more.
Our Educator's Corner series features high-interest STEM activities that work well with students in both formal and informal settings—in the classroom or at home. These activities are grouped in fun themes that make it easy for educators to pick and choose just-right activities for special days or special units. Each collection is hand-curated for fun, ease-of-use, simple materials, accessibility, and interest factor. To help educators bundle activities with additional classroom or out-of-class activities and reflection, we've included discussion questions, career connections. We've also included book suggestions to help educators tie science and engineering to English Language Arts.
Rainbow STEM: Experiment | Watch Videos | Ask Questions | Dig Deeper | Choice Board | Explore Careers | Read Books
EXPERIMENT: STEM Experiments with a Rainbow Spin
WATCH: Videos
ASK: Questions
Use these questions with students to prompt conversation and reflection about the science behind these Rainbow STEM activities:
How is a rainbow created in the sky?
What happens to light to make a rainbow?
What science concepts explain the colorful patterns created in the featured activities?
What does the electromagnetic spectrum tell us about the colors in a rainbow?
What does miscibility mean when talking about mixtures and solutions? What does polarity mean in this context?
What is a homogeneous solution? What is a heterogeneous solution?
Why is the density of water higher than the density of vegetable oil?
DIG DEEPER: More Lessons and Activities
For additional lessons and activities related to the activities above, see these curated Teaching Science Units collections:
CHOICE BOARD: Differentiated Learning
Choice boards offer a flexible learning tool educators can use to supplement classroom instruction. You might try a choice board as part of weekly homework, for extra credit, or for asynchronous and remote learning.
Our
Rainbow Science Choice Board
is a fun way to encourage students to dig a little deeper. With engaging tasks that encourage creative responses, synthesis of important concepts, hands-on building, and more, there is something here for everyone! (
Tip
: When presenting this choice board to students, you may want to provide links to referenced videos and activities they may need to watch or read through to fulfill the tasks.)
Note: You will need to be logged in to download this free PDF.
EXPLORE: STEM Careers
After trying Rainbow STEM experiments, students may be inspired to learn more about these science and engineering careers:
READ: Books
Pair picture and story books like these with Rainbow STEM explorations.
Categories:
You Might Also Enjoy These Related Posts:
Explore Our Science Videos
Racing Drones: Does Practice Make you Faster?
Turn Milk into Plastic! Lesson Plan Introduction
4 Easy Robot Science Projects for Kids