Second Grader Puts Squanto's Advice to the Test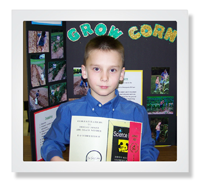 Science Buddies knows that students are often most successful doing science projects that tie in with an interest or hobby. Students can browse our library of 1,200+ project ideas by area of science (e.g., Biotechnology, Electricity & Electronics, or Energy & Power) or they can use the Topic Selection Wizard. By answering a set of questions, they give the Topic Selection Wizard information that can help suggest project ideas they might enjoy.
Doing a project that ties in with something you love (or something you wonder about or are curious about) can be a win-win. That's why I got excited when I heard McCray McGee's story. As a 2nd grader, McCray did an award-winning science project putting something he heard about Squanto to the test. He wondered: was Squanto right that fish make the best fertilizer for corn?
The project that grew out of his curiosity made use of the family farm, involved cats trying to get to the buried fish, required home-made compost, utilized a pet pig, and ended with some family taste-testing of McCray's fresh-from-the-farm corn to go along with the data analysis he performed after monitoring the crops for 13 weeks.
During the project, McCray's mom visited Ask an Expert to get suggestions about how to help guide McCray's project so that it was manageable for his age and grade.
It's a great story! Check it out to see how McCray and his family bridged the gap between American History and Science.
At-Home Plant Science
Interested in plant biology or agriculture? You can conduct a science experiment similar to McCray's even if you don't have a farm!
With a group of small pots, you can test the effect of nitrogen-based fertilizers in the Growing, Growing, Gone! project.
Using the Growing, Growing, Gone! project as a model, you can create your own project to test other variables or other types of fertilizer. Our Measuring Plant Growth guide offers suggestions and tips for monitoring your plants.
To read other inspiring stories about students, teachers, and families who have used Science Buddies resources, visit our Science Buddies in Action page.
Categories:
You Might Also Enjoy These Related Posts:
Explore Our Science Videos
Can you solve this air pressure puzzle?
Flying Helicopters on Mars - Paper Models
How to Make Paper Circuits