Snap Photos from Science Camp
A new app and site from Elmer's® Products can help you capture and organize all the sticky, amazing, robotic, solar-powered, glue-filled, and otherwise amazing and inspired moments of summer science camp. Help your kids preserve the excitement of summer science by snapping photos that record their hands-on camp experiences!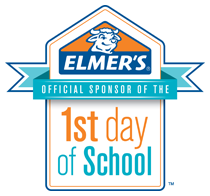 What did your student make at science camp today? We'd love to see! Try the 1st Day app, and share a photo with us.

Elmer's Products is making a product donation to the Kids in Need Foundation for every 1st Day app that is downloaded (up to 200,000 products). The free app is available for both iOS and Android users. To learn more, visit: 1st Day.
Are your students at
science camp
this summer? With camps catering to so many interests, areas of science, and hands-on activities, summer camps offer exciting and engaging experiences and exploration for your kids—and the ability to try something new almost weekly.
It is always great to hear, "Look what I made today!" But recording moments from summer camp can be a challenge for parents. You don't want to miss the moment or not pay enough attention to the examples of hands-on learning scattered on tables and shelves, but walking in at the end of the day for "pickup" can be a whirlwind. There are logistics to take care of to sign your child out and check in with the camp leader. Your child may be overflowing with stories and news from the day, and you also need to make sure you gather all of your camper's belongings. And then, as you navigate the routine of camp pickup and prepare to weave your way to the car, your student may drag you to one room or another to show off projects and creations from the day.

Snap a Photo
Taking photos throughout the days of camp helps you chronicle your child's experience, but with dozens of parents milling around and the general "time to go home" vibe at the end of the day, dragging in your regular camera for a perfect photo opp isn't always practical. Using your cell phone to take pictures is convenient and makes sharing photos with friends and family via social media networks or email a breeze. ("Look what she made today!")
Keep in mind that some things made at camp don't "come home" at the end of the day—or even at the end of the week! Depending on the subject and materials, many camp experiences are about the process and the hands-on learning, even if there is no tangible take-away. For instance, LEGO® camp participants often build new creations each day, tearing apart what was created the previous day to salvage and reuse the pieces. Don't be in too big of a hurry to get back to the car. Snapping photos at the end of each day as your child shows off what she built helps validate the science camp experience for your student! Plus, as your student shows off the project, you will get to hear her explain how it works or what it demonstrates while the science or subject is still most fresh in her mind.

Family-friendly Photo App
After a week of camp, you accumulate a number of photos on your phone. With each passing week, the collection grows. But what happens to those photos? Are you good about uploading them to your computer and cataloguing them for later user? Do you print your cell photos the same way you do photos from your other family camera?
A new service from Elmer's Products makes it even easier to organize, track, and put your phone photo captures to use. The 1st Day site is designed specifically with back-to-school in mind, but parents may find that the online photo site makes memory keeping easier—all year long. From the first day of school to the science fair to summer science camp, 1st Day gives you a new and convenient way to better manage your cell photos—and school and camp memories.
The next time you walk into robotics or LEGO camp, pick up a paint-splattered child who has been exploring the art of Jackson Pollock, or watch your child show off the roller coaster he built from foam tubes, snap a cell phone pic with the 1st Day app and upload it to your 1st Day account. At the end of summer, you'll have a collection of summer photos that showcase your child's unique summer experiences this year.
When it comes time for the proverbial "What I Did Over My Summer Break" report, your child will be all set!
Categories:
You Might Also Enjoy These Related Posts:
Explore Our Science Videos
4 Easy Robot Science Projects for Kids
Make a Miniature Water Cycle Model
Can a Sandcastle Support a Brick?