Solar Power Towers and Migratory Flight Paths
Environmental conservation and energy science collide in a proposed solar power project that promises greener energy but threatens to disrupt a major migratory path for birds, including golden eagles, in the area. Students can explore similar issues for migratory birds and animals with a big data science project.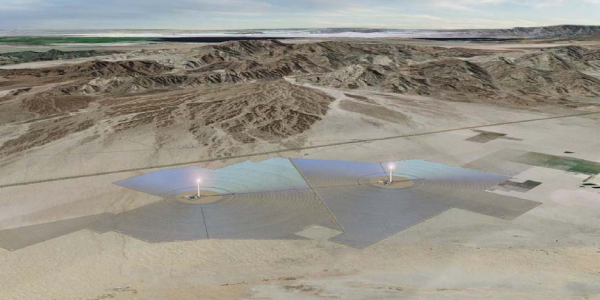 Photo: Illustration of the initial two-tower proposed Palen Solar Electric Generating System.
A large California solar project, the Palen Solar Electric Generating System Project was recommended (in modified form) last month by a California Energy Commission (CEC) committee. Two weeks later, the project developers, BrightSource Energy and Abengoa Solar, withdrew their application. The large-scale solar project, similar to (but smaller than) the nearby Ivanpah Solar Electric Generating System, raised a great deal of environmental outcry related to resident birds and wildlife, including the Desert Tortoise, and migratory birds which travel the Pacific Flyway and either overfly or winter in California. According to the California Department of Parks and Recreation, the number of birds that use the flyway is in the millions and includes more than 350 species.
Concern over disruption of the major migratory path which extends from Alaska to South America, in addition to concern over direct threats to birds (ranging from flying into the towers to suffering from exposure to solar flux) ruffled environmentalist feathers and inspired heated debate over the merits and risks of the proposed alternative energy system.

From Two Towers to One
The original Palen Project outlined in 2009 called for the construction of two 750-foot-tall, 250-megawatt power towers. After almost five years, the CEC issued a "recommendation" for approval in September 2014. Their recommendation was for a modified implementation of the project, only one 750-tower instead of two. While the recommendation called for a major scale back of the project, the amended Palen Project is still a sizable proposition. Phase one of the Palen Project, as approved by the CEC committee, would reportedly involve 1,900 acres of land in Riverside County on which the 750-foot tower and 85,000 heliostat mirrors that move in response to the sun would sit.
As Brightsource Energy explains it, in the proposed system, the mirrors track the sun and reflect sunlight to a boiler atop a tower. The reflected sunlight will heat the water and create "superheated" steam that will be used in a turbine to create electricity.

Birds in the Area
The CEC committee gave their recommendation, but they did acknowledge that the Palen Project, both in its original and amended form, will have negative consequences for wildlife, what they refer to in the Revised Presiding Member's Proposed Decision (PMPD) as "significant unmitigated impact." Nevertheless, the committee argued that the "benefits" of the Palen Project outweigh the risks, and the lengthy environmental and biological impact discussion in the 1182-page document outlines ways in which stipulations of the recommendation lower projected risks.
These summary statements appear in the opening lines of the report.

Star Wars and Bird Migration
For a related story with an out-of-this world and big-screen vibe, see Lord of the Wings: When Hollywood and Birds Collide. The article posted on the Audubon Magazine site reports on outcry from birding organizations when Star Wars Episode VII was filmed on location on an Irish island during mating season for several local bird species.
"Birds are the most conspicuous vertebrate found in the California Deserts. Records exist for at least 425 species from 18 orders and 55 families. These approximately 350 species are characterized as Neotropical migrants who pass through the region during spring and fall migrations. These birds include various raptors including Swainson's Hawks, Turkey Vultures, and numerous passerines, some of which include least Bell's Vireo, Southwestern Willow Flycatchers, many hummingbirds, and various warblers."
The report goes on to detail shorebirds and waterfowl that migrate through the area as well as species that over-fly the site or winter in the area. Loss of foraging and nesting habitat, as well as displacement during breeding, are also described. The report goes on to document factors related to the project that could further increase the mortality rate for birds (as well as bats and insects). These include collision with project objects, electrocution, disorientation, response to solar flux (radiated light energy), and more.

Making Real-world Science Project Connections
Students interested in birds (or other migratory animals) can learn more about migration patterns and the importance of taking into account migration, wintering, and over-flying behaviors and developing conservation planning strategies to ensure habitats are maintained.
In the following environmental and zoology science projects, students use big data from the Movebank.org site to conduct research projects related to bird movement: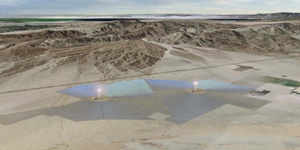 Categories:
You Might Also Enjoy These Related Posts:
Explore Our Science Videos
Build a Self-Driving Arduino Car
Colorful Melting Ice Ball Patterns - STEM Activity
Measure Static Electricity With An Electroscope!