Sounds Like Halloween: Weekly Science Activity
In this week's spotlight:
a
music
-themed science activity perfect for Halloween week.
What sounds do you associate with Halloween movies or Halloween music? What makes the sounds spooky,scary, or eerie? When you watch movies, what kinds of music do you hear, and how does the music fit what is happening in the movie? Are there patterns of instruments, pitch, or tempo that accompany certain scenes in movies?
Pull out your favorite Halloween family movies or playlists, put on your listening ears, and get ready to really tune in to the "sounds" of the movie or music using one of these sets of directions for either an independent science project or a home or classroom science activity: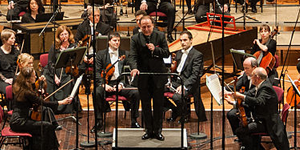 Photo credit: Thomas Fries / Lizenz: cc-by-sa-3.0 de, via Wikimedia Commons

Categories:
You Might Also Enjoy These Related Posts:
Explore Our Science Videos
How Antibiotic Resistant Bacteria Take Over – STEM activity
Build a Mobile Sculpture – STEM activity