Sparking Interest in Science and Science History for the Read Aloud Crowd
When reading to your children, look to the great range of science-inspired titles to infuse your read aloud time with exciting science themes and people from the pages of science history.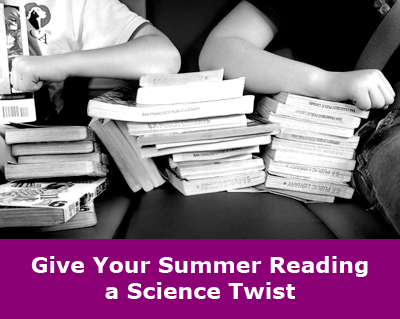 Children of all ages love to be read to, and reading to your students, and encouraging older students to read every day, is especially important during summer months. Library and bookstore shelves are full of wonderful and imaginative titles, and picture books to share with the youngest of audiences blend rich illustration with lyrical narration designed to bring the words and stories alive for readers and listeners. This includes stories about science, technology, engineering, and math—and the people who have worked, innovated, and made discoveries in those areas!
As young listeners begin to follow and understand longer stories, sometimes the true stories are the ones that create the most excitement, stories that are incredible and awe-inspiring because they really happened. Is she real? Did that really happen? She spent all of her days doing that? He lived his whole life thinking of numbers? These stories often simplify biographical details, but in making a scientist accessible to young readers, they offer examples of what it means to be a scientist.
As you make your reading lists for summer (and anytime) reading with your children, consider adding some of the titles below to the mix. Each tells the story of a person in science history, someone who was once a child, once had a question, a dream, a hobby, an interest in tinkering, or an insatiable curiosity. As you share these stories with your students, you might find you learn something new about these familiar figures as well!

Blockhead: The Life of Fibonacci

From pineapples to shells to the centers of an apple, the numbers in the Fibonacci sequence surround us. But it took the curiosity and persistence of one mathematician to make the world begin to see the ways in which the pattern of numbers recurs over and over again in nature. That mathematician was once a boy, and as this quasi-biographical account of his life suggests, he was a boy with a head for numbers and a love of counting, but a boy that many people overlooked and discounted—hence the nickname "blockhead." Though the book, written by Joseph D'Agnese and illustrated by John O'Brien, offers an imagined account of many of the details of Fibonacci's life, it does a great job of introducing and illustrating the discovery of the Fibonacci series and the prevalence of the pattern in the world around us. This is a charming title for a young mathematician and a good introduction to an important concept in math history for middle readers.
The Watcher: Jane Goodall's Life with the Chimps

The Watcher, written and illustrated by Jeanette Winter , introduces children to Jane Goodall and her fascination with animals and the natural world from the time she was a child. The story follows Jane to Gombe where she searches and waits for the chimpanzees that she hears but, for many months, never sees. Jane's fieldwork, and slow acceptance by the chimpanzees, is depicted in sparse text that accentuates the solitude of the story and the work. The importance for Jane of documenting her story and the chimpanzee behavior is highlighted in the book, and one image shows Jane surrounded by years and years of notes. When Jane leaves the forest to go and speak to the world on behalf of chimpanzees, readers of all ages feel the separation and her desire to be back in the place she calls home—the forest. (Older readers may enjoy Goodall's autobiography aimed at a young audience: My Life with the Chimpanzees.
)
Manfish: A Story of Jacques Cousteau

This story about Jacques Cousteau, written by Jennifer Berne and illustrated by Éric Puybaret, begins with Cousteau's childhood interest not only in water but also in engineering and movies and then follows his life as he first finds a way to see underwater, develops a way to breathe underwater, reconditions a ship, and begins making movies of underwater life. The story ends with Cousteau's growing awareness of the impact of pollution on marine life and a call to readers of all ages to be aware of environmental problems—to help save the sea.
Odd Boy Out: Young Albert

This story of Albert Einstein, written and illustrated by Don Brown, begins with his birth—and everyone's dismay at the size of his head. As the story shows, Einstein's childhood didn't follow all typical expectations. He was a late talker. He was temperamental. He was not a great student. But when it came to things of interest, he was focused and determined, a point the book illustrates beautifully. When he discovers math, the world opens up for Einstein in new ways. The story moves quickly through Einstein's life, only touching in the final pages about the contributions he goes on to make to understanding of space, time, and energy. The focus here is, largely, on Einstein's isolation and difference, his outsider status. To some extent a sad story of one of the world's greatest minds, it is touchingly told and illustrated and helps bring to life one of the world's most pivotal thinkers.
On a Beam of Light: A Story of Albert Einstein

On a Beam of Light, written by Jennifer Berne, author of Manfish, and illustrated by Vladimir Radunsky, also chronicles the story of Einstein. With whimsical illustration, On a Beam of Light traces Einstein's development from early childhood to adulthood, years in which his curiosity continued to drive and guide him. Einstein's famous question about what it would be like to travel on a beam of light, a question inspired by a ride on a bicycle, is wonderfully depicted. As with Odd Boy Out: Young Albert,
students will find the scientist come to life in this book.
The Boy Who Drew Birds: A Story of John James Audubon (Outstanding Science Trade Books for Students K-12)

This book about John James Audubon, written by Jacqueline Davies and illustrated by Melissa Sweet, is an instant classic for anyone with a soft spot for birds and a love of art. The story starts when Audubon is eighteen, recently sent to live and learn in America, and has discovered an empty pewee bird nest in a nearby cave. Audubon waits and watches. He sees birds return to the nest and begins to wonder about migration. Are these the same birds that used the nest the year before? Where do they go in the winter? The book skirts the history of scientific thought on migration, and then follows Audubon as he puzzles over questions and comes up with a way to test and see if the same birds return to the nest. The story of his first bird banding is charmingly told, and young readers will cheer along when the birds return in the spring. If you are encouraging your students to draw every day or keep nature journals throughout the summer or year, the illustrations throughout this book of Audubon's notes and observations offer excellent examples and inspiration. Note: this is a longer book and certainly appropriate for middle and older readers as an entree into the life of the famed naturalist.
Stone Girl Bone Girl: The Story of Mary Anning

As this title by Laurence Anholt, illustrated by Sheila Moxley, shows, Mary Anning got a 'shocking' start—she was struck by lightning at a young age and survived. Mary's father sold curios, small fossils, to tourists. Mary grows up searching for fossils in the cliffs above her home in Lyme Regis, and as a young girl, she discovers a fossilized full skeleton of an Ichthyosaur. The presence of the Philpot sisters, two female scientists Mary met, offers a reminder of the importance of mentors and role models on students—and future scientists! For additional reading about Mary Anning, the first female paleontologist, see also: Mary Anning and the Sea Dragon,
and Rare Treasure: Mary Anning and Her Remarkable Discoveries
.
The Boy Who Invented TV: The Story of Philo Farnsworth

The Boy Who Invented TV, written by Kathleen Krull and illustrated by Greg Couch, documents the story of an engineer who changed the world—with the development of a working television. Farnsworth's story is one from the farmlands and a story that begins during the early 1900s when electricity was new (and scarce) and the phonograph and talking pictures first appeared. The book balances Farnsworth's early habit of asking questions, tinkering with equipment, and interest in engineering with the responsibilities of his life on the farm. Readers follow along as he tackles the idea of television and, over a period of several years, works on the development, creating prototypes, testing, and then making changes and trying again. Aimed at middle readers, this longer story reminds readers that even teenagers can invent something revolutionary!



More to Come
We will be sharing reading suggestions throughout the summer here on the Science Buddies Blog. The above list is just the beginning! For additional science-themed reading suggestions and book lists, see these other posts from Science Buddies:
If you have a favorite science-themed book—for any age—let us know!
Categories:
You Might Also Enjoy These Related Posts:
Explore Our Science Videos
Build a Simple Steerable Robot