Spring Science: Calling All Animal Lovers
Bunnies and chicks remind us that spring is here! No matter what sort of animals you have in your household, Science Buddies has a menagerie of Project Ideas for you to try.
By Kim Mullin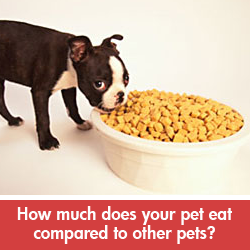 Learning from Your Pet
Your pet may be a big part of your family, and observing and caring for your pet can be a part of your science learning, too! How do you train pets? How do you feed them to ensure their nutrition? How does the time of the day impact their behavior or sleep patterns? There are all kinds of questions you can ask and science you can explore!
Hop into any gift store this time of year, and you are likely to see a clutch of chicks or a herd of rabbits. These cute and fluffy animals have become symbols of spring and the Easter season.
I've never kept chickens or rabbits, but I do have plenty of wild rabbits hopping around my back yard at certain times of the year. They eat all of the flower buds off of my creeping phlox, but it is hard to get mad at something so darn cute.

The Zoo in Your House
According to the American Humane Society, 62% of U.S. households have a pet, so caring for an animal is a rite of passage for many kids. Do you look after a pet at home? Dogs, cats, hamsters, rabbits, and fish are popular choices for families. If you have lots of space, you may have something bigger, such as a horse or a flock of chickens.
Pets are a big responsibility, but they often reward us with love and companionship. They also can help us explore interesting science questions. Imagine caring for your pets and collecting data for your science project all at the same time. It is possible!
Take a look at these Science Buddies Project Ideas:

No Pets in the House?
If you don't have a pet, or if wild animals are where your interests lie, Science Buddies still has Project Ideas for you. Take a look at the animal-related student science projects below, or check out Science Buddies' Zoology area for more ideas.
As for my backyard rabbits, I didn't see them this winter. I am guessing that they moved on to yards with tastier foliage...or perhaps the local fox has had a feast. I guess I'll find out when my creeping phlox plants start to bud !
Categories:
You Might Also Enjoy These Related Posts:
Explore Our Science Videos
Volleyball Machine: 2019 Engineering Challenge
Aluminum Foil Boat Design - STEM Lesson Plan