Teacher Uses Hashtag Bellwork System to Introduce STEM Careers
This middle school technology teacher wants kids to know about as many careers as possible. Her creative bellwork system includes a series of daily activities for career exploration, including #TechJobTuesdays, which focuses on STEM careers.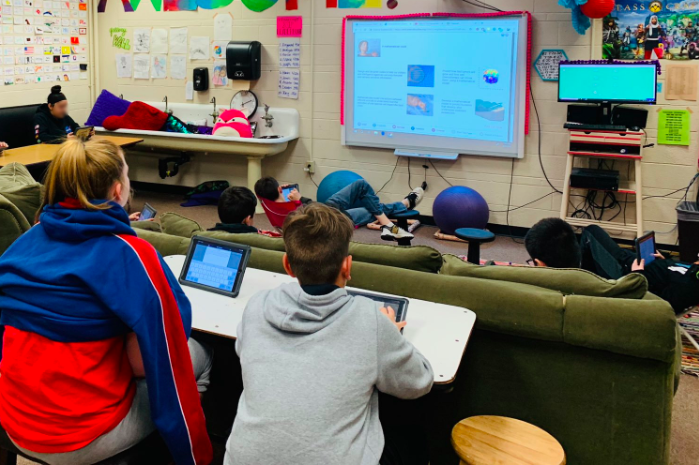 Above: Students in Cassie Nix's Career Explorations class make use of the first 10 minutes of class on Tuesdays to learn about a STEM career.
Cassie Nix teaches at Turner Middle School in Kansas City, KS. Her Career Exploration class is a semester-long technology elective for 7th-grade students. To keep kids engaged day to day, Cassie uses an innovative #hashtagBellwork system of daily prompts. The Careers in Science area at Science Buddies helps her line up #TechJobTuesdays.
So Many STEM Careers
Even with a career-centered class, Cassie says it still isn't possible to cover as many careers as she would like. Her daily bellwork system helps broaden her reach and gives students a chance to survey even more careers and allows her to work in more STEM careers, too. "When kids think about STEM careers, they think of things like programmers or lab technicians. While those are great STEM careers, there are tons of other options as well! I try to highlight some of those less traditional STEM careers so that kids know the opportunities they have."
Every day, students start class with a 10-minute #hashtagBellwork activity. Each day of the week has a different focus: #MondayMotivation, #TechJobTuesday, #WCW, #TBT, and #FlipgridFriday. These daily bellwork activities help establish a consistent routine in her classroom. Students know that each day starts with a certain kind of activity, and these activities begin right away, a system that helps students settle in quickly and get to work after the bell. Cassie has also structured the bellwork activities in a way that encourages students to practice important reading, writing, and synthesis skills as they reflect on information and write a short personal response based on the daily bellwork prompts.
#TechJobTuesdays
On Tuesdays, the focus is on STEM careers. "I try to mix up different fields of STEM, as well as jobs that require different education levels," Cassie notes, explaining the system. Each #TechJobTuesday, students are presented with a STEM career from the directory at Science Buddies and a short set of directions. The image below is an example of what students see and do for #TechJobTuesday in Cassie's class.

A cropped screenshot shows an assignment titled '#TechjobTuesday (week 2)' posted online. The assignment has a link to an article and directions listed next to an image of a man in front of multiple computer monitors.
In 10 minutes, Cassie packs a great deal of information into each Tuesday bellwork session. "After we read about the job (we read the 'What do they do?' and the 'Key facts & Information' tabs), we watch the video linked under the 'On the Job' tab. Students then respond to a discussion post [in Schoology] answering 'Give a 2 sentence summary about the job. Write two things you would like about the job and two things you would not like about the job.'"
On other days of the week, bellwork activities follow a similar format. On #WCW (Women Crush Wednesday), students read about women in STEM and then write what Cassie calls a 3-2-1 summary: 3 interesting facts about the scientist, 2 questions they would ask her, and 1 struggle she faced as a woman in STEM. Bringing the popular #TBT (Throwback Thursday) meme to the classroom, on Thursdays, Cassie shows students images of old technology and challenges them to figure out what the item was. "Students see a photo of an old piece of technology, like a floppy disk or a VHS tape. They answer questions about what it might be and how it was used...What clues do you see in the photo? What did this item do? What eventually replaced it? What year do you think it was used?"
Science Buddies for Projects and Careers
Cassie first used Science Buddies in years past when she taught students who were doing science projects. Today, she uses the Careers in Science area to supplement her bellwork system. "One thing that is great about Science Buddies is that it has a ton of information in an easy to understand format," says Cassie. "It's hard to find career information for middle-school aged kids because a lot of times it's way too much info or too difficult to understand."
Some of the STEM careers that have made an appearance in Cassie's class for #TechJobTuesday:
Cassie says she appreciates that the career profiles at Science Buddies can be used for an overview or for a deeper dive into a career of interest. "My students use the basic information to get an overview of the jobs, but there is tons of more in-depth information you could use for older students."
As a middle school teacher, Cassie feels she is interacting with students at an important point in their awareness of career opportunities, awareness that extends beyond the generic, "catch-all" careers they often associate with TV and movie characters. "At the grade level I teach, we are exploring different fields at a survey level. I find that my kids know about basic careers that they've seen in TV and movies....doctors, lawyers, firefighters, teachers, etc. In terms of STEM though, it's much more broad terms that don't really tie to specific careers, like 'hacker' or 'scientist," says Cassie. "My goal is for my students to learn basic info about lots of different fields and give them an opportunity to explore a few more in-depth."
Science Buddies is happy to have a free library of STEM career profiles that can help.
Assigning Career Exploration
At all grade levels, talking about STEM careers can help students begin to think about future career options. Cassie's school uses Schoology, a learning management system (LMS), so it is easy to have students respond to daily bellwork activities from their devices. Teachers using Google Classroom can use our 'Google Classroom' button to assign STEM careers profiles to students for reading or reflection.
Share Your Science Buddies Story!
Have you used a science project, STEM activity, or Lesson Plan from Science Buddies in your class or program? We would love to hear your story! Email us at scibuddy@sciencebuddies.org and tell us how you use Science Buddies with students.
Thank you to Cassie for sharing her story with Science Buddies. Follow Cassie at Twitter to learn more about her #hashtagBellwork system.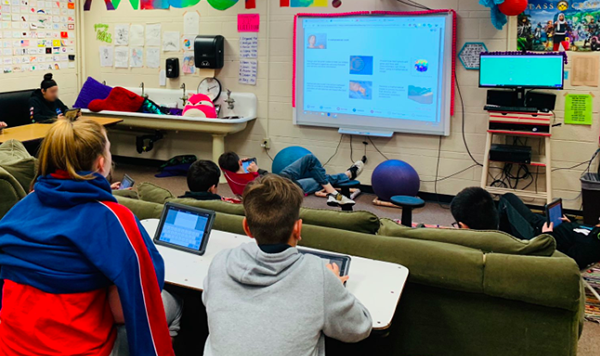 Categories:
You Might Also Enjoy These Related Posts:
Explore Our Science Videos
Jumping Candle Flame Experiments – STEM activity
Can you solve this air pressure puzzle?
4 Easy Robot Science Projects for Kids