Elementary School Student Finds Science Fair Success
For this third-grade student and his mother, Science Buddies is a trusted resource for finding innovative and engaging science projects that meet the need and don't break the bank.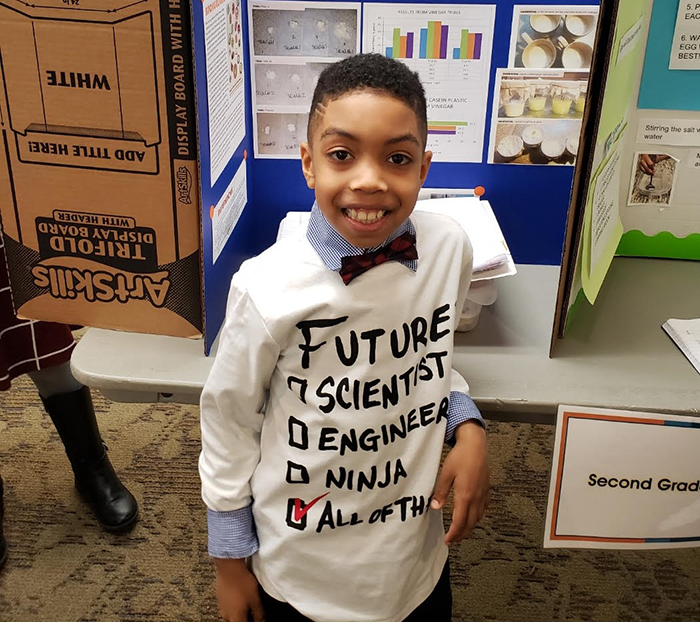 Above: Trevor at his school science fair in second-grade with his project on turning milk into plastic.
Trevor recently started third grade. Third grade is sure to be full of exciting new things to learn and discover, but one thing Trevor can count on is that there will be a science fair. At his school in Landover, MD, all students in grades K-8 participate in the annual science fair.
Trevor has used projects from Science Buddies for all three of his science fairs. Last year, in second grade, he took home first place with a project on the process of turning milk into casein plastic.
Finding the Right Project
Trevor's kindergarten and first-grade projects both earned 3rd-place recognition at the school science fair. That was great, but Trevor wanted more. In second grade, Trevor was after a first place win, says Heather, his mom. To increase his chances of a coveted blue ribbon, Trevor and his mom searched at Science Buddies, focusing on projects with a bit more difficulty and projects that could be tested multiple times for more significant results.
Trevor loves animals, and someday he wants to be an explorer and discover new species. Because of his interest in animals, Trevor did the M&M Survival Challenge zoology project in kindergarten. He followed that in first grade, with the How Does a Chick Breathe Inside Its Shell? zoology project. In second grade, after browsing at Science Buddies and using the Topic Selection Wizard, he considered several different projects, including Building the Tallest Tower, The Bouba-Kiki Effect, Spread the Soap, Not the Germs, and The Brain-Body Connection: Can Exercise Really Make Our Brains Work Better?.
One of the school's requirements for the science fair this year, however, was that projects not involve humans or animals. This ruled out a few of the projects on Trevor's shortlist. He decided to do the Turn Milk into Plastic! project. This project fit the school requirements and was on a topic that sounded interesting to him. Plus, as a kitchen chemistry project, it doesn't require specialty items. "We already had most of the materials in our kitchen, so it was a very cost-effective project," says Heather.
"As a parent, I like the Topic Selection Wizard to help narrow ideas that Trevor would be interested in and introduce us to ideas that we would likely never think of on our own." Heather, Parent
After selecting his project, Heather says Trevor formulated his hypothesis and carefully worked through the steps of the experimental procedure. "This was a real experiment! We had never heard of casein plastic, so we had no preconceived notions and did not know what to expect at all, which made it very exciting to watch everything unfold."
To increase the difficulty of the project, Trevor did multiple trials of his experiment using vinegar and then also tried lemon juice (suggested as a variation on the "Make It Your Own" tab) for comparison. According to Heather, Trevor carefully recorded his data throughout the project and kept his casein samples in jars (instead of molding them into shapes), which he then took to the science fair to share with the judges. After seeing what happened with the milk and vinegar in his experiment, Trevor came up with numerous ideas for future tests, says Heather. "He got really excited thinking up additional possibilities."
Trevor's project was a success, and he won first-place recognition at the school fair.
"He said conducting this experiment made him feel like a 'real scientist,'" says Heather. As part of the project, she and Trevor also did additional research to learn more about both the history of casein and current uses. "We learned that scientists are actively working with new uses for casein. This made the project relevant with real-life applications."
Parent Perspective
As a parent of an elementary school student, finding projects that a student can do independently and with clear science learning objectives that are appropriate for the student's grade level is important. Science Buddies' projects developed for early grades are carefully written so that students can work through most steps independently. Adult assistance may be needed to read the directions, and assistance may be recommended for safely handling materials, but hands-on science fair projects should be explorations that students do, from formulating the hypothesis to thinking about the results.
Turn Milk into Plastic! is a project based on chemistry, but, with a Beginner-Hard difficulty rating, the project has been carefully scaled to be accessible for students in grades 3-5. "An adult is definitely needed to handle the hot liquid," says Heather about the project, "but Trevor was able to complete most of the steps on his own."
From Heather's perspective, using Science Buddies for project finding has many benefits. "Science Buddies is our FAVORITE resource," she says. "As a parent, I like the Topic Selection Wizard to help narrow ideas that Trevor would be interested in and introduce us to ideas that we would likely never think of on our own. Science Buddies has a wide range of ideas with varying levels of difficulty while remaining age appropriate."
We look forward to seeing what Trevor chooses for this year's project!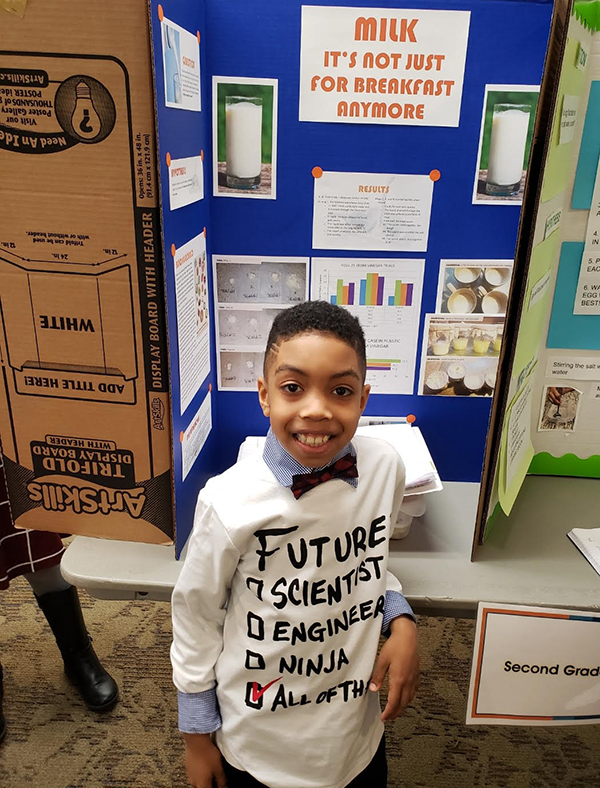 Learn more about the benefits of science fair projects in our five-part Why Do Science Projects and Science Fairs? blog series.
Share Your Science Buddies Story!
Have you used a science project, STEM activity, or Lesson Plan from Science Buddies in your class or program? We would love to hear your story! Email us at scibuddy@sciencebuddies.org and tell us how you use Science Buddies with students.
Categories:
You Might Also Enjoy These Related Posts:
Explore Our Science Videos
Solve A Mirror Maze Reflection Challenge!
The Ambiguous Cylinder Illusion
Cotton Ball Launcher - Fun STEM Activity