Summer Program Lets Students Get Their Game On
A new online video game design program from the makers of Gamestar Mechanic offers video game enthusiasts the chance to move from player to designer—with the help of industry pros.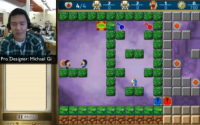 "Whether you're a beginning game designer or have some prior experience, the key way to 'level up' is to keep making games and getting feedback on your work."
~ Brian Alspach, E-Line Media
Virtual "Summer Camp" for Student Video Game Designers
A new four-week summer program for students combines the power and fun-factor of Gamestar Mechanic with customized feedback and mentoring from industry professionals. With this new program, E-Line Media, the company behind Gamestar Mechanic, hopes to create a new learning pathway for student video game designers. Game on! (Four-week sessions begin July 2, 2012! Learn more.)


Supporting the Science of Video Game Design
The following Science Buddies resources and Project Ideas help students turn an interest in video game design into a science project: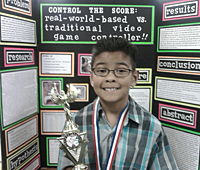 Students Succeeding with Video Game Design Projects
More and more students, like Xavier (pictured above), are exploring video game design angles in projects for schools, local fairs, and competitions like the National STEM Video Game Challenge and the Scholastic Art & Writing Awards. Check these two recent success stories:
Are your students enrolled in camps this summer? From camps that triangulate art, science, and physical play to create a multi-faceted day-to-day experience to specialized camps that offer the ability to focus on a particular subject, hobby, or skill over an extended set of days, summer camps invite exploration through hands-on projects and activities. While lanyard-making still makes an appearance at some camps, the "meat" of many camps lies in their ability to enable an immersive subject- or theme-oriented experience that lets students explore new fields or dive further into areas of high interest.

Offering an à la carte approach to summer, camps have cropped up en masse in recent years to intersect with a wide range of student interests, including LEGO, robotics, science, art, music, cooking, and even skateboarding. In short, if your student has a particular interest or passion, there is likely a camp—even for video game design and programming.


Virtual Summer Camp

E-Line Media, the company behind Gamestar Mechanic, a popular online video game design environment, is giving summer camp a virtual boost with the introduction of a new four-week, online video game design program. Created for students ages 10-14, the flexible program combines the appeal of the Gamestar Mechanic interface as a fun, engaging, and easy-to-learn entry point for kids interested in gaming or game design with the expertise of professional video game designers who will work with and mentor the young game makers. Through a series of exercises and challenges, students will, over the course of the four-week program, further their own design portfolio as they explore and create platform games, adventure games, and action games. The program culminates with each student's creation of a final project, a game that showcases the student's growing skills as a video game designer.


The Story Behind the Virtual Summer Program

Science Buddies caught up with Brian Alspach, Executive Vice President and General Manager for E-Line, to find out more about the summer program.

Q: Gamestar Mechanic does a great job, year-round, of introducing students to fundamental video game design concepts—and hooking them on making their own games. What was the inspiration behind creating a more "class-like" virtual summer program extension and experience?

A: We see lots of young people with an interest in making games. For some, that interest is just beginning, and we think Gamestar Mechanic and the self-moderated learning experience you can have there can help a student with a burgeoning interest get started on a learning pathway in game design. But we do see it as only the start of a pathway, and for kids who want explore that interest more deeply, we want to build out the entire ecosystem around game design. That includes deeper learning experiences like the online summer program.

Q: The summer course is designed with students ages 10-14 in mind. How flexible, or extensible, is the learning opportunity in terms of skill level? Will the course scale and provide both challenge and room to grow for someone who has been building games for a while using Gamestar Mechanic? Or is the course primarily for the beginning game designer?
A: Whether you're a beginning game designer or have some prior experience, the key way to 'level up' is to keep making games and getting feedback on your work. One of the unique things that the summer program offers is an opportunity to do this in a highly scaffolded environment with instructors and game industry pros who are dedicated to working with the young designers and giving them that kind of feedback. It creates a unique opportunity for growth and self-expression around the areas that the aspiring young designer is interested in.

Q: Does the course use Gamestar Mechanic as the sole development environment?
A: It does. At this stage of the online learning, we're trying to keep the focus on game design, both because it's the area where we have the most experience but also because the skills that make someone a good designer tend to be underrepresented in approaches that, say, have kids jump into the technical side of game creation right away. Over time, we'll be expanding our online learning program to include courses that focus on other topics and disciplines within game design—programming, art creation, other game genres, etc..—so this course will serve as a nice entry point to set kids up for those future experiences, too.

Q: By approaching video game design as a 'game,' Gamestar Mechanic makes it easy—and fun—for 'players' to get started with game design. To what degree do you feel the environment prepares students to jump to the next level in game design (e.g., more object-oriented design and programming)?
A: I think approaching it as a game is a great way to build motivation, keep kids engaged, and create opportunities to learn from examples, especially at an early stage. But it really is an entry point to a learning pathway of increasing flexibility in game making, more technical skill being required. If you don't have a solid grounding in design concepts and skills, it's easy to lose your way. These online courses are one way we're approach building out that pathway, and I think this first one in the summer program provides a good starting point.

Q: Based on how the course is structured, what will a typical student exit with in terms of a portfolio of games she has designed?
A: There is a mixture of optional and required game making projects in the course, so students can exit with a portfolio of something like a dozen games by the time they complete the course, with a combination of instructor, pro-designer and peer feedback on all of them.

Q: Pairing aspiring game designers with industry experts is an exciting aspect of the program. How will this component work? Who will the students be working with, and what kinds of interaction can they expect?
A: We think it's a really transformational thing. The kids will have personal instructors, who are educators and students of game design, who will provide coaching and feedback throughout the course. In addition, a subset of their game design assignments will be reviewed by 'game pros'—real folks working in the game industry as designers, producers, artists, etc.... We've got a really neat format where the pros playtest the students' games and video capture their play along with a PIP window with them giving their feedback. The kids get to see a pro react to their game in real time and get suggestions on how to improve it.


Q: What is most exciting to you about this new summer program?
A: For me, the opportunity to connect kids with mentorship and coaching from the instructors and pros is really compelling. If you're a kid with an interest in, say, sports or music, there are tons of support structures you can draw on to help you along the way. That doesn't exist for the most part if your interest is in making games, so we're excited to be taking our first steps to help create some of them.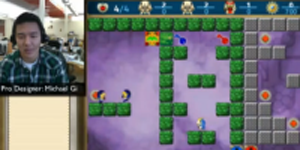 Categories:
You Might Also Enjoy These Related Posts:
Explore Our Science Videos
Test Different Pinwheel Designs
Obstacle-Avoiding: BlueBot Project #4
Build a Bird Feeder to Study Birds – STEM activity