Super Bowl Science and the Fluor Challenge
Get ready for this week's big American football game with a hands-on catapult engineering activity that might also give you a chance to win money for your school!
Super Bowl Science: Pair "big game" excitement with this year's "Ball Launcher" #FluorChallenge www.sciencebuddies.org/fluor-challenge
Super Bowl LII, a playoff between the Philadelphia Eagles and the New England Patriots, will take place on February 4, 2018 in Minneapolis, MN (USA). As excitement over the big game builds among sports enthusiasts, science teachers can make a play for STEM learning with hands-on science and engineering activities that tackle the science behind American football. There are plenty of science angles to explore related to throwing and kicking, both key elements of the game. Catapult activities can be especially fun for students, and the popular Ping Pong Catapult Kit can be used to explore trajectory and other physics (and statistics) behind kicking field goals.
"Score" with the Fluor Engineering Challenge
Every year, the K-12 Fluor Engineering Challenge provides a free hands-on engineering challenge that encourages students to brainstorm, design, problem solve, test, redesign, and move through the iterative steps of the engineering design process. In previous years, students around the world have built innovative balloon-powered cars, marble machines, and water flow solutions inspired by the Banaue Rice Terraces.
The 2018 Fluor Engineering Challenge provides a wonderful opportunity for teachers to lead a hands-on classroom activity that ties in with the Super Bowl and could win money for the school (or a qualified nonprofit organization). This year's challenge is a "ball launcher" activity in which students use ordinary materials (from a specified list) to build both a ball launching device and a device to catch the ball. There are rules students must follow that guide the building and the operation of the ball launcher. Students will calculate their score based on how they build their device (what materials they use) and how effective their launcher and catcher are based on how far the "ball" can be launched and successfully caught.
This year's student #FluorChallenge is an adaptation of a challenge done by Fluor engineers and written by three Fluor engineers who wanted to create a football-themed challenge for their annual company competition. Students can learn more about these Fluor engineers and use the Career Worksheet to explore engineering careers.
The submission window for this year's Fluor Challenge is open February 18-March 16, 2018. See www.sciencebuddies.org/fluor-challenge for full challenge rules, limitations, prize information, and guidelines. Doing the challenge ahead of time in class is permitted—just make sure to come back and submit your students' entries during the submission window. Questions about the Fluor Challenge can be emailed to fluorchallenge@sciencebuddies.org.
More Football Science
For additional resources related to football science and student STEM, see the following projects and posts:
Teachers can also bookmark or pin this handy collection of catapult science projects!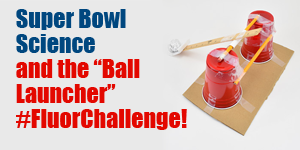 Categories:
You Might Also Enjoy These Related Posts:
Explore Our Science Videos
3D Printing with Sand and Glue (no 3D printer required!)
How to Measure Light with Google's Science Journal App