The Artful Side of Bacteria
It's a strange reality when you realize that bacteria can be beautiful.
One Science Buddies' Science Mom finds art at the Exploratorium.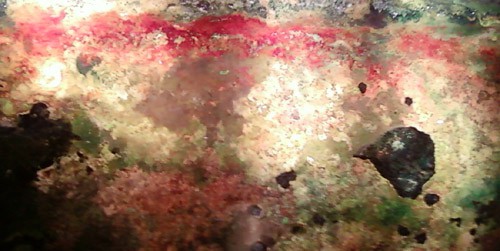 A few weeks ago, we moved from a quick stop at Crissy Fields (and an unplanned ocean dunk for one) across the street to the Exploratorium for a few hours of mesmerizing hands-on science exploration. Our small ad-hoc group of seven to eleven year olds found plenty of tactile demonstrations that generated the expected "oohs and aahs." As I wandered around, following the lead of the youngest science explorer—who was stopping at every station—I, too, got excited by the range of projects and the power and exhilaration that letting kids actively and informally "do it" brings.
I snapped many phone photos that afternoon, and as I admired different displays and activities, a number of Science Buddies Project Ideas came to mind that I knew could extend the hands-on experience to further discussion and exploration either in the classroom or at home.

Unexpected Wall Art
One exhibit that really fascinated me was a set of "pictures" hanging on the wall. I am always on the lookout for ways in which art and science intersect, and that Science Buddies stresses and encourages students to explore science as it relates to hobbies and areas of personal interest is an approach I really like. So when I rounded a corner and saw a wall of abstract art—a display of bacteria and light—I was immediately captivated.
The art itself occupied two large, fully-enclosed, wall-mounted Winogradsky Panels, each filled with bacteria-laden mud that had taken on impressionistic shapes in a spectrum of colors, including reds, greens, and golds. From afar, you see a piece of "art"—not millions of bacterial organisms. In reality, this display is a version of a Winogradsky Column, an experiment which enables students to observe and investigate the growth of a microbial community and the influence of oxygen and light.
Studying the super-sized Winogradsky Panel exhibit at the Exploratorium, observers are immediately able to see role of light on the microbes. There are sections of the display where a small panel has been used to block the light, and when you lift that panel, you find that the bacteria has not grown underneath in the dark. That the display also spotlights the natural "beauty" of bacteria is possibly an unintentional off-shoot—and beauty if in the eye of the beholder—but the display looks much like something that might hang on a gallery wall.

Making Connections
For students, the principles that lie within the layers of a Winogradsky Column are ones that can shed new light—and new color—on an understanding of microbes, biosystems, and photosynthetic bacteria. The following Science Buddies Project Ideas can get you started:
Categories:
You Might Also Enjoy These Related Posts:
Explore Our Science Videos