Toothbrush Robots at Home
You won't even need batteries to do this family-friendly robotics activity with your kids. Explore robotics design with a fun low-tech setup! How does the slant of toothbrush bristles affect the way a bristlebot-style robot moves?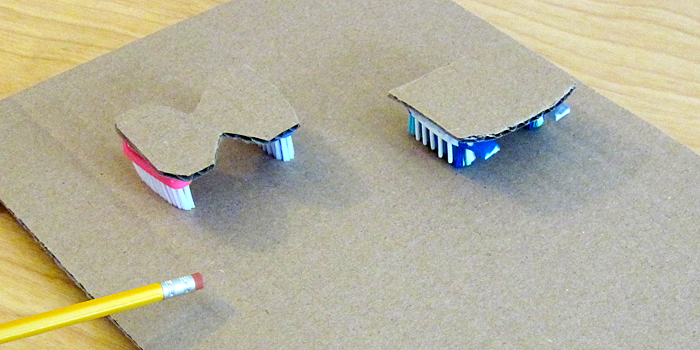 Simple Robot for Kids
Robots are fun for kids of all ages. With a few electronics parts, kids can make and explore simple robots like Bristlebots and Art Bots that skitter around on toothbrush, brush, or even magic marker legs. Projects like these make excellent hands-on learning activities for students and help students explore basic engineering, electronics, and robotics design.
Bristlebots, Art Bots, Brush Bots, and other vibrobots, move because of the vibration created by a small vibrating motor connected to a small battery. The batteries used in these vibrating robots don't always last long though, and sometimes parents (and teachers) really need a simple, low-tech DIY project to do with the kids. This week's family science activity, guides kids in making toothbrush-head robots powered by the vibration created from a simple carboard setup and some kid-powered pencil tapping—no electronics parts required.
Low-tech Robotics
With this week's engineering activity, kids experiment with two different kinds of toothbrush heads to see how differences in the slant of the bristles affects how the robots move. With toothbrush heads and cardboard, can you come up with a robot that moves fast and straight?
The following Science Buddies activity on the Scientific American website has all the information you need to do this engineering activity with your students at home: Build a Bristlebot That Moves without Electricity.
Making Connections
For other fun family robotics activities, projects, and resources see: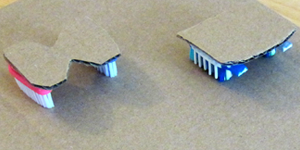 Categories:
You Might Also Enjoy These Related Posts:
Explore Our Science Videos
Balloon Car: 2015 Engineering Challenge
Marble Machine: 2016 Engineering Challenge