Try one of these 14+ robotics projects for National Robotics Week!
Students can have a lot of fun building, testing, and personalizing robotics projects and can learn about electronics, engineering design, and circuit building at the same time. Our robotics engineering collection has great hands-on robotics projects to explore during National Robotics Week or any time!

Fourteen Plus Robotics Projects for K-12 Students. Hands-on STEM with Science Buddies. www.sciencebuddies.org
Update! For an updated collection of resources for teaching and exploring robotics with K-12 students, see Robotics Projects, Lessons, and Activities for Teachers.
Robotics Science Collection
Additional Resources for K-12 Robotics Exploration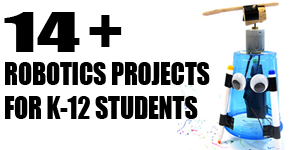 Categories:
You Might Also Enjoy These Related Posts:
Explore Our Science Videos
DIY Glitter Surprise Package with a Simple Circuit