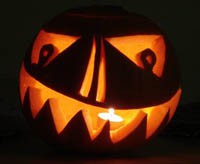 Image: Wikimedia Commons.

Halloween is next week, and you may have your mind on the treats you hope to rack up going door to door in your neighborhood, candy bag open. While Halloween's entourage of ghouls, goblins, and zombies may push science from your mind, you don't have to carve too many pumpkins to turn up a treat bag's worth of great science ideas related to Halloween.
All this week we'll be spotlighting some creepy crawlies, some things that go bump in (or light up) the night, and some other Halloween fun—all with a jolt of science thrown in.
Stay tuned for a round-up of Halloween science ideas—especially projects you can get started on after you've calmed down from the haunted house, after you've counted out and sorted your candy, and once the sugar buzz drops and the reality of a science project on the horizon comes back into focus!

Categories:
You Might Also Enjoy These Related Posts:
Explore Our Science Videos
Tallest Tower: 2021 Engineering Challenge
Candy Chromatography: What Colors Are in Your Candy?