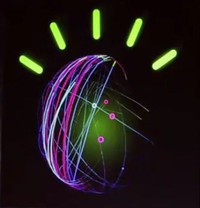 "I'll take "Artificial Intelligence" for $1000, please."

Jeopardy! fans will be tuning in February 14-16 to see IBM's computer contestant, Watson, face off against the brain-power, trivia recall, and quick (thumb) reflexes of two of Jeopardy's all-time top winners, Ken Jennings and Brad Rutter. Jennings holds the record for the longest winning streak with 74 consecutive wins. Rutter, on the other hand, holds the record for the most winnings, more than $3.2 million.
These two champions will compete against... the world of artificial intelligence and a computer named Watson.

AI Déjà vu?
If you're a chess buff, this whole scenario might sound familiar, minus Alex Trebek. In 1997, another IBM computer, Deep Blue, took on Garry Kasparov, a world chess champion. The computer won.
Teaching a computer to play chess, however, and teaching a computer to understand the kinds of word-play and linguistic subtleties that are often involved in figuring out Jeopardy questions may be like comparing apples and oranges. A computer can draw upon all its data regarding chess moves and strategies and games played in the past in order to plan its next move. But while Watson is loaded up with a "world" of data (millions of pages of facts about every imaginable topic), Watson may or may not "get the joke" or be able to sift through all that information to offer the "right" succinct answer in the form of a question.
Don't be fooled by the fact that the on-screen virtual contestant will be represented by a digital image "standing" behind the middle podium between Jennings and Rutter. Watson's got serious data power behind it—a backstage block of computers that reportedly occupy the space of about ten refrigerators. (Watson will not be connected to the Internet, however. All three contestants will play with "what they know.")
We'll be watching to see how the past champs measure up against Watson.
It could, indeed, be a true "Daily Double" for artificial intelligence!

Game On
While programming a computer to test a Sudoku solution is a good introduction to programming, is fun, and is useful, it's not the same as teaching a computer to think for itself. The Artificial Intelligence: Teaching the Computer to Play Tic-Tac-Toe Science Buddies Project Idea lets you put a toe in the water in terms of teaching a computer to play games. And, luckily, there's no money at stake! (Difficulty: 6-8)
Read more pre-match coverage:


Interested in who and what was involved in building and teaching Watson? Find out more about the computer software engineer career path.
---
Categories:
You Might Also Enjoy These Related Posts:
Explore Our Science Videos
Race Through Space with Gravity Assist Maneuvers
Build a Self-Driving Arduino Car
Build a Solar-Powered Car for the Junior Solar Sprint