Why Do Science Projects and Science Fairs?
In this four-part STEM education series, we take a closer look at the unparalleled educational value of student science projects and science fair participation. Follow along for tips, tools, and best practices for managing STEM projects and science fairs with K-12 students.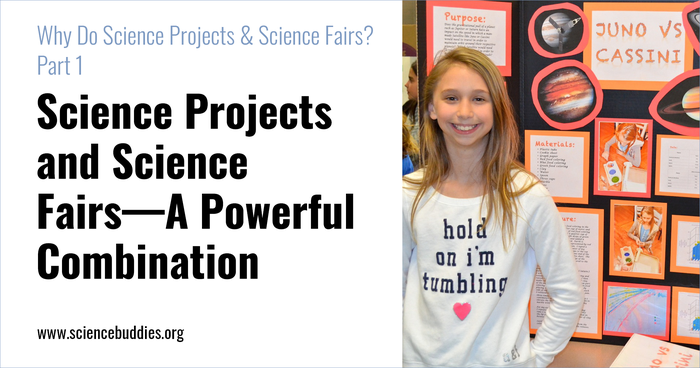 A Powerful Learning Sequence
Do you assign student science projects? Do you connect science projects to a school or local science fair as an end goal? Are you talking to administrators, other educators, or families about the importance of independent science projects?
If you are thinking about science projects for the first time or considering starting a science fair at your school, we have tools to simplify the process. If science projects are a longstanding part of your classroom, we hope you nod along as you read through this series. You may also discover something new in our offerings that will help you and your students this year!
Science projects and science fairs are a powerful combination for encouraging students to deep-dive in an area of interest, synthesizing science and engineering concepts, exposing students to STEM career paths, and integrating critical soft skills. Science projects also emphasize personalized learning, which makes them invaluable in the K-12 learning environment.
"Science Buddies allows for my students to confidently prepare for a science fair. The projects are structured for success and give students a framework from which they can apply STEM concepts as they work through a lengthy project." Emilie, a teacher in WI

Personalized STEM Learning
Independent science projects encourage personalized, active learning, which can boost and empower student engagement and interest in STEM. Combining independent projects with culminating participation in a science fair creates a unique and powerful learning opportunity in which students develop and demonstrate science, math, language arts, critical thinking, and communication skills. Together, science projects and science fairs offer students a robust educational opportunity, one that can make a difference in their outlook on science and engineering, in their awareness of themselves as scientists and engineers, and in how they think about the future.
At the curricular level, having students do independent science projects for science fairs addresses and meets multiple standards, including Common Core (Math and Language Arts) and Next Generation Science Standards (NGSS).
Science projects, alone, offer enormous educational value and support a student-centered, personalized learning framework for STEM education. But both parts of the equation are important. At every grade level, doing projects without a science fair component misses out on an unparalleled chance to develop and showcase skills that are naturally encompassed by science fair preparation and participation.
Whether you are new to the science fair experience or a seasoned veteran, check out the rest of this series for resources, tips, best practices, and more to support your teaching objectives and make science projects a memorable part of the school year for your students.
What About Engineering?
When we talk about science projects and science fairs, we include both science and engineering. We believe students should benefit from opportunities to learn and use both the scientific method and the engineering design process. After learning about both approaches, students should be confident in understanding how to choose the best method to solve a problem or answer a question. Teaching students to differentiate between methods is critical to empowering them to use STEM to tackle real-world problems now and in the future.
The Value of Science Projects and Science Fairs Series
Why Do Science Projects and Science Fairs?
Pictured: Ashleigh, a student who explored her interest in space science with a series of science fair projects in third, fourth, and fifth grade. Browse success stories for other inspiring stories.
Categories:
You Might Also Enjoy These Related Posts:
Explore Our Science Videos
Strawberry DNA Extraction
Why Aren't All Medicines Pills?
Making False-Color X-ray Images with NASA Files from the Chandra Observatory