Winter Olympics Science Experiments
Go for the gold with these Winter Olympics sports science experiments and science fair projects!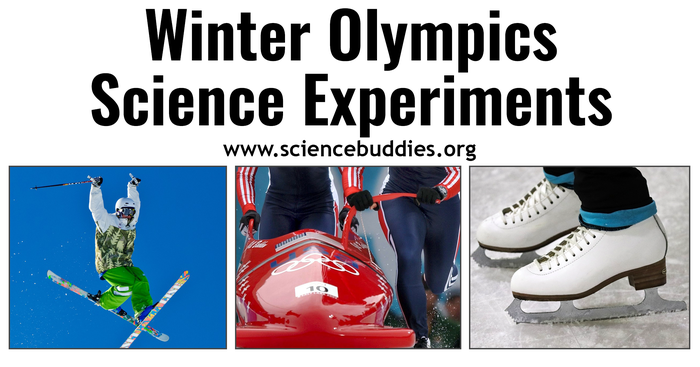 The XXIV Olympic Winter Games will be held in Beijing, China, February 4-20, 2022. Sports at the 2022 Winter Olympics include alpine skiing, cross-country skiing, figure skating, luge, biathlon, bobsleigh, curling, speed skating, snowboarding, ski jumping, ice hockey, skeleton, and more.
Many of these sports take place on snow or ice and involve skills related to speed, jumping, sliding, flipping, and spinning.
The Winter Olympics games are fun to watch, but all of these sports also involve science! From general physics to Newton's Laws, forces of motion, acceleration, and aerodynamics, science will be on display as athletes from around the world go for the gold.
Students interested in sports science can learn more and explore sports science questions with independent science experiments and science fair projects. We've highlighted a few science and engineering projects below that tie in with sports science and winter sports.
Friction, Speed, and Acceleration
Many winter sports involve speed! What's the relationship between friction, ice, and speed?
Spinning, Forces, and Gravity
Not all winter sports are about speed. Many rely on balance, equilibrium, aerodynamics, and gravity.
Reaction Time & the Human Body
Sports Equipment
Sports equipment is developed specifically to support an athlete in a particular sport. Improving equipment is something product designers and engineers work on to increase an athlete's performance and chances of edging out competitors.
For other projects about aerodynamics related to sports, see Can Aerodynamic Suits Give U.S. Speed Skaters an Edge?.
Engineering Logistics and Getting Around
Riding a ski lift isn't technically a sport, but it's a very functional and convenient way to get to the top of a venue or mountain for skiing or other winter sports.
For another fun engineering challenge, see the Paper Ball Run Fluor Engineering Challenge!
Categories:
You Might Also Enjoy These Related Posts:
Explore Our Science Videos
Make a Water Strider - STEM Activity