Women's World Cup and Soccer Science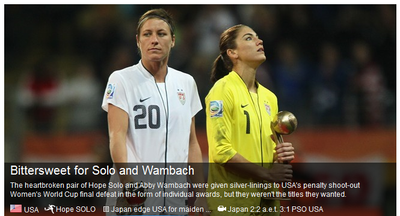 The U.S. Women's Soccer Team didn't win in the finals of the 2011 FIFA Women's World Cup on Sunday against Japan, but for women's "football" fans, getting to the finals was an excellent show for the FIFA/Coca-Cola Women's World Ranking leaders. Fans of the team, including those with roommate connections like our own Product Design Engineer, were buoyed last week when then U.S. topped France to earn a coveted spot in the finals for the first time since 1999.
The U.S. team lost the tight match with Japan 3-1 after a penalty-kick shootout. Despite the loss, two of the women's team were singled out for individual contributions. AbbyWambach was named the second-best player in the World Cup and awarded the Silver Ball. She also took home the Bronze Boot, her four goals positioning her as the third leading scorer in the games and setting a U.S. record for career world cup goals. Teammate Hope Solo took home the Golden Glove as top goalkeeper and the Bronze Ball for third-best player.
For fans of the sport, there are plenty of soccer science angles to explore! With a bit of research and planning, you might turn a head-butt into a winning science project. Or, you might just find the science you need to perfect your own kicking angles in one of these sports science projects:
(Soccer not your sport? You can find other exciting sports-related project ideas in the Sports Science area of our Project Ideas directory.)
Categories:
You Might Also Enjoy These Related Posts:
Explore Our Science Videos
Fun Physics with Your Cell Phone
Shrink a Potato with Osmosis – STEM activity