10 Reasons to Use Science Buddies for Your Learning Pod
Are you banding together with other families to set up a learning pod for the coming school year? As you plan and transition to a collaborative homeschooling system, you need flexible, high-quality resources that are ready-to-go. Science Buddies has more than a thousand free resources that can help. Science Buddies is a trusted, go-to resource for K-12 STEM education around the world. Find out why Science Buddies can be a STEM cornerstone for your learning pod.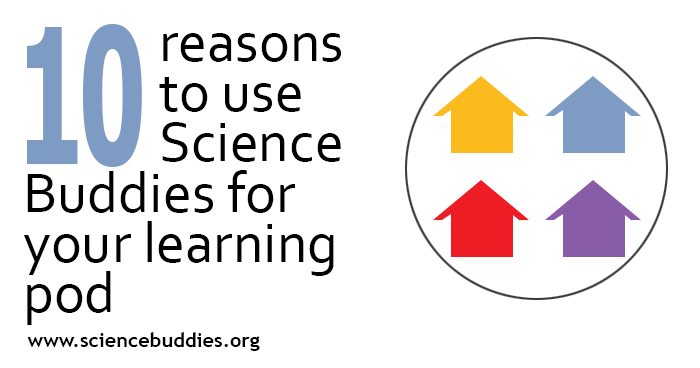 Science, Engineering, and Your Learning Pod
If you are creating a learning pod for the coming school year, finding readymade resources for teaching science, technology, engineering, and math (STEM) will be an important consideration. If you and other parents will be handling some or all of the teaching for your learning pod, the sudden shift to being a STEM teacher can be intimidating. You need flexible, trusted materials for STEM instruction that will help you plan and teach STEM subjects in your learning pod with confidence.
Science Buddies has been supporting STEM education and developing free online resources to support K-12 teachers, students, and families since 2001. We are and have always been an online resource, and our materials remain free for everyone on the Science Buddies site.
10 Reasons to Use Science Buddies in Your Learning Pod
1. We have materials that scale to meet your needs

Our complete library of STEM materials includes more than 1,200 projects for students who will be working on independent science projects, more than 200 short STEM activities, and 100+ Lesson Plans that have been specifically created for educators. Lessons Plans contain background materials to help teachers prepare, discussion and reflection prompts to use with students, step-by-step guided activities, worksheets, videos, and more. (Note: Parents teaching as part of a learning pod can use both STEM Activities and Lesson Plans!)

2. We believe in hands-on learning

Your learning pod will enable students to continue learning by doing, which is one of the most effective ways for students to learn STEM subjects. Students working on individual science projects can use the Topic Selection Wizard to discover topics of interest from more than 1,200 free project ideas. Whether you will be teaching in-depth STEM curriculum or looking to supplement curriculum with additional hands-on learning opportunities, you will find plenty of options for STEM exploration in the STEM activities and Lesson Plans.

3. We think STEM should be fun

To help inspire you in planning STEM learning opportunities as part of your learning pod, we have a number of collections that group activities and lessons in high-interest thematic or curriculum-based sets. These collections can help you choose activities on a theme, discover challenges students may especially enjoy, and find explorations that tie in with holidays and fun celebrations. Here are a few examples of themed collections you may want to bookmark:

(For additional inspiration about using activities with kids at home, see our Doing Science at Home series and our 10 weeks of virtual STEM camp.)

4. We know our STEM activities work

Our materials are authored by our staff of inhouse Ph.D. scientists and developed specifically for use by K-12 educators, students, and parents. Resources are rigorously reviewed and tested by our staff to ensure accuracy and accessibility. Our projects are designed to work. This means that you won't have to worry when choosing an activity or lesson from Science Buddies. You can plan and lead hands-on STEM exploration with confidence.

5. We cover all areas of STEM

No matter what STEM subjects you will need to teach in your learning pod, you will find quality resources at Science Buddies. We have resources in more than 30 areas of science, including traditional subjects (like biology, chemistry, and physics) and career-focused subjects like biotechnology, robotics, and genetics. In addition to core areas of science, we are developing cutting edge resource collections to help you and your students dive in and explore the hottest STEM topics, like Exoplanets. Additional cutting edge collections about Viruses and Pandemics, Space Exploration, and Gene Editing will soon be available.

6. We have resources for grades K-12

Science Buddies has resources for all grade levels. Students doing independent science projects have access to more than 1,200 project ideas that are each labeled with a recommended difficulty level and include suggestions for modifying or customizing the project to meet individual needs. Our educator Lesson Plans are searchable by grade level or area of science, and most can be easily adapted for use with older or younger students. Our library of STEM activities contains more than 200 short experiments that can be used with students of all ages.

7. We have a convenient Ask an Expert forum for extra support

Our Ask an Expert forum is an online space where students can ask questions about their independent science projects and get assistance from our team of science professionals and top science students. Parents and educators, too, can ask questions about the science activities and lessons from Science Buddies that they will be teaching.

8. We teach both the scientific method and the engineering design process

We offer Project Guide resources to help students learn about and use the Scientific Method and Engineering Design Process. These Project Guides help students understand how to approach each step of their science or engineering project, from formulating a science question to identifying variables and forming a hypothesis.

9. We are constantly developing exciting new activities

Our scientists and staff work year-round to develop new and exciting ways to demonstrate and explore science and engineering concepts with K-12 students. New videos, projects, and lessons are added to the site on an ongoing basis, and new videos are regularly added to our YourTube channel.

10. All of our materials are free to use at Science Buddies

Ensuring access to quality science education materials for all students has been part of our mission since 2001. All projects, activities, lessons, and resources (including the Project Guide, Topic Selection Wizard, STEM Career Library, and Ask an Expert forum) are free to use on our site.
Quality STEM Education at Home
We hope you and all the members of your learning pod enjoy exploring STEM subjects. If you use activities, projects, or lessons from Science Buddies, we would love to hear your story and see your STEM learning in action. You can reach us at scibuddy@sciencebuddies.org.
Stay Up to Date with New Releases
Our team of scientists work year-round developing new materials to support you and your students. We highlight new materials in our free weekly newsletter, which is sent to all educators who are registered on the Science Buddies site. (Registration is free!) We also share highlights at Facebook, Twitter, Instagram, and Pinterest. We encourage you to follow us in the social media spaces you use and tag us to let us know how you use Science Buddies!
Categories:
You Might Also Enjoy These Related Posts:
Explore Our Science Videos
Tallest Tower: 2021 Engineering Challenge
Identify Road Signs with Google's Teachable Machine
DIY Glitter Surprise Package with a Simple Circuit