10 STEM Activities for COVID-19 and Virus Science
Use these free STEM lesson plans and activities to explore science related to viruses, pandemics, and COVID-19 with K-12 students.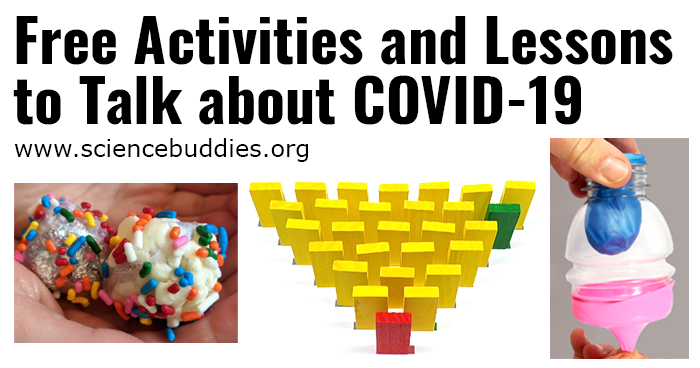 Science teachers have always taught health, human biology, and microbiology to K-12 students. This year, however, these topics have new urgency and real-world impact. Thanks to the COVID-19 pandemic, students are aware of viruses in new ways. But what makes COVID-19 different than the flu? How does social distancing make a difference in infection rates? What does herd immunity mean? What's the best way to disinfect surfaces? These are just a few of the questions students might have as school gets underway.
Science Buddies has a collection of STEM lessons and activities to help explore a variety of science questions related to viruses, health and safety, and understanding the variables in a pandemic. The majority of the activities are geared towards K-8. For older students, the free SimPandemic tool gives educators and students the ability to run simulations related to a pandemic.
The opportunity to safely explore questions about viruses, virus transmission, and related health and safety can help students better understand the current pandemic and the science behind many of the strategies and variables that are often discussed in relation to COVID-19.
Teach about Viruses and Healthy Practices with STEM Activities
SimPandemic Lesson Plans
SimPandemic is an interactive tool that enables users to run their own simulations to see how different variables and approaches impact the duration of a pandemic, the number of infections, the economy, and more. The Using Vaccines to Fight Outbreaks lesson plan is the first in a series of lesson plans to guide educators in using SimPandemic with students. Additional SimPandemic lesson plans will be available soon.
Thematic Collections
Collections like this help educators find themed activities in a specific subject area or discover activities and lessons that meet a curriculum need. We hope these collections make it convenient for teachers to browse related lessons and activities. For other collections, see the Teaching Science Units and Thematic Collections lists. We encourage you to browse the complete STEM Activities for Kids and Lesson Plans areas, too. Filters are available to help you narrow your search.
These resources were made possible with the generous support of sponsors like EPAM.
Categories:
You Might Also Enjoy These Related Posts:
Explore Our Science Videos
Light-Tracking Robot: BlueBot Project #2
Science Buddies: Hand Warmer Chemistry
Balloon Car: 2015 Engineering Challenge