Science Buddies Blog: April 2014 Archives
Students interested in projects involving food science, microbiology, plants, bacteria, and the effectiveness of different medicines may want to learn more about biochemistry as a possible science career path. Biochemists work on a wide range of exciting projects involving chemical processes that happen within living organisms.
By Kim Mullin


What do the questions in the images above all have in common?
Got the answer yet? Some of the projects above appear in the food sciences area at Science Buddies, and some of them are classified as microbiology, biotechnology, human health and biology, and plant science projects. As different as some of these projects may seem from one another, they all involve studying chemical processes that occur in living organisms. Because of this, all of these are projects, questions, and challenges that a biochemist might work on.

Would I Want to Be a Biochemist?
Do the investigations listed above sound interesting to you? Do you enjoy biology and chemistry classes? Are you curious about the way medicines work in the body? Do you wonder about the mutations in organisms that lead to diseases like cancer? Are you interested in cell development? Are you inspired by current stem cell research? Are there conditions or diseases you would like to better understand and even work on helping find a cure? Do you love the idea of being the first person to discover something new about what's going on inside living organisms? If these science topics sound intriguing, then biochemistry is a field of science you may want to explore!
To learn more about a career in biochemistry, visit the Science Buddies Biochemist career page. There, you can
find out more about the education requirements for biochemists, average salaries, and sample projects and tasks that a biochemist might do. You can also read interviews with current biochemists to learn what they do in a typical day, what they love about their jobs, and how they got into the field. For example, meet Stuart Barnscher, a chemist at Agensys, Helen McBride, a scientist at Amgen, and Michael DiDonato, a research investigator at the Genomics Institute of the Novartis Research Foundation.
From cancer research to immunology, these scientists are working on exciting projects as biochemists!

Explore the World of Biochemistry with Science Buddies
At Science Buddies, students will find a wide variety of biochemistry Project Ideas. From food stabilization to the impact of medicine on the body to processes like coagulation, the list of science projects below highlights some of the many hands-on student science projects that can help a student explore biochemistry and start thinking about this exciting STEM career path:
---
Symantec employees in multiple locations put a set of Science Buddies Project Ideas to a hands-on test. This team meeting may have felt like a day at school, but by working together to build and test simple motors and shake-it-up energy sources, Symantec volunteers helped Science Buddies make sure that a set of new student science and engineering projects were all set for students. As the volunteers discovered, working through an electronics science project, even one aimed at 4th-6th grade students, can be challenging—but fun!

At Science Buddies, we are fortunate to have the support of a range of corporate donors like Symantec, sponsors who join us in our dedication to helping K-12 students enjoy and excel in science—and helping their teachers and parents support and encourage science, technology, engineering, and math (STEM) learning. Science Buddies offers more than 1,200 hands-on Project Ideas and thousands of pages of resources for teachers, parents, and students working on science fair, classroom, at-home, or independent science projects and activities.
With changing school curricula (and the adoption of Next-Generation Science Standards (NGSS)), more and more attention is being given to hands-on science and engineering projects, and members of the Science Buddies community turn to Science Buddies as a trusted source of quality procedures for hands-on learning.

Hands-on Support for Hands-on Science Education
Thanks to financial support from sponsors like Symantec, our site resources remain free to use for the more than 15 million students, teachers, and parents who visit Science Buddies each year for assistance locating a science project, following the steps of the scientific or engineering method, finding science activities to do at home, or integrating active science, technology, engineering, and math (STEM) learning in the classroom.
Empowering students and exciting them about science requires the involvement of many, many people and organizations. Science Buddies is fortunate to have volunteers from sponsor companies who assist in our online Ask an Expert forums and who help support science literacy in their own communities by judging at local science fair judges.
When a group of employees at Symantec selected Science Buddies for a team-building day of volunteer service, Science Buddies was excited to have a group of extra hands to test a set of new electronics and electricity projects and kits.

Quality Science Project Ideas
Before Project Ideas at Science Buddies reach students, they go through multiple rounds of editing, peer review, and hands-on testing by our in-house team of scientists and editors. The Science Buddies team works hard to ensure that students are given solid background material, a complete materials list, and a well-explained step-by-step procedure that will lead students to measurable and clear results appropriate for the project's level of difficulty and complexity.
When possible, having projects tested by other adults or students, provides additional information about the projects and may help identify areas in need of clarification or areas where additional visual aids or resources would be beneficial. Having Symantec offer to have more than thirty employees work in groups and help test three different electronics project was a wonderful opportunity for the scientists at Science Buddies to gather additional data about the usability, repeatability, and clarity of these new projects.

Symantec Employees Choose Science Buddies for Day of Service
In December, Symantec employees gathered at offices in California, Florida, Oregon, and Singapore to pretend for the morning that they were students or parents presented with a science project to work through. All the materials were on hand, so the volunteers were asked to read through the background material and then follow the procedure provided, just as a student would.
Not all volunteers had technical backgrounds, which is perfect for project testing. The projects were all targeted for students in grades 5-8, and students choosing these projects would not necessarily approach the project with any prior electronics experience. Similarly, when a parent assists a student with elements of a science project, the parent may or may not have any expertise in the area of the science project. Having employees and adult volunteers sit down and work through the steps of an experimental procedure helps Science Buddies ensure that the project directions are clear, that all necessary steps are provided, and that the projects work as they are written.
"Giving people instructions is full of hidden pitfalls," acknowledges Sandra Slutz, Lead Scientist for Science Buddies. "Things that seem crystal clear and easy when you are doing them can be challenging to explain. Imagine telling someone who has never cooked before how to cook rice. They need so many specific directions. What does 'high' heat mean? What does a simmer look like? How long should it cook? The list goes on. When you write instructions, it is easy to overlook something that seems obvious to you. That is why we feel so incredibly lucky when we have multiple teams of people testing a project. Each team comes at it with a different set of experiences, so they can catch completely different oversights. In the end, we take their feedback and use it to make a much better set of instructions so that students can have a successful science project experience."
During their morning of volunteer testing, many of the Symantec volunteer teams successfully completed their projects, but a few ran out of time or encountered problems executing the procedure. While it can be frustrating for a volunteer (or a student or parent) to have a project "not work," knowing where problems occur helps Science Buddies strengthen the materials to provide an even better experience for the students who may ultimately select the project for a school fair or assignment.
"The Symantec teams tackled the projects we gave them wholeheartedly, and we're very grateful for all their feedback," says Slutz. "Some teams actually ran into a lot of trouble and didn't complete their project—but for us this wasn't a failure, it was successful testing. That feedback allowed us to go back and re-evaluate our instructions. It turned out that something simple we had overlooked in two of the projects (the width of the tape used to wrap a component) made a huge difference in how the project performed. Symantec's team testing helped us uncover that problem. Thanks to them, we've clarified our materials list—a change that will save students hours of frustration!"
Kristen Woods, Senior Director at Symantec Corporation, organized the volunteer event for her team. According to Woods, she suggested Science Buddies to her team instead of a more traditional volunteer activity because "the work supports one of Symantec's core philanthropy areas: Science, Technology, Engineering, and Math education, and because the format of the work allowed us to conduct the event in multiple sites globally."
Ashley Savageau, Community Relations Program Manager at Symantec, agrees that the volunteer testing was a great opportunity for Symantec employees to get hands-on with one of the organizations the company supports.
"I was thrilled the team chose to develop an activity with Science Buddies," says Savageau. "They are a long time partner of Symantec's, so it helped cement that commitment by providing our employees' skills in addition to our corporate dollars. I also loved the fact this was able to happen across multiple geographies to help with virtual team building! The team reported that they really enjoyed doing something that supported the company's values and was different than the average volunteer event, and that they even learned something along the way!"
"Working with Symantec to help create a meaningful, STEM-related Day of Service for the volunteers was a great experience," says Amy Cowen, Online Community Manager and Volunteer Coordinator for Science Buddies. "We are grateful to have had financial support from Symantec for a number of years, but opportunities to have their employees help in hands-on ways are wonderful."
"The project testing Symantec provided was a learning experience for Science Buddies as well," adds Cowen. "We are excited to take what we learned about facilitating team testing in the workplace to create new volunteer opportunities for sponsor companies in the future."
---
---
Whether you explore strawberries, onions, the mighty Tyrannosaurus rex, or the ways in which certain physical traits are evident in your family, make time to talk about and experiment with DNA-related science. Students of all ages should know their A's, T's, G's, and C's. With a fun science kit from Bio-Rad Laboratories, they might even wear their own DNA around their neck!
That's a lot of DNA, a lot of letters, an almost incomprehensible amount of typing, and a lot of room for little mutations, changes, exceptions, similarities, and differences! This year, in celebration of National DNA Day (April 25, 2014), take time to talk with your students about DNA, genomes, and genomics.
Last year, for the 60th anniversary of the discovery of the double helix structure of DNA and the decennial marker of the completion of the Human Genome Project in 2003, we pulled together a short overview of the history of DNA, its key players, Photo 51, and great DNA-related science projects that students can do to explore DNA in Celebrating DNA and the History of the Double Helix.
A DNA history lesson or refresher is never a bad idea, but when you pair the information with a simple experiment or hands-on activity, you give your students the opportunity to see firsthand what it means to talk about DNA base pairs, how DNA differs from a genome, and how DNA is essential to all living things!
Genomics Field Trip
For those in the Washington D.C. area, celebrate National DNA Day with a trip to the Smithsonian Institution! The Genome: Unlocking Life's Code exhibit (opened June 2013) is a great way to help students better understand DNA, the ways in which DNA is structured, sequenced, and analyzed by scientists, and the way DNA research helps scientists better understand the past, present, and future.
A collaboration between the National Museum of Natural History (NMNH) and the National Human Genome Research Institute (NHGRI), the 4,400-square foot Genome: Unlocking Life's Code exhibit introduces visitors to the human genome and the role of genomics, the ways in which the genomes of other species show both similarities and differences, the impact of genomics on studies related to human origins, and the use of genomics in the future, particularly in health care.
Visitors to the Smithsonian exhibit can also get hands-on in the National Museum of Natural History's interactive Genome Zone. The Genome Zone houses a rotating queue of activities where students can examine their own traits, do lab experiment, make bead bracelets that show the genetic sequence of a chimpanzee or turtle, watch videos, and more.

Sampling Your DNA
In the Genome Zone, visitors may have the chance to extract a sample of their own DNA using the Genes in a BottleTM kit from Bio-Rad Laboratories. After extracting DNA from a cheek sample, students can admire it and possibly even take it home as a keepsake! Thanks to support from Bio-Rad, approximately 300 student Genome Zone visitors a day are getting up close and personal with their own genetic material—spooling their own DNA.
Thanks to the Genes in a Bottle kit and the Discovering DNA: Do Your Cheek Cells & a Strawberry Both Have DNA? Project Idea, visualizing DNA can be a simple, fun, at-home or at-school activity. At the end of the science experiment, students using the kit can preserve their DNA sample as a cool, one-of-a-kind pendant.

Support for Educators

For those not in Washington D.C. area, or for teachers and parents planning to take students to the exhibit, Genome: Unlocking Life's Code Educator's Guide for Teachers of Grades 7-12 is an excellent PDF resource. The 36-page guide contains supplemental information for a field trip to the exhibit and also offers summary information, a number of classroom activities (including printable assignment sheets), information tying Next-Generation Science Standards (NGSS) to the exhibit, a glossary, and a range of resources for science, technology, engineering, and math (STEM) education.

DNA Projects for K-12 Students
Students can also explore the world of DNA, genomes, and genomics in science projects from Science Buddies like these:
---
Bunnies and chicks remind us that spring is here! No matter what sort of animals you have in your household, Science Buddies has a menagerie of Project Ideas for you to try.
By Kim Mullin
I've never kept chickens or rabbits, but I do have plenty of wild rabbits hopping around my back yard at certain times of the year. They eat all of the flower buds off of my creeping phlox, but it is hard to get mad at something so darn cute.

The Zoo in Your House
According to the American Humane Society, 62% of U.S. households have a pet, so caring for an animal is a rite of passage for many kids. Do you look after a pet at home? Dogs, cats, hamsters, rabbits, and fish are popular choices for families. If you have lots of space, you may have something bigger, such as a horse or a flock of chickens.
Pets are a big responsibility, but they often reward us with love and companionship. They also can help us explore interesting science questions. Imagine caring for your pets and collecting data for your science project all at the same time. It is possible!
Take a look at these Science Buddies Project Ideas:

No Pets in the House?
If you don't have a pet, or if wild animals are where your interests lie, Science Buddies still has Project Ideas for you. Take a look at the animal-related student science projects below, or check out Science Buddies' Zoology area for more ideas.
As for my backyard rabbits, I didn't see them this winter. I am guessing that they moved on to yards with tastier foliage...or perhaps the local fox has had a feast. I guess I'll find out when my creeping phlox plants start to bud !
---
The ping pong catapult is a great device for independent student science projects, but this is a tool you can use again and again—even as the basis for a fun afternoon or weekend family science activity. We put the rubber band catapult to use with a bag of plastic eggs for some high-flying family physics fun!
The Ping Pong Catapult has been used as the basis of a number of innovative science physics, math, and sports science projects at Science Buddies. If your student has an affinity for medieval lore, you can imagine using the device as catapults were once used—for siege—and explore the physics of trajectory through a hands-on simulation. In the Bombs Away! A Ping Pong Catapult project, students aim for a simple container target (e.g., shoe box), but for fun, you could create a castle from blocks, LEGO® bricks, or random household items or recycled containers, and either aim to knock the structure down with your ping pong ball attack or aim to launch over the structure (e.g., village walls) and into a target container (e.g., the village square or main castle). (See Under Siege! Use a Catapult to Storm Castle Walls for a project like this!)
Is your student more sports-minded than medieval? With a makeshift footfall field goal in place, you can explore kicking science, or, turn the catapult on its side and do an experiment related to baseball swings instead.
There are plenty of math and physics questions to ask and investigate using the Ping Pong Catapult (available in the Science Buddies Store). With all of these projects, keeping track of the data for every launch, hit, or kick is an important part of the exploration. Teachers and parents can easily turn the results of even informal ping pong catapult launches into a way to talk about statistics, including creating a histogram to plot results.
Before or after the school science project, however, you can use the catapult as a great indoor or outdoor science toy. My kids couldn't wait to get it out of the box and start launching balls through the house. (Be careful that they don't end up "lost" in the living room before your project or science activity starts!)

Portable, No-mess Science Setup!
Unlike some science activities, there is virtually zero setup with the catapult. Remove the pin, unfold it, replace the pin, slip a rubber band through the holes, and clamp the catapult to the edge of a table or chair. We were not planning to experiment right away, but my students were really eager to see how the catapult worked. Immediately after opening the kit, we cleared a table edge, clamped the catapult in place, and played around with the wiffle and ping pong balls and got a feel for how the catapult works, how you change the launch angle and pull-back angle separately, and how the use of the rubber bands can affect the way the object flies.
With just a bit of hands-on exploration at the dining room table, we were all set for some serious egg-flying fun. Plastic eggs, that is. (Your mileage and mess with real eggs may vary!)

You Don't Have to Have an Assignment
The great thing about family science is that you don't have to follow all the rules, do dozens of trials, or write a report at the end. You can take your family science as far and as deep as you want and tailor the activity to fit your students' interests, the time of the year, the materials on hand, or other parameters.
Easter is this week, so we decided to use the catapult with plastic eggs—much as you would experiment with the ping pong ball in the Bombs Away project. We spruced up some of the eggs we have collected over the past dozen years with zany permanent-marker faces and got ready to let the eggs fly.
We first did our launch trials indoors. Instead of using a big table, we clamped the catapult to a small wooden chair. As they quickly realized, getting the egg into the target "basket" is harder than it looks! But tweaking the angles is all part of the exploration, and with each change you make, you can immediately see what impact the change makes (if any) on the flight, trajectory, and distance. After experimenting with pullback and launch angles, they started tweaking the number of rubber bands. This resulted in eggs being hurled full force into the wall (well beyond the basket). They thought that was funny, but it prompted us to consider taking the project outdoors the next day and experimenting in a bigger space.
We packed the small chair, a basket of eggs, and the catapult in the car and headed to a neighborhood park. There were birthday parties going on in the grassy area, but the basketball court was unused. We set up our catapult (still using the wooden chair) on the court, put the basket a distance away, and let loose. The dynamics of outdoor flight were definitely different, and the breezy day made controlling the flight difficult. But it was still super fun!
Your Own Ping Pong Catapult Experiment
To experiment with the catapult for a science project or informal science activity of your own, see the following projects and ideas:

We would love to see your catapult in action! Share your photos with blog@sciencebuddies.org.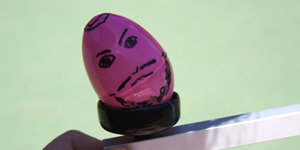 ---
---
From creating systems to desalinate water using solar energy to growing rooftop gardens to increase food supply and regulate building temperature, environmental engineers tackle all kinds of problems and innovate new solutions to help create a more sustainable world. Students and classes can explore environmental engineering with a range of hands-on science projects.
National Environmental Education Week
(
EE Week
). Sponsored by Samsung, this year's EE Week celebrates the theme
Greening STEM: Engineering a Sustainable World
and encourages students in all grades to learn more about the ways in which engineering can be used to develop sustainable solutions.
On the EE Week website, teachers will find a plethora of resources and tools for use with students, all of which celebrate the ways in which environmental engineers tackle real-world challenges as they "make, move, and improve" the world around them. The downloadable Educator Toolkit: Engineering a Sustainable World highlights a collection of environmental engineering science projects from various online science, technology, engineering, and math (STEM) sites. Suggestions for environmental engineering projects in areas of Biomimicry, Sustainable Energy & Design, Recycling & Reusable Materials, and Environmental Conservation are listed by grade to make it easy for teachers to locate projects relevant to their classes.
Science Buddies is proud to have projects included in this resource to support and encourage teachers to integrate hands-on environmental engineering lessons and activities in the classroom. In addition to project summaries, the resource includes an infographic and an overview of games and apps related to environmental engineering.

Exploring Green Engineering
Students interested in environmental engineering, or teachers and parents looking to find projects that can be adapted for in-class or at-home science learning, can explore further in projects like these:
---
Science Buddies in Action
stories acknowledge the hard work students do on their science, technology, engineering, and math (STEM) projects and also show teachers, parents, and other students what is possible with student science. Student science is broad, can be driven by individual interests, and can parallel the kinds of projects that are being carried out by scientists today. Volcanoes are fun, but there is so much more that students can do, question, test, and explore with hands-on science.
A few years ago, we shared a story about Laura Fulton, a student who had been curious about what kind of water bottle she should take with her to dance class to get the best protection against bacteria.
Laura's microbiology project was a wonderful example of a student exploring a science question that was related to a passion or hobby. As a dancer, Laura was curious about the water bottle she carried to class—so she turned her interest into a winning science project.
Today, Laura is one of twenty finalists in the Microsoft YouthSpark Challenge for Change global competition. Laura's project for the challenge is called Science for Success, a project through which Laura is working to encourage girls to enjoy science and explore STEM careers.
To see a video summarizing Laura's project and to learn more, visit her project website. Public voting for finalists runs April 15-22.

---
You like your gelatin desserts solid and jiggly but not runny, right? A kitchen chemistry experiment reveals why certain gelatin and fruit combinations might appear at a potluck or picnic and not others. For this student and her family, the desire to turn her first grade class science experiment into a vegetarian-friendly one led to an interesting and enlightening twist on the science experiment.
changing the amount of a single ingredient
may yield dramatic differences in the resulting cookies, muffins, or baked goods. Kids and adults can compare, observe, and talk about the science involved while munching on the snack and performing their own taste tests. Or, for non-edible kitchen fun, classes and families can
turn milk into plastic
,
mix up putty
, or even
make dough
that can be used in an electronics experiment.
For Riya, a first grade student at a New York City public school, a recent classroom science project set the stage for learning about the relationship between proteases and proteins. But when Riya's family gave the project a vegetarian twist, she learned that there are always new science questions to ask and unexpected discoveries to make!
Riya's teacher was using the Which Fruits Can Ruin Your Gelatin Dessert? project with her class. At school, the students talked about the experiment, about gelatin, and about the fact that some fruits can be combined successfully in a gelatin dessert and some cannot because of way the proteases in fruits interact with the protein in gelatin. With plans to test gelatin alone, gelatin and kiwi, and gelatin and strawberries, the students formed their hypotheses about what would happen.
Given that gelatin has to be cooked, and because they needed many samples for a classroom demonstration, Riya's teacher called upon the assistance of a few class families to prepare the gelatin samples at home to bring into school. Riya's family volunteered to make batches of gelatin with two different fruits.
In theory, the take-home kitchen chemistry task was simple enough. But Riya, a vegetarian, didn't want to eat gelatin (which is made from and contains proteins from bones). (Eating the gelatin was not required as part of the experiment, but the teacher had told the students they could taste the gelatin samples at the end of the experiment, an idea that "grossed out" Riya, says her mother, a neuroscientist at Hunter College.
Riya's mother, also vegetarian, says she had never prepared Jell-O® before, but she has worked with it in her own science experiments. "I knew Jell-O came from gelatin, denatured collagen. I have used gelatin for my research. It makes a good substrate for growing cells and attaching brain and other tissues sections for staining because it is protein."
Faced with her daughter's resistance to the gelatin project, however, Riya's mother got curious. Surely vegetarian alternatives are available? "I went into an organic store looking for a vegetarian version, and I got lucky and found one. As expected, the vegan gelatin was made from seaweed and did not have any protein."
With a vegetarian gelatin alternative on hand, Riya's family decided to conduct an alternate test—one that raised new questions for Riya and her family. Vegetarian gelatin doesn't contain the proteins that are found in regular gelatin, the proteins that react with proteases to make some gelatin-fruit combinations work and turn others into a soupy mess. Would vegetarian gelatin behave differently with fruits?
A new hypothesis was in order—and a new experiment.
Riya and her mother conducted their own gelatin and fruit test at home, a parallel experiment to the one the class was doing. For Riya, the project was a wonderful learning experience and a reminder that a simple question can be approached in a variety of ways. Riya and her family enjoyed conducting this kitchen chemistry experiment in conjunction with the first grade class's science lesson and were excited to put their science question to the test and observe the results.
Riya's experiment with vegetarian gelatin in the Which Fruits Can Ruin Your Gelatin Dessert? project has also been added to the "Make It Your Own" tab as a variation on the project that students can investigate.
If you really want to mix certain fruits for gelatin desserts, should you start with a vegetarian gelatin? Put it to your own scientific test!
---
Egg science comes over-easy this time of year. Whether you are boiling eggs, dyeing eggs, or both, there are easy questions you can ask with your kids to turn the activity into a hands-on science experiment that everyone will enjoy.

In the past few years, the process of preparing colorful, hard-boiled eggs has taken on new and very scientific significance for me as a parent. In turning the seemingly simple act of egg dyeing into a hands-on science endeavor with my kids, we have asked a variety of science questions (one at a time) and experimented with various steps in the process of boiling and dyeing.
If you will be boiling, dyeing, cracking, or hiding eggs this week with your kids at home or students at school, I hope you find science-minded inspiration and support for at-home science in the following family science posts from Easters past:
This year, I am not planning to run kid experiments with dyeing or boiling. Instead, we got hands-on, ahead of time, with a bag of plastic eggs and the ping pong catapult. Stay tuned for a photo recap of some serious egghead-launching fun! [Update! See how our plastic eggs experiment with the Ping Pong Catapult went. Super fun!]


Don't Miss This Egg Success Story
This story of a fourth grader's science project and his experience using silk ties to dye eggs is a great science project success story to share with your students. You can talk with them about pH and even try tie dyeing eggs as a group or home science activity!
---
This great guide and collection of family-friendly activities lets kids explore the history of robotics and put robotics engineering concepts to use with hands-on projects at home.
Luckily, getting started with hands-on robotics projects isn't difficult! Parents looking to do fun engineering activities with their students at home can easily wile away an afternoon helping kids create simple bots—ones that use electronics and ones that do not. The Science Buddies Robotics area offers several projects that are great for students to do independently or fun for families to do together.
For families with students hungry for more robotics ideas and information, Robotics: DISCOVER THE SCIENCE AND TECHNOLOGY OF THE FUTURE with 20 PROJECTS (Nomad Press),
written by Kathy Ceceri and illustrated by Sam Carbaugh, is a great choice. Robotics offers up a really accessible nuts-and-bolts and everything-but-the-kitchen-sink-about-robotics resource aimed at students and families—no prior experience or expertise required. In addition to being chock full of information, history, trivia, tidbits, facts, and STEM concepts related to robotics, Robotics contains 20 do-it-yourself projects that put robotics concepts to use, encouraging students to learn by active exploration with DIY projects that use readily-available materials.

Robotics 101
Robotics does a great job presenting a ton of historical and scientific information in a really accessible, fun, and easy-to-read format. Pages are broken up with plenty of call-out boxes that define "Words to Know," offer "Fun Facts," highlight additional robot trivia (like what the LilyPad Arduino is and how fashion designer Shannon Henry used it to make the Skirt Full of Stars), or tell a side story related to the main text (the story of Dean Kamen's Segway, for example). Readers will find reference to all kinds of robot tidbits, like the Roomba (and how developers hacked it to do other things), Turtle Robots, Google's self-driving car, Honda's ASIMO, biomimetic robots, robots built with legs made from Tinkertoys, ones built from rubber bicycle tubing, and more. Though the book is black and white, there are plenty of fun illustrations scattered throughout Robotics.
Overall, the format is fun and invites readers to read straight through or to pick the book up and hone in on some of the discrete boxes of information. No matter what page you open to, you can find standalone boxes to read. Ceceri does a great job setting a rapid pace that offers readers lots of information, and lots of explanation, and yet keeps the tone accessible and engaging. This is not a book readers will need to slog through, but be prepared to jot down some notes because Ceceri moves quickly!

Robotics Then and Now
The history of robotics engineering probably dates back much farther than you think, especially if your first thoughts of "historical" robots stem from something like Star Wars or classic science fiction like Arthur C. Clarke's (novel) or Stanley Kubrick's (film) 2001 A Space Odyssey.
In Robotics, Ceceri does a nice job first setting up common definitions of what a robot is, based on what she defines as the "Sense-Think-Act" cycle, a cycle which dictates that a true robot senses (takes in information), thinks (processes info to determine what to do), and then acts (does something based on the info). Readers are then challenged to use the Sense-Think-Act model criteria to see how many things around them qualify as "robots." A handy "Robot... Or Not a Robot" flowchart makes a scavenger-hunt game of the activity and gets kids thinking about their remote controls, game controllers, garage door openers, and other household devices and electronics in new ways.
[Note: Not all scientists agree with the Sense-Think-Act cycle though, a fact that Ceceri notes. Many of the robots described in the book or included in the book's projects are, in fact, not ones that fit the formal and "brains"-dependent definition.]
After setting the stage for how to think about "robotics" and "robots," Robotics takes readers traipsing through a star-studded history of robotics engineering, including automata (familiar to Hugo readers/watchers), seemingly magical music-making theremin, and big names like Leonardo da Vinci, Ada Lovelace, and Tesla. The history tracks a progression of invention that leads to modern robotics and also underscores the diversity of robotics engineering. Robotics come in all shapes and sizes and appear in all fields, including the arts, medicine, military, space exploration, and business.

Robotics Engineering from Head to Toe
Robotics
are broken down to logically cover robotics engineering concepts and approaches that robotics engineers take and think through when designing robots:


A chapter on "housing" covers the exteriors or bodies of robots and raises questions about size, hardness, flexibility, and more.
A chapter on "actuators" covers how engineers make robots move. This chapter gives readers a mini crash course in electronics, including motor basics, circuits, and current. Principles like force and torque are covered, as are concepts like servo motors, hydraulics, pneumatics, solar energy, and more.
A chapter on "effectors" covers how robots "do" things using arms, tools, speakers, grippers, and other elements that engineering design to enable robots to perform tasks. The discussion includes degrees of freedom (the different directions in which a robotic part can move).
A chapter on "sensors" covers how robots can tell what is happening or how they take in information. This chapter includes discussion of levers, photoresistors, emitters, ultraviolet sensors, sonar, radar, and lidar.
A chapter on "controllers" covers how robots think. This chapter includes a summary of if-then programming logic, subroutines, and procedures. Ceceri provides an overview of Logo and three hands-on activities that let kids experiment with basic Logo commands. A cool Binary Bead Jewelry project lets kids use ASCII code to spell out words using beads and paperclips.


Exploring Robotics with DIY Projects
Embedded throughout Robotics are 20 robotics activities that can be done at home with easy-to-find materials. The activities are fun, fast, don't require many specialty items or electronics expertise, and let kids begin exploring how different parts can be used, combined, and housed in various exteriors and frameworks to accomplish different goals. The first building project in the book is the Art-Making Vibrobot. (A version of this robot appears at Science Buddies, too, in the Art Bot: Build a Wobbly Robot Friend That Creates Art science fair project idea!)
Other projects in Robotics include:



Frubbery Robot Skin (a non-Newtonian fluid made from water and borax)
BEAM-Type Solar Wobblebot (made from a solar panel mounted on top of a clear lid from a drinking cup, mounted on top of a CD, all balanced on a pencil eraser that moves around)
Passive Dynamic Mini-Walker (no motor or power source)
Robotic Hand (made from straws, cardboard, and string)
Robotic Arm (made from cardboard, paper towel tubes, and needleless syringes to provide hydraulic power)
Soft Robotic Gripper (made from a soda bottle, sugar, and a balloon)
Rolling Ball Tilt Sensor (tilting triggers a greeting card sound device or other small motor or LED)
Pressure Sensor (made from index cards, watch battery, an LED, and yarn)

Each project contains a simple materials list and numbered directions to guide the build. Illustration of the steps is limited, but these are simple enough projects that you should be able to follow along—and the building is the goal, not the testing of multiple variables (as you might in a science fair project). Even so, if you are a visual learner, you will probably wish there were a few more illustrations to show some of the assembly steps in action. But the range of projects is still fun and a nice mix of concepts and ideas to give young robotics engineers the satisfaction of building small robotics systems that "do" something and "work" when finished.

One for the Shelf
Overall, I was very impressed with the scope of Robotics: DISCOVER THE SCIENCE AND TECHNOLOGY OF THE FUTURE with 20 PROJECTS.
There is so much packed into this book, and the format combined with Ceceri's excellent tone really work. That many of the concepts in Robotics match up to Science Buddies projects was also great to see. The "Uncanny Valley" is there, as is a brief discussion of theremin music devices. Discussions of hydraulics, soft robots, solar circuits, and more can also be paired with related projects at Science Buddies to extend the hands-on learning.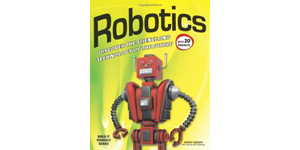 ---
---
There was no singular moment of Big Data Bang, but we are living in and heading towards a time of seemingly endless and exponential data explosion—and the race to create solutions and strategies to help tame, store, organize, and make sense of big data is on. But even before there was a moniker, there were large data sets being created and used in fields like the life sciences. Today, those data sets continue to grow and evolve. Working with publicly-available big data sets offers students a chance to get in on the forefront of the big data movement and start tackling big data questions and helping create big data solutions.
big
splash in circles ranging from business to sports to school admissions boards. A few years ago, talk was about data mining. Today, no matter where you turn, you may run into discussions about big data.
With increasing amounts of data available and coming in from a variety of input points and multiplying over time, figuring out ways to best manage, organize, and manipulate data so that it can be analyzed to extract meaningful and useful information is a challenge that developers and researchers are racing to solve.

A Problem of Scale
The term big data highlights the fact that today's data is already vast, and it is ever-climbing upwards in size. The growth of data doesn't necessarily have an end point. Discussions of big data often talk about data sets that are in the terabytes, petabytes, or exabytes (a quintillion bytes). These are data sets that are too large to manage with ordinary tools, traditional spreadsheets, and manual number crunching, and the data sets are growing by the nanosecond.
Dealing with big data is sometimes labeled a "business" or "tech" problem, a reality for businesses that need, for example, to better understand their customers in order to best serve (and keep) them as loyal, satisfied, customers. Interpreting and acting upon gathered data can shine a light on problems, successes, and trends which may help a company make changes and decisions about future offerings, services, and products. The problem is that the data is, in many cases, so large that companies are struggling to figure out how to best use and analyze it.
Big Data is a business challenge—but it is bigger than that.

Bio Big Data
Science is no stranger to large data sets. Science, in fact, has been creating, gathering, and analyzing "large" data for years. What has changed and continues to change is that the amount of data continues to increase, and the tools available for extracting information from that data (or for processing the data) continue to evolve.
You can find examples of big data sets in many fields of science, including astronomy and meteorology, but for researchers in genetics, genomics, and biotechnology, dealing with big data is an important part of day-to-day projects. Luckily, there publicly available tools exist that allow researchers (including students) to plug in query information and extract results from big data sets. These tools make the data accessible. As the data continues to grow, scientists continue to develop new tools and projects that aim to better understand the data and that seek to find new answers and new approaches to analyzing big data.

The Human Genome Project
In the Life Sciences, the importance of big data and collective work toward central repositories of information can be seen in the Human Genome Project (HPG). A draft sequence was first published in 2000, and the completed sequence was released in 2003. According to the National Human Genome Research Institute, the completed HGP "gave us the ability, for the first time, to read nature's complete genetic blueprint for building a human being."
The HGP was groundbreaking for life sciences, but more than a decade later, the data is still being mined and combined with additional data to draw new results and conclusions. The "What's Next? Turning Genomics Vision Into Reality" page on the NHGRI site describes several projects that build upon the HPG. For example, the ENCyclopedia Of DNA Elements (ENCODE) project seeks to use HPG data to identify "all of the protein-coding genes, non-protein-coding genes and other sequence-based, functional elements contained in the human DNA sequence."

Though life sciences scientists are increasingly immersed in big data, the future will hold much more big data, data of (literally) mind-boggling proportions. For example, both the Brain Research through Advancing Innovative NeurotechnologiesSM (BRAIN) Initiative and the Human Brain Project are bioinformatics-driven big data projects focused on mapping the brain, an organ which has an estimated 86 billion neurons, each of which makes multiple connections.
With the creation of data sets like these underway, now is a great time for students to start digging into how to work with data sets, learning how to use existing tools, and gaining an understanding of the problems, issues, and possibilities of working with bioinformatics tools and big data.

Making Connections
Students interested in life sciences, genetics, genomics, or the challenges of Big Data can get in on the action with bioinformatics science projects like these:

Talking Big Data with Students at the USASEF X-STEM
On April 24, the X-STEM Extreme Stem Symposium, sponsored by Northrop Grumman Foundation and MedImmune, will take place as part of this year's USA Science & Engineering Festival (USASEF) in Washington D.C. With dozens of speakers presenting on science, technology, engineering, and math (STEM) careers, X-STEM promises to be an "extreme" and exciting science career-themed symposium for students.
At X-STEM, Melissa Rhoads, a biotechnology strategist at Lockheed Martin, will be talking to students about the "big" challenges and "big" opportunities of big data—and related career paths.
As a preview of her X-STEM talk, Science Buddies talked with Melissa about big data in general and, more specifically, in the life sciences. Her answers highlight the ways in which students are already immersed in big data and how the sciences will be more and more reliant on big data strategies in the future.

Science Career Profiles
Many STEM careers will involve working with big data, but students can learn more about a few specific careers that offer opportunities with big data in the following career profiles:
---
Take a sneak peak at an exciting pair of hands-on science and engineering activities that Science Buddies has planned for USASEF visitors and get inspired to make your own robots this week in celebration of National Robotics Week—or experiment with your own catapult project!

From National Robotics Week to This Month's USASEF Expo!
This week is National Robotics Week, a week dedicated to showcasing robotics engineering and "robo-technology." With the cartoon character Bleeker the rechargeable dog as mascot for the week and a set of free robotics trading cards that students can download and print, National Robotics Week is primed to engage and excite K-12 students about robotics.
Robotics area
continues to grow, and our scientists have been busy preparing a small army of toothbrush-based robots (AKA bristlebots) for hands-on fun at this month's
USA Science and Engineering Festival
(USASEF) Expo in Washington D.C. More than 3000 hands-on science, technology, engineering, and math (STEM) demonstrations will be on display at the USASEF Expo, April 26 and 27, 2014. Attendance to the Expo is free, but you can pre-register to be entered to win prizes. For full details, Expo map and program guides, and more, see
http://www.usasciencefestival.org/
.
Look for Science Buddies in Hall C, the Earth Sciences Pavilion, Booth 3722. Mark your map—or your app!

Robotics for Everyone!
As a stepping-stone project in student robotics, bristlebot robots let students start out with something super basic—a toothbrush head, a single coin cell battery, and a vibrating motor—and expand the project to integrate additional electronics learning, including more sophisticated breadboard circuitry, light sensors, solar cells, photoresistors, multiple motors, on-off switches, and more.
At USASEF, visitors to the Science Buddies booth will get a chance to explore and race light-following robots through a fun maze that our scientists have built. Pairs of USASEF participants will race their bots against each other using small flashlights to try and guide their bots to the finish line first.
If you will be at USASEF next month, make sure you plan to stop by and give one of the light-following bristlebots a try. You can also make your own bristlebots at home using the procedure at Science Buddies in the Build a Light-Tracking Robot Critter project. (See sidebar for additional information.)

Ping Pong Balls Away!
USASEF attendees who stop by the Science Buddies Booth will also be able to test their launch skills by trying out the ping pong catapult. Getting the ball to the target takes a combination of physics and engineering. Students will explore concepts of trajectory, launch angle, and pullback strength as they test their aim and then record the outcome of each shot (their data) on a composite data map that tracks the hit statistics for all Expo attendees as a histogram. With three target zones ahead, can you set up the catapult to launch the ball in the middle zone to score accuracy points?
The ping pong catapult kit (available in the Science Buddies Store) can be used with the following fun hands-on Science Buddies science projects:
---
Robotics engineers are experimenting with soft robots and robots modeled after biological organisms. With a squishy project at Science Buddies, students can get in on the action and test their own soft, air-powered, robot.
A recent story in MIT News shows off a cool robotic fish and highlights the softer side of robotics. This new wave of robotics research explores the benefits and possibilities of robots that sport softer, less angular exteriors, designs often inspired by biological systems and organisms.
Designers of soft robots, like the robotic fish developed by the Distributed Robotics Laboratory, take a different approach to constructing the robot's exoskeleton and thinking about how the robot will move and interact with its environment. For example, a soft robotic fish, modeled after a real fish, can bump into things in its environment differently than a more traditional hard and angular robot. A soft robot may also be able to navigate areas that a more rigid-bodied robot cannot, and a soft robot that runs into something may cause less harm and suffer less damage.

Making Connections
Students curious about robot design and about soft robots can get started exploring principles of soft robotics by making their own gripper robot. In the Squishy Robots: Build an Air-Powered Soft Robotic Gripper robotics engineering project, students use a 3D printed mold and liquid silicone rubber in the construction of a gripper that can curl around and "grip" an object. What advantages does this soft-bodied construction have over other kinds of robotic grippers?
For a look at creating a more humanistic robotic hand, see the Grasping with Straws: Make a Robot Hand Using Drinking Straws project. Using straws, students are challenged to design and construct a robotic hand, with bendable appendages, that works using a system of threaded joints. How many "fingers" does a robotic hand need? At how many points does it need to bend? What mechanism will cause the hand to bend, move, and grip?
Understanding and identifying the need or task for a robot is important in making robot design decisions. What does the robot need to pick up? How small are the items? How heavy are they? What does it need to do with them once it has grabbed them? Other questions to ask involve where the robot will be used. A robot being used in an underwater environment, for example, will have very different design requirements.
These are questions and issues engineers must consider as part of the engineering process when designing a robot. Will the best solution be hard or soft? Experimenting to better understand how varying approaches work is a first step for students getting started with robotics.

Additional information:
---
---