Beyond Winter White: A Burst of Color for Winter Engineering
Hands-on winter science may be full of snow and ice, but that doesn't mean it can't be colorful! Take a cue from this inspiring story about an engineering student who gave a colorful twist to a backyard igloo. Students can explore physics, civil engineering, and more in related science projects at home or in the backyard on a snow day!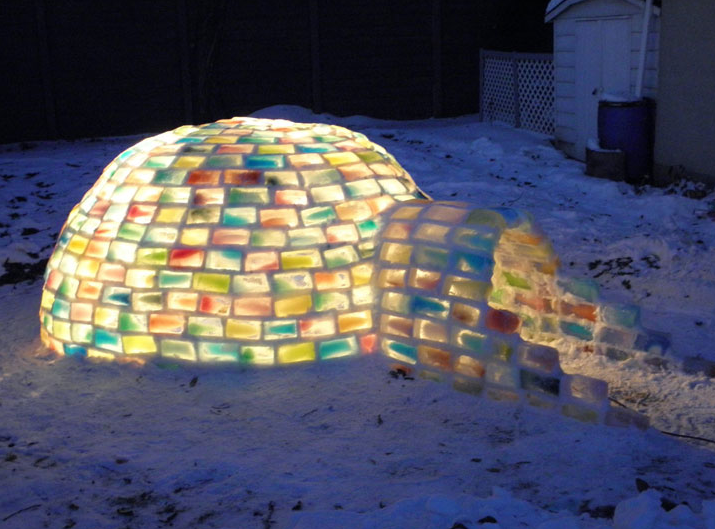 Above: Rainbow igloo project caught the attention of makers and engineers of all ages—and opens up plenty of angles for hands-on student exploration!
View full image set.
In many places, winter months are dominated by a subdued palette, quiet tones of gray and white, deep greens and browns, a monotony of color dictated by snow, wintry skies, barren deciduous trees and evergreens. Spicing up the visual landscape with a burst of unexpected color might be a fun and creative winter challenge. But what shape or medium will your color take? When New Zealand-based engineering student Daniel Gray visited his girlfriend's family in Edmonton, Canada, he was greeted with frigid temperatures and a challenge from his host: brighten things up! More specifically, his girlfriend's mother threw down an engineering gauntlet for Daniel: build an igloo in the back yard.
This may sound a bit like an activity parents might suggest for restless children on a snow day: go build a snow fort! As the story goes, the heart of the igloo challenge was similarly conceived. Brigid Burton (the mother) wanted to have a project to keep Daniel occupied during an extended holiday visit so that he wasn't bored and so that she would have plenty of time with her daughter while Daniel was busy. In preparation, Brigid spent months filling empty milk cartons with colored water and putting them aside to freeze. When Daniel arrived, Daniel learned that he had "work" to do during the holidays, especially if he wanted Brigid's approval of a future engagement between Daniel and her daughter.
Daniel's igloo took approximately 500 colorful frozen ice blocks, a large chunk of time, and lots and lots of snow mixed with water ("snowcrete") to hold the cartons together. In the end, Daniel completed the challenge and secured his future mother-in-law's approval, but Daniel's story—and the whimsy of a rainbow igloo—also caught the attention of engineers and makers everywhere. If the conditions are right... why not try your hand at an igloo!
Making Connections
Building an igloo, in and of itself, is a great conceptual and hands-on project for students. But Daniel's igloo also raises a number of other angles for student inquiry. Here are some suggestions for students interested in exploring a hands-on science project as an outgrowth of the inspiring rainbow igloo story:
Additional Reading
To learn more about igloos and other snow-based architecture, check the following books:
Categories:
You Might Also Enjoy These Related Posts:
Explore Our Science Videos
Make Fake Snow - Craft Your Science Project
Slippery Slopes - STEM activity
How Antibiotic Resistant Bacteria Take Over – STEM activity